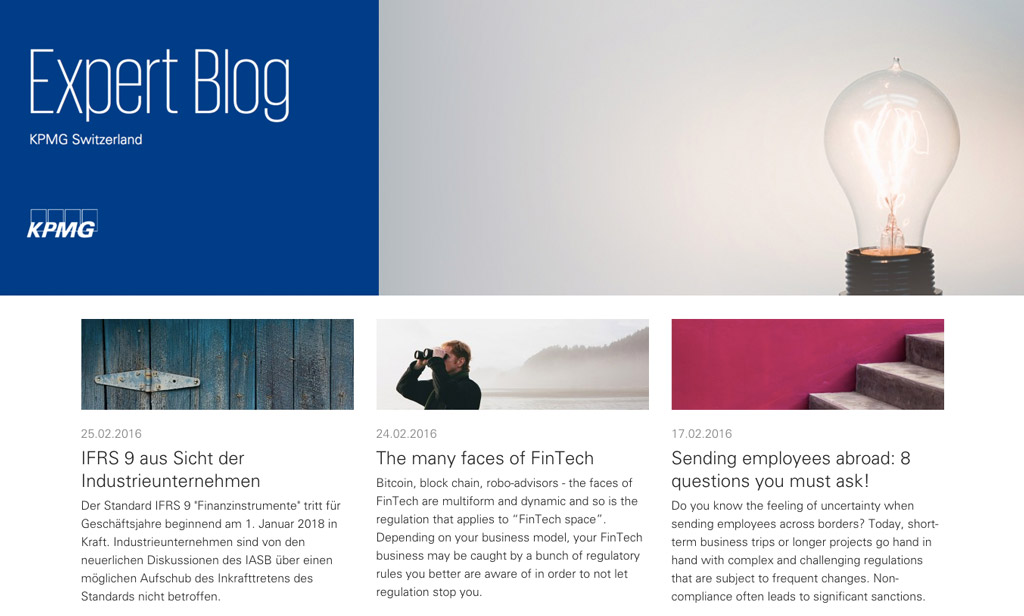 Tax and legal news, or the latest regulatory issues—these are not the trendy subjects your typical social media consultant tweets about.
In 2009 when iA first created a network of blogs for KPMG, one of the world's Big Four auditors, everybody considered the project to be an experiment. Seven years, many small improvements, and one big redesign later, the WordPress-based platform is still going strong, and has brought substantial reach and a steady inflow of prospective clients to these blog-happy auditors.
An ever-changing field, combined with the deep knowledge of KPMG's experts, has proven to be exactly the material that good blogs are made of. The most successful units are those that have found a way to source content internally, directly from their experts, always up to date with recent changes in their field.
From a technical perspective, WordPress offered the flexibility to quickly launch new blogs without being bound to the more complex structures of the corporate publishing system. Since the blogging platform does not contain any critical client data and remains completely disconnected from the core systems of KPMG, lean general-purpose hosting solutions and implementation processes were chosen.
Take a look at KPMG's Expert Blog and Regulatory Horizon.