NHK Enterprises: Website Redesign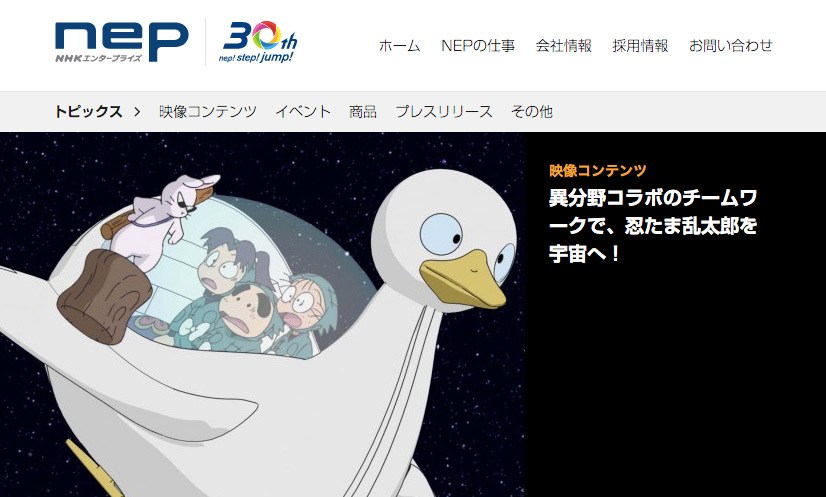 NHK Enterprises is the lead media production company behind Japanese national broadcaster NHK. In addition to over 10,000 TV programs produced each year, NHK Enterprises produces events and digital content, licenses NHK's IP and manages content sales, amongst other things.
This project's main goals were to better communicate NHK Enterprises as a world-class media producer.
iA first looked at NHK Enterprises' web presence and interviewed over a dozen stakeholders. The company is a merger-based conglomerate, so opinions varied widely.
In examining the site and interviewing stakeholders, we uncovered several core issues to address:
The navigation was over-complex and buried important information
The website did not showcase NHK Enterprises' breadth and deep expertise
NHK Enterprises have historically been unable to use images of much of the high-quality work they produce due to licensing
A carousel was used to avoid homepage turf wars, leading to low engagement for this content
The CMS was difficult for non-technical staff to update
The contact form appeared intimidating
One core audience are NHK Enterprises' own staff, who only saw the content change monthly
NHK Enterprises is a conglomerate of previously separate companies, who still work fairly independently
In addressing these issues we aimed to:
Give quick access to Services information, and make it easy to contact NHK Enterprises for more information
Show rather than just describe NHK Enterprises' impressive work
Increase communication between NHK Enterprises' separate business units
NHK Enterprises is in a unique position to tell stories about the content it produces, which can lead to increasing traffic. In addition to improving external communication, we wanted to increase internal communication in a company where departments operate independently.
iA proposed to add a weblog to the homepage. This would contain high quality weekly "feature" articles on NHK Enterprise productions. This sneakily replaces the homepage carousel with a powerful weapon for the PR team—if you want a spot on the homepage, provide a high quality article. While the initially proposed weekly goal for feature articles was "unrealistically optimistic", so far they're meeting it, perhaps in part due to this subtle blackmail.
Traffic increased by 48% in the first month and initial impressions of the internal communication have been very positive.
While "just" a simple corporate redesign, we're happy to hear comments like "I really think this is a step beyond most Japanese corporate sites". And why are many Japanese corporate websites so bad? Well, that's a story for another time…
Visit NHK Enterprises.