Freitag: Relaunch freitag.com online shop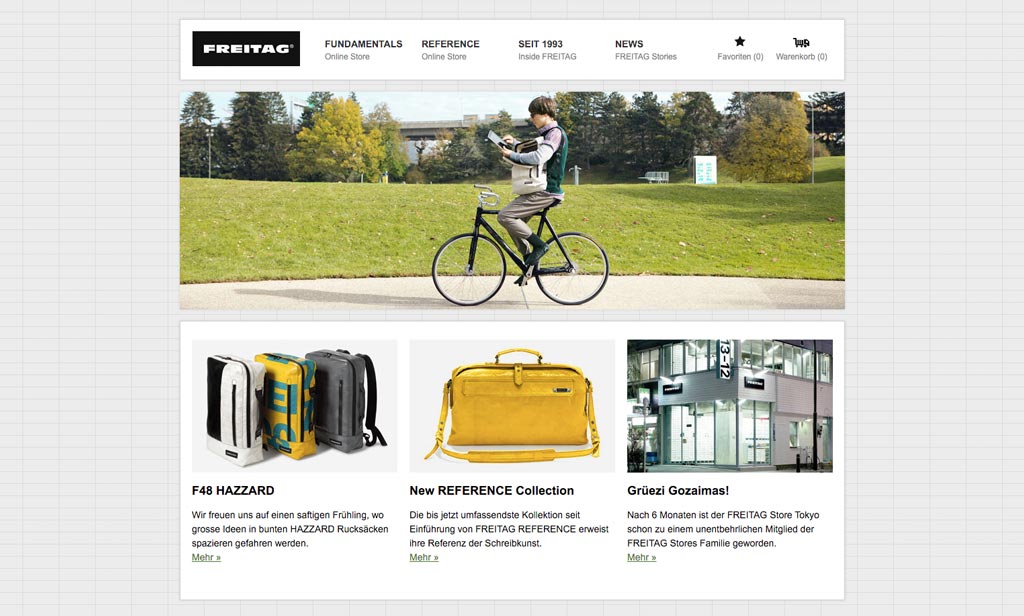 FREITAG manufactures bags and accessories. At the time of the project, all FREITAG products were made from recycled truck tarpaulins, making each product unique. Since then, FREITAG expanded to clothing made of organic, specially made fabric.
At FREITAG, selling products and telling stories have to go hand in hand. FREITAG does not advertise, and the stories sell the products. iA was commissioned to restructure and redesign their online store and marketing site, freitag.com.
Approach
Data analysis: FREITAG provided iA with detailed descriptions of their customers. We analyzed years of first level support communication, done by a sociographic language processing method. Clustered and prioritized user stories were the result.
Field research: At the same time, we conducted POS observation and interviews with customers, interviews with various units of FREITAG, and at last self tryouts of buying processes on- and offline.
Iterations: We set up the project in biweekly loops, where ideation and research took place including a meeting with Freitag's creative direction, followed by technical checkups after each ideation meeting. Thus the concept grew iteratively.
Presentations: Since the online store is crucial to the company's income, we frequently presented the concept's progress to the CEO and founders.
The container model
This was the first project where iA introduced the container model. Different to the page model, all content is packaged in independent containers, and web pages are built by stacking and reusing these containers.
The container model allows for a flexible page setup. We assigned each page a user goal and contextual information. On top of the page, the user goal is served to. The further down the page, the further away from the goal and broader the context. Since every page is a container stack, a lot of containers can be reused.
In order to test this concept, we coded a prototype where the team could draft out pages and user flows using a Google Spreadsheet. As a result, we discovered that the container model had to be enhanced by container sets.
For conversion to happen, conversion funnels were crafted and tested carefully. No easy job, since FREITAG bags are unique, opposed to the commonly mass produced bags. For this purpose, we built clickable prototypes which we tested in iterations and discussed within FREITAG's sales experts.
Result
The new site had a return on investment in iA's work within 2.5 months.
"iA condenses maximum expertise in minimum staff."
— Daniel Freitag, Company founder
Since 2011, FREITAG has been using the site extensively. Now it is the primary way of organizing, storing and presenting information online at FREITAG. Not only did they successfully sell more products and provided richer stories. When their new product line for clothing launched, it could easily be integrated into the site thanks to the container model. Although the information architecture expanded, most containers did not have to be touched.