I got an email the other day from a young entrepreneur that asked whether we send out press releases. The answer is twisted: So far I have refrained from sending out press releases. But that might change…
Contra
Press releases are not authentic. They're written in an obsolete sleazy PR lingo, trying to get embellished bullshit past the editorial desk. They're usually rejected by the Internet crowd. And to us, the web crowd is the one that transports our message.
Often editors just take whatever an agency said and publish it in good faith without editing through the sneaky parts. You can still reach an impressive amount of newspaper readers that way but they usually just read the headline and then quickly get bored with the PR lingo bullshit.
You are much more likely to start a wave online if the critique is balanced, that is: If there is a credible amount of negativity in there. As an agency it's more fun to read critical critiques of your work than sucking your own tongue.
This is why I never send out press releases. Readers are more likely to read it. Consumers are more likely to talk about it. We learn more.
Still, lately Chris and me have been discussing whether we should change that policy. The Zurich office sent out a press release upon the launch of Zeit.de. Being a little agency with few friends in the editorial offices, it was only picked up by one ad magazine. Somehow even the ad magazine I write for ignored the email. No big deal you might say, but…
Pro
…as we've noticed just recently, there is a certain amount risk involved with not sending out press releases.
Even though they're rarely researched properly, to the paper reader, press releases look like editorial content. Instead of fact checking the article they often just shorten it down or rewrite it a little bit to look more authentic.
Reaching a big passive crowd with a good headline selling your product in 5 seconds is free, powerful advertisement for you and your customer. If you're really sneaky you can make people believe that Windows7 is better than vista, or that Leopard is one hell of an update (it turns out that if tested by a larger user base both really suck).
A rare but existing risk is that other classic agencies might eat your lunch. Eat your lunch? Huh?
Misleading Press Releases
As you know, iA redesigned krone.at. I was quite happy when I heard that our customer produced a TV spot promoting the relaunch as a "revolution". I was less amused when I read a recent press release that reads as if the agency doing the spot did the redesign:
LoweGGK Relaunches krone.at: Under the title "Revolution on the Internet" the agency Lowe GGK relaunches their client krone.at. With the spot.
The body text states that it's about an ad campaign, but you have to read it with some attention to understand who did what. Of course they don't mention who did the design. But they mention the whole crew that worked on the project, which is usually a sign of a press release initiated by the agency.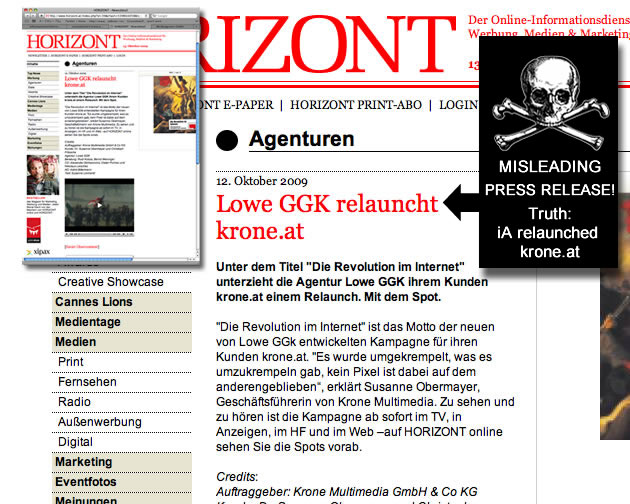 To first suggest that krone.at has been redesigned by LoweGGK and then relativize it with an ellipse might seem like a funny rhetoric trick—unless you're the agency that actually did the work. Let me state this clearly: for us the title "Lowe GGK Relaunches krone.at" is wrong; it's not funny. Even though they add that it's a "spot," will be read and misunderstood by most busy people. Think I that I am too sensitive? Thought so too, until I saw this:
LoweGGK Revolutionizes krone.at: An ad campaign is supposed transport the relaunch of the portal—with TV and radio-spots.
The body text of this article states more clearly that it's about an ad campaign, but the headline still transports the same message and the headline is what most people read.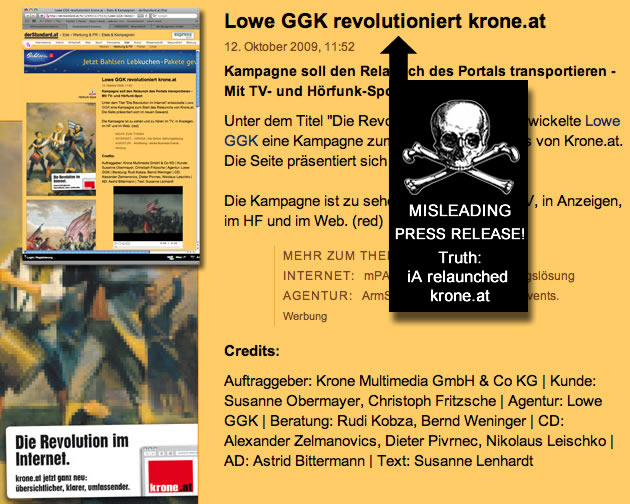 Hard to imagine, but this could all just be an accident or done in entirely good faith. If so, then there is a lot of sloppy editing involved on either the agency side or the editor side or on both sides. Sloppy because a bad headline on a newspaper will leave people with the wrong impression.
So do Press Releases Suck or Not?
Yes they suck, but if you're an agency you have to play the game or change the game. One thing is clear: You are not going to read misleading press releases from iA that suggest that we did what someone else did. And you are definitely not going read embellished PR nonsense about our projects. The worst thing in communication that you can do is not leaving a bad impression but being boring. That will never happen here.
UPDATE: Horizont has changed its headline and added us as the authors of the Redesign. Thank you, Horizont.