Skip to content
Technical Details
01. Feature Table
The key differences are:
| Feature | iOS/macOS | Android | Windows |
| --- | --- | --- | --- |
| Planned Support for OS Updates | YES | YES | YES |
| Additional Features Planned | YES | YES | YES |
| iCloud & iOS11 Files Integration | YES | | Install |
| Dropbox | YES | YES | YES |
| Focus Mode | YES | YES | YES |
| Local image embed | YES | | |
| Content block embed | YES | YES | YES |
| Night Mode | YES | YES | YES |
| Syntax Control | YES | | |
| HTML Preview | YES | YES | YES |
| PDF Export | YES | YES | YES |
| MS Word Export | YES | YES | |
| MS Word Import | YES | | |
| Document Search | YES | | |
| Internationalization | E, D, J | E, D | E, D, J |
02. OS Support
Our apps have differing operating system support, as detailed in the following tables:
| iA Writer for | Version | Supported OS |
| --- | --- | --- |
| iOS | 5.0+ | iOS 10.0 or later |
| Mac | 3.1+ | OSX 10.11 |
| Android | 1.0 | Ice Cream Sandwich (4.0) or later |
| Windows | 1.0 | Windows 7+, 64bit |
To allow us to focus on improving Writer and adding new features, we will consider dropping support for older operating systems once the majority of customers have migrated. However, if you previously purchased iA Writer, you may still be able to download the last version that supports your operating system from the App Stores (see here for details).
03. iA Writer History
The original iA Writer for iPad was created in 2010. Since then, we produced a second version along with apps for Mac, Android, and Windows. The all-new iA Writer represents the third generation of the iA Writer family. It is backwards compatible with both predecessors, and yet it is a wholly distinct application.
The new iA Writer directly replaces the position of its predecessor held in the App Stores. In this way, we could offer it as a free upgrade to Pro customers.
Going forward, there will only be the all-new iA Writer. If you purchased iA Writer Classic, you can still download it to your devices via the "Purchased" section of either App Store. However, we will not be updating it further and at some point it will no longer be compatible with Apple's OSs. If you would like to upgrade to the new iA Writer it will be a separate purchase.
Some further details can be found in our launch announcements for the major versions of the new iA Writer here, here, and here.
04. Text Encoding
iA Writer saves documents as plain text files, using Unicode (UTF-8) encoding. iA Writer supports opening documents in many encodings, but a document's encoding must generally be determined by heuristics (advanced guessing). If a document appears to be in "Chinese" when opened in Writer, this is generally due to an encoding problem, often from editing the document in a non-UTF-8 program such as Notepad for Windows. Learn what to do in this situation here.
05. URL Schemes
URL schemes allow you to open iA Writer from other applications on both OS X and iOS, and perform specific actions on opening. For example, you can turn a text snippet into a new iA Writer document. URL schemes can also be used to change some of iA Writer's defaults.
URL schemes are currently not supported in iA Writer Classic. Also, X-Callback-URL is not supported at present, but we're considering it for a future iA Writer release.
iA Writer currently supports the following URL Schemes in v3.0+ using the registered URL scheme iawriter://.
Document Schemes
Launch iA Writer: iawriter://
New Document: iawriter://new
New document with text: iawriter://new?text=[…]
Example: Copy and paste the following code snippet iawriter://new?text=This%20is%20a%20test in Safari's address bar to create a new iA Writer document, with the text "This is a test". Text needs to be percentage-escaped, however apps using URL schemes generally do this.
iA Writer 5.0 and above improve upon the old schemes and add some new parameters:
new – Creates a new document
Parameters:
path Required. Path where a document will be created.
edit Optional. If true, show keyboard.
text Optional. If present, document will be created with this text.
Example:
iawriter://new?path=/Shopping/Groceries.txt&text=Milk&edit=true

open – Opens a document.
Parameters:
path Required. Path of the document to open.
edit Optional. If true, show keyboard.
iawriter://open?path=/Shopping/Groceries.txt&edit=true

06. Privacy Policy
Updated: 16 February 2017
This Privacy Policy is for the iA Writer software product family ("iA Writer"), focused text editors by Information Architects, Inc. To make informed decisions on what to improve, we collect some usage data for iA Writer, as detailed below.
User Content
All text files, images, and other files displayed in iA Writer's Library ("user content") are kept either in a local folder on a device or in a selected cloud storage. At no time is any user content sent to or obtained by Information Architects. User content stored in a cloud storage is subject to the user agreements and privacy policies of the service.
What information does iA Writer obtain?
Crash Reports: To help us begin fixing any problems right away, iA Writer will automatically send anonymous crash reports. Crash reports contain information on the crash, including device model, system version, plus the application's version and build number.
Anonymous Statistics: We collect the following statistical data: timestamp, device model, system version, device language, plus app version, build number, feature usage, and anonymous installation identifier.
How is the information used?
In both cases, this data is collected for the sole purpose of helping us to improve iA Writer apps and does not include any personal information. No other data is collected.
Do third parties have access to this information?
As governed by their respective Privacy Policies, anonymous crash reports are symbolicated by HockeyApp, and may be shared with Apple when reporting bugs. Similarly, crash and app not responding(ANR) reports may be shared with Google when reporting bugs. They are not shared with anyone else outside Information Architects. Anonymous statistics are not shared with anyone outside Information Architects, except in aggregate.
Why does iA Writer request permission for Contacts on Android?
In order to connect to the full Google Drive API, permission for Contacts is required. iA Writer itself makes no use of these permissions, nor does Information Architects collect or store any information of this type.
Changes
This Privacy Policy may be updated from time to time. We will notify you of any changes by updating this Privacy Policy, and if the changes are significant by mentioning them in the Release Notes.
Your Consent
By using iA Writer, you are consenting to our processing of this collected data. "Processing" means using or touching the data in any way, including collecting, storing, deleting, using, combining, and disclosing data, in accordance in this Privacy Policy. All of these activities will take place in Switzerland. If you reside outside Switzerland, collected data will be transferred, processed, and stored there under Swiss privacy standards.
Contact Us
If you have any questions regarding privacy and iA Writer or our practices, or if any aspect of this Privacy Policy is unclear, please contact us via email at [email protected]
iA Writer Support
Get iA Writer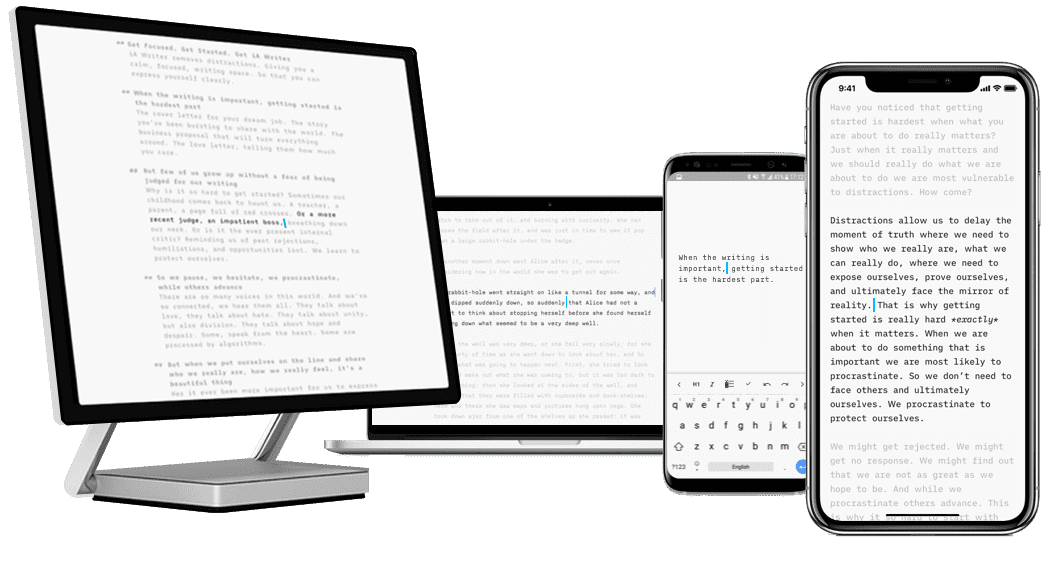 iA Writer Newsletter
Subscribe to get updates, outlooks and tips on upcoming iA Writer releases. Expect no more than one mail per month.