App Store FAQ
"Not in Purchases"
If you've purchased iA Writer or iA Writer Classic and would like to reinstall it, but can't find it in App Store.app, there are five possibilities:
1. You purchased the app using a different Apple ID
Please log in using that account to install or upgrade Writer.
2. You purchased iA Writer or iA Writer Classic for iPad and iPhone, rather than for Mac (or vice-versa)
Apple does not offer a method for developers to bundle apps between the Mac and iOS App Stores. As such, the Mac app and the iPad/iPhone app are separate programs, and need to be purchased separately.
3. You purchased the app, but the App Store has forgotten about this
Double-check that you're logged in using the Apple ID you originally used to purchase, then click the Buy Now button. After entering your password you'll see a dialog informing you you've already purchased the app, and there's no charge: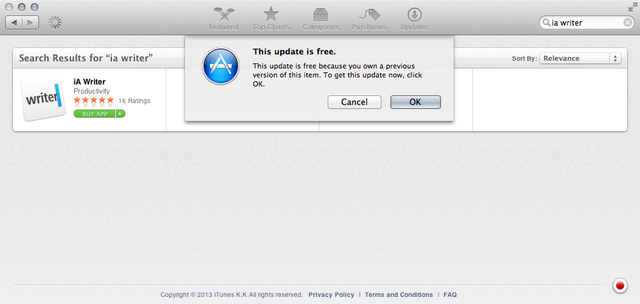 The Mac App Store app showing the dialog "This update is free" after attempting to purchase iA Writer a second time. Note: This can also happen in the iTunes App Store.
4. You accidentally hid the app
In the Mac App Store app, go to Store → Account, and look for View Hidden Purchases: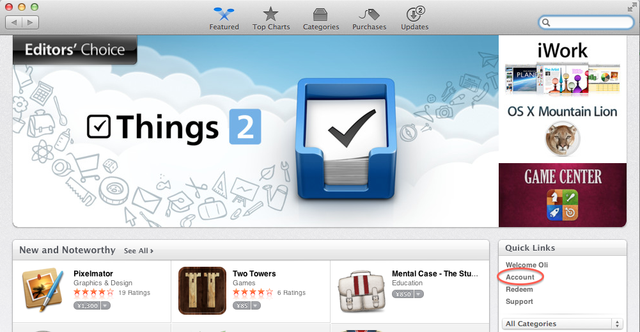 The Mac App Store app, showing the Account link in the Quick Links section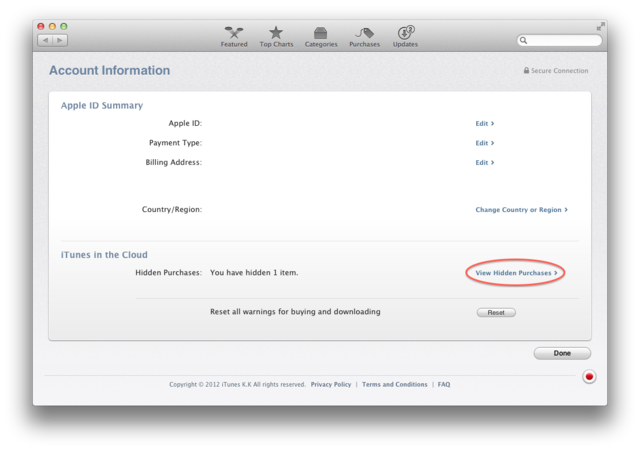 Under Account Information in iTunes in the Cloud, there's a View Hidden Purchases link

Viewing Hidden Purchases gives you the option to unhide any hidden apps
After this please try installing Writer from the Purchases section again. If you're still having problems after trying these steps, please let us know.
5. "There was an error with the App Store"
If you have this error, please wait a few minutes and try again. If this issue persists over a long period of time you might try the following:
Quit the App Store
Go to the Finder
Empty the trash
Choose Go To Folder from the Go menu
Type in /var/folders
Move all subfolders to the trash, but do not empty
Launch the App Store and pull the update the app
As the app is updated, one of the folders moved to the trash will be recreated in /var/folders¹
Move all folders but the recreated one back to /var/folders
¹ The last two steps might not be necessary as it appears that all essential folders and files will be recreated as needed. If you don't want to do them, we recommend restarting your Mac instead.
Can I get a refund?
As Apple handles all purchasing and distribution matters, we can't do refunds by ourselves. Please use one of the methods below to request a refund from Apple.
Request a refund using your email invoice (For any version of Writer)
Find the invoice for iA Writer, sent by "iTunes Store"
In the email click on the link under iA Writer that says "Report a Problem"
Select a problem and add any additional comments
Request a refund using Apple Support
Go to Apple Support
Click on "Orders"
Sign in with your Apple ID
Follow the on-screen prompts
Apple should reply by email in a few business days regarding their decision.