Spell Checker
iA Writer for Mac use OS X's built-in spell checking, which can check in multiple languages. You can access this via Edit → Spelling and Grammar, or via Spelling and Grammar in the right-click (⌃+click) context menu.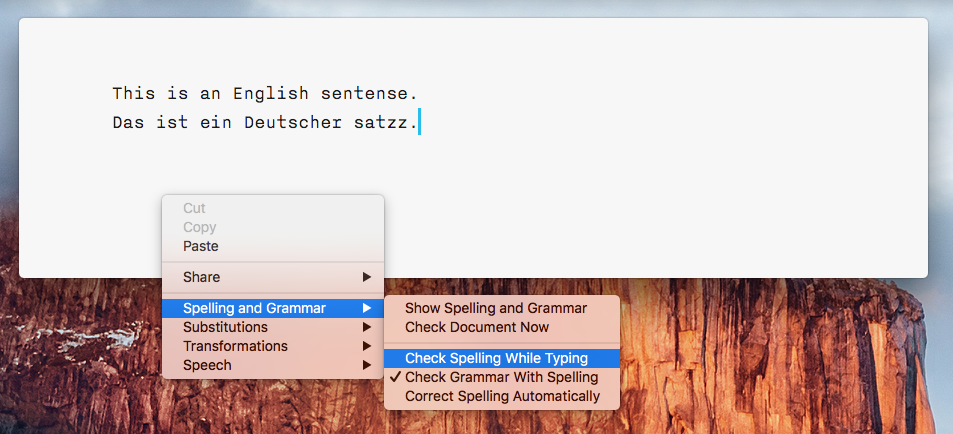 Show or hide spell checking's red underlines with "Check spelling while typing"

Spell checking works in multiple languages

"Show spelling and grammar" and "Check the document now" show the spell checker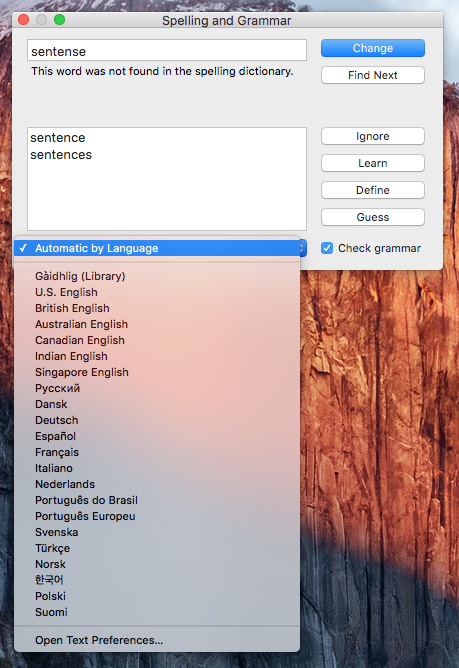 OS X supports many languages, and you can change the language if "Automatic" doesn't work as expected
You can also change spell checking settings in System Preferences → Keyboard → Text.
Limitations
Currently, iA Writer for Mac officially supports Latin alphabet-based languages, Russian, and Greek. This means iA Writer for Mac does not support all the languages available in the spell checker, and for some supported languages the font might switch to one provided by OS X.
While we're currently working hard on expanding Writer's language support, languages such as Japanese, Chinese, Korean, Thai, etc. are not yet officially supported. Right-to-left languages such as Hebrew and Arabic are not supported at all yet. We're working hard to internationalize iA Writer for Mac, and hope to officially support more languages in the future.
Adding Dictionaries
If your version of OS X lacks a dictionary for Greek or another iA Writer-supported language, you can install one via the following steps:
Download a Greek dictionary, such as the one from OpenOffice. If the file you download ends in .oxt, change this to .zip, then double-click to expand
Drag the .dic and .aff files into your OS X ~/Library/Spelling folder
Open System Preferences → Language & Text → Text (OS X 10.7-10.8), or System Preferences → Keyboard → Text (OS X 10.9), click on the Spelling pulldown, then select Set Up…
Make sure the dictionary you added is checked, and drag it to rearrange the order, for Automatic by language spell-checking
If you can not see Greek in iA Writer for Mac's Spelling dialog after doing this, quit and restart iA Writer for Mac.