As you can tell, we've redesigned the Web Trend Map from scratch. It's now presented as an isometric landscape.
It employs the Kanto area as its metaphor with two additional layers: one showing the brand evaluation of the main sites, and another their interface. We've invested another two hard weeks of work into this, so you'd better madly love it. Just like Windows Vista, it may be "the last of its kind."
What's New?
All the lines are new and we laid the tracks in perspective, but we kept the look, feel, and story line consistent with Version 1 and 2. Once again, we've included plenty of insider jokes, ironic hints, and sarcasm.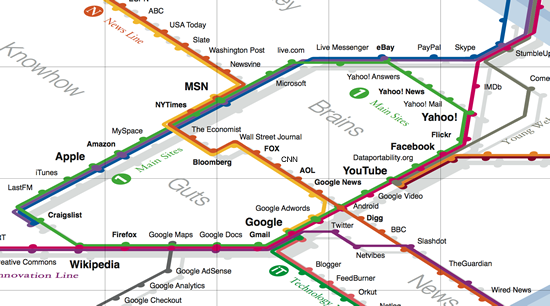 The Center of the Center: Google in Tokyo
In terms of traffic, Tokyo station is the center of Tokyo. That's why Google (which is slowly becoming a metaphor of the Internet itself) has moved from Shinjuku to Tokyo Station. Google continues to push new modules into the main lines in an attempt to occupy the center circle.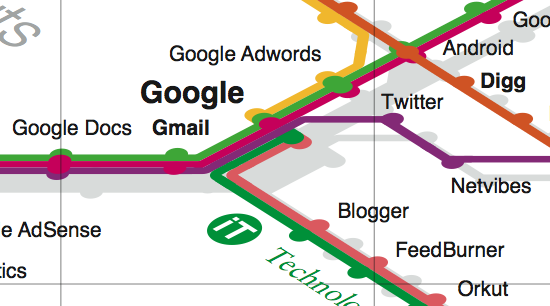 Electric Town and Nerd Paradise: Android in Akihabara
Akihabara, unoccupied in Trendmap 1 and 2 because no website was "otaku-poi" enough for it, is now occupied by Google's Android project. Akihabarians are proud androids and Google's next big project is a perfect fit.
Unknown, But… : Dataportability.org in Uguisudani
If things turn out as they seem like they're going to, the newcomer of the year is Dataportability.org. It has become the center of online identity practically overnight. OpenID, Google, Facebook, Flickr, and Plaxo all opened-up and joined this incredible project. Microsoft probably won't be happy as Passport (or is it "Passport Live?") now has no significance.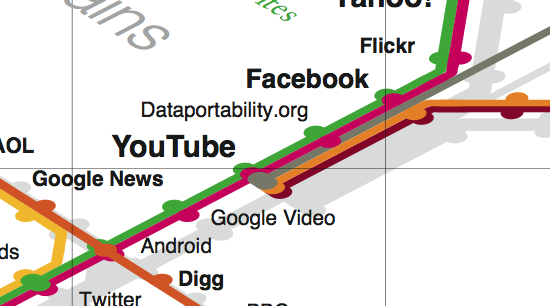 Just a Hub: Facebook in Nippori
Facebook has moved to Nippori because, from a broader perspective, Nippori is boring. But it's still an important station (Nippori is a hub for Narita, Tokyo's international airport).
Ya… who? Yahoo in Tabata
Along with our speculation that the Yahoo brand will move increasingly into the background as an umbrella for more exciting products and brands like Flickr, we gave Yahoo an insignificant station. Flickr, in Nishi-Nippori, is closer to Facebook (also a strong picture-sharing portal) than Yahoo (Yahoo-owned Flickr is a part of Dataportability.org).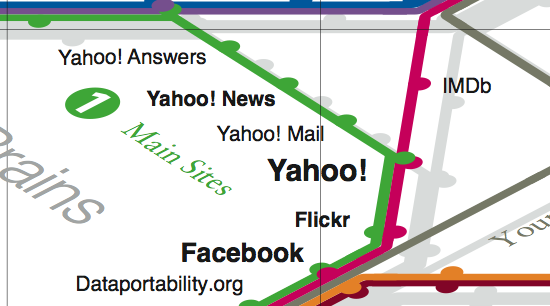 For Old Ladies: Yahoo News in Sugamo
Yahoo News (as we previously mentioned) is an underestimated trump card up Yahoo's sleeve. As Sugamo is the shopping center for old ladies, it's not the most thrilling station to occupy, but it fits the audience of Yahoo News: old people. Yahoo News recently hijacked the online advertisement revenue of around 250 local newspapers and locked them into a binding contract. And who reads local news? Old people.
Sloppy or Slutty? eBay in Ikebukuro
eBay has moved to dirty Ikebukuro. You can read this as iA's punishment to them for their slutty redesign or you can read their sloppy redesign as a sign of bad management.
Old Fat Astroboy: Windows Live in Takadanobaba
Windows Live is in Takadanobaba. This can be interpreted one of two ways. First, not only is Windows Live the worst online branding of all time, it's actually so childish that it's cute. Takadanobaba is where Astroboy was born, and Windows Live is like Astroboy after he grows up and grows old—too old and fat to fly. Second, Takadanobaba was once a city of intellectuals, particularly writers (Waseda, one of Tokyo's elite universities, is still there). Now, Microsoft Live has proven itself the armchair philosopher of branding. The brand creators played it by the book (short, simple, memorable name) and the brand strategists did the right thing (homogenized and penetrated), but in the end, Live is not live at all. It's theoretical: there is no life, no emotion, no power. Dear Microsoft, please get in touch with our good friend Scott in Takadanobaba. He's the inventor of such ingenious names as "Wii" and "Dreamcast."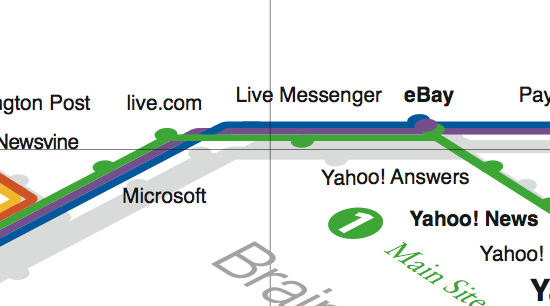 "I Got Four Words For Ya:" Microsoft in Shin-Okubo
Microsoft is in Shin-Okubo. I got four words for ya: "cheap," "cheap," "cheap," and "cheap."
Moving Towards a Central Node: MSN in Shinjuku
MSN has moved to Shinjuku. Lately it has increased its network (see: deal with Newsvine and The New York Times). MSN—unlike Microsoft Live—is doing things right.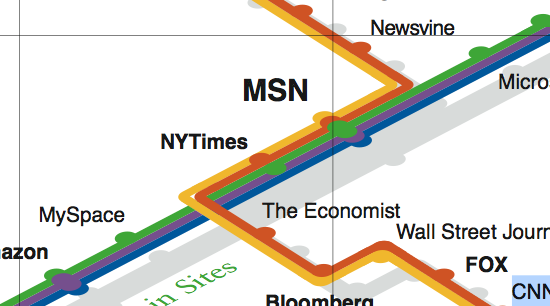 Rather Elegant a Neighbourhood, Isn't It? NY Times in Yoyogi
Behind the major towers of Shinjuku is a little town called Yoyogi. It's classy without trying too hard. Yoyogi features a nice park and sports Tomigaya—one of the coolest areas to live in Tokyo (its bars and cafes are an insider secret). The NYTimes neighbors MSN because they recently agreed to a content tie-up.
MySpace in Harajuku
They haven't really earned it, and it hurts to give away the coolest station (and where our office is located) to Rupert Murdoch, but it was necessary to keep FOX, The Wall Street Journal, and MySpace close together. Though, MySpace is young as Hell and does at times look pretty funky, so maybe Harajuku isn't such a bad fit after all.
Shopping! Amazon in Shibuya
Not only is Shibuya a very young environment, it's also a mecca of media merchandise (CDs, Books, and DVDs). Bic Camera, Tower Records, HMV, and all the cool record stores are there.
High Class! Apple in Ebisu
Ebisu is a very stylish neighborhood, so since Ginza and Omote-Sando are no longer on the map (Ginza is not on the main line), Apple deserves Ebisu.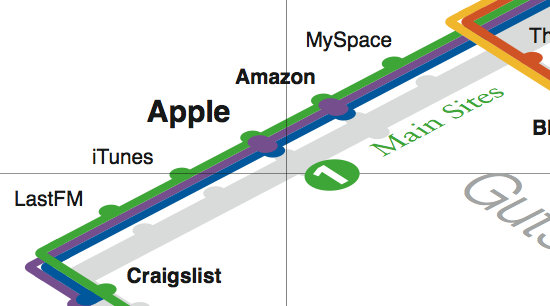 Steady Wikipedia in Shinagawa
Wikipedia keeps its ownership of the southern part of the Yamanote line.
The Last Big Stop Before Tokyo: Google Docs in Shimbashi
As we pointed out in our 2008 preview, Google Docs is an imminent threat to Microsoft. The most recent announcements on Google Docs' blog hint at major upcoming Microsoft attacks.
Guts and Brains?
We've split the main stations into "Guts" and "Brains." This doesn't mean that Google has no brains or Microsoft has a lot (see Windows Live), it's simply a basic characterization. Remember, we're still working on this.
Center Lines: "Money" and "News" Split Guts and Brains
Bloomberg and The Wall Street Journal are on the center line. Last time we totally forgot to include Bloomberg, which provides the central money instrument for the financial sector. The WSJ is there because of the big plans Uncle Rupert has in his drawer. If Rupert means business (what else could he mean), the Journal will go off like a rocket. Too bad iA and Rupert don't share opinions on pretty much anything, otherwise we'd try to get the job. If we have learned one thing in 2007 it's how to make newspapers work online.