What started as a fun new years card made quite a few waves. Google Search now reveals almost 50,000 search results for our Web Trend Map 2007, which means that it generated around 50,000 blog entries.
Key bloggers like Steve Rubel from Micro Persuasion (the nice guy from the dark side) wrote about it, Steve Bratt (CEO of W3C) contacted us and asked why the W3C is missing, a German newspaper featured it online, an Italian Internet magazine printed and distributed it in their DVD, and now the Japanese Media is getting interested.
Big in Japan
So today we made it on the front page of Sankei Shinbun print edition (center right, economy focused, 2,800,000 readers), and their website, and now our server soars.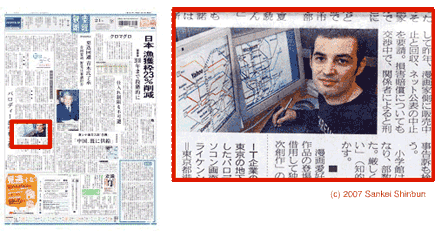 The article is about brand protection and parody. Tokyo Metro might not be happy that we use their M-mark upside down (Note: If you turn the M upside down it becomes a W). Last week a reporter from Sankei Shinbun came over and interviewed us. In short this is what we said:
The Internet is not a no-rule zone. The rules are very simple (treat people as you wished to be treated)
The real world and the Internet don't follow the same legal practice
Internet law is in many ways more pragmatic as do's and dont's are based on common sense/practice more than "the letter", and are thus closer the actual idea of the law (to make our social existence possible and worth while)
Legal practice on the Internet is more reasonable in regards to brand protection and copyright as well—that is for the end consumer
You only succeed if you show humor
What's Going on at iA Anyways?
Some readers contacted us, asking why we didn't post in two weeks. Thing is, we are working on an exceptionally huge project, I'm in the process of hiring another staff member and everyone is working around the clock to meet the crazy deadline. We'll be talking about it a lot as soon as we are allowed to do so.
So far this is what we can say: We are working on changing the print media from within. A leading publishing house has contacted us to sketch out a global strategy on how to make newspapers interactive. So, please hold on and wait to get blown away by our next project.
Come on, give us more! Sorry, we can't. If you want some secret hints: Take a look at what we discuss internally and compare it with our predictions:
Not a prediction but a credo: Branding is a core element of online success. CNet news believes that Microsoft blew it with their Windows Live branding. We'd have a lot to say about that, be we have this deadline…