It's time to mark a milestone – iA Presenter will officially launch June 1st.
In response to your valuable feedback, we're launching a much-anticipated feature: PowerPoint export. This feature allows for seamless compatibility with key presentation apps like PowerPoint, Keynote, and Google Slides.
From today, iA Presenter lets you export presentations into PowerPoint format, broadening the ways you can share your work. Remember, the PowerPoint export feature is still in beta. Here is what it currently supports:
| Feature | Support |
| --- | --- |
| Text Style | Text color, bold, italic |
| Lists | Basic list without indentation level support |
| Presentation Backgrounds | Plain colors and images (jpeg, png) with opacity support |
| Images | png, jpg, partial support for svg |
| Image size and position | Position and size (cover/fit) |
| Videos | mp4 |
| Tables | Tables with basic borders |
| Code blocks | Syntax highlighting and block background |
| Maths | Support for formulas with default font size and color |
| Header and footer | Slide number, date and custom text |
Note: when you use custom fonts in your presentations, they may not display correctly on a system that doesn't have them installed. Google slides f.i. doesn't offer custom fonts at all: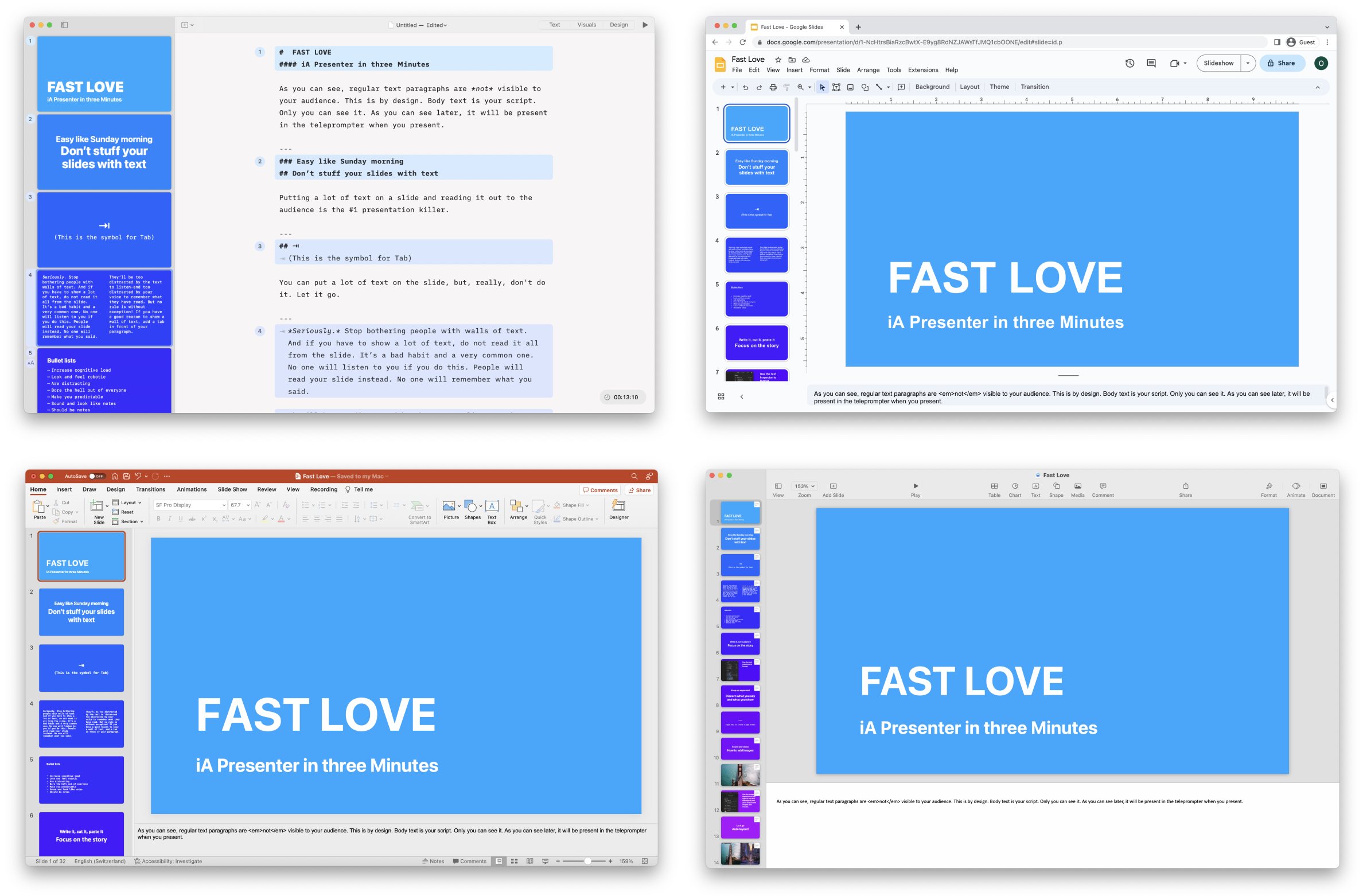 We'll need your continued support to perfect this feature. Challenges lie ahead, but with your feedback, we're confident we'll overcome them. Don't hesitate to flag any issues or propose improvements.
What you said and why it matters
Your ongoing feedback has been instrumental in molding iA Presenter. It now embodies the essence of a presentation app, purposefully designed for creating and delivering effective presentations. Check out this quick video, condensing the insights from over 30,000 testers into less than a minute.


iA Presenter Trial
We're excited to announce the trial of iA Presenter, where everyone is now welcome to join. Sign up to get a firsthand experience.
iA Presenter Trial for Mac
Enter your email to get iA Presenter trial, receive product updates, announcements, and a look behind the scenes.
You can keep sharing your thoughts and inviting friends and colleagues. You've shaped the design, tested features, fixed bugs, and even influenced pricing. Thanks for being part of this.