This update to iA Writer brings support for tabs in macOS High Sierra.
Version 4.2 also comes with a subtle UI polish in typography and transitions, all in preparation for the big 5.0 upgrade.
Tabs are a subtle and welcome improvement to getting things done in iA Writer. You can now keep all your documents open within the same window, instead of fracturing your focus across multiple. Due to restrictions within Mac OS, tabs work on High Sierra upwards only. Here is how iA Writer looks with tabs: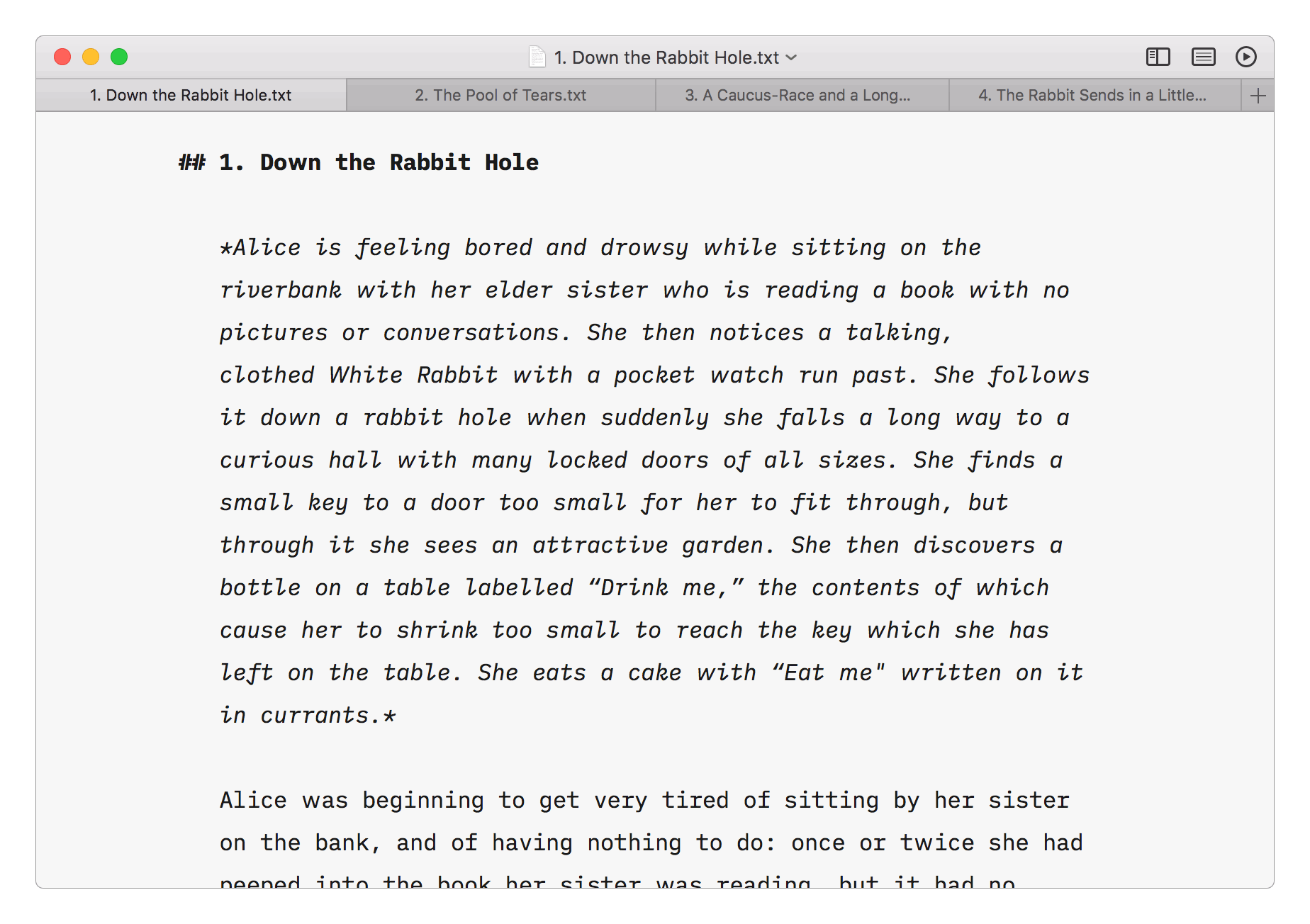 The HTML-preview has gotten a lot of attention in this update. It is now optimized for the two most common modes: Full Size and 50/50 split with the Editor. The transition to full-size preview has been improved and now matches the popping effect seen on iOS. It's really fun.
Our newest font, iA Writer Duospace, has been updated to include all the recent changes since iA Writer for Mac's last release. Among others, we added a wider em dash and a tamer Eszett. We intend to keep such updates coming in the future too, as iA Writer Duospace evolves.
For those of you authoring your own custom templates, you will now find support for data-title, data-date, and data-author template attributes on the main document page. This may sound a bit esoteric. But if custom templates are your thing, you'll like it. It opens up the design space for custom templates, letting you decide where on the page this info should appear. This can be crucial when creating business templates. Make sure you upgrade soon.
iA Writer for Windows
You helped make our iA Writer for Windows Kickstarter campaign a success and it is nearly ready for prime time. We've added in support for custom templates and export to PDF in our development builds; it will be dropping down to beta testers later this week. A full 1.0 launch isn't far off.
iA Writer Web Collaboration
Also this week, we'll be pushing online collaboration to our alpha testers of iA Writer for Android. It lets you take any document from your iA Writer Library and upload it as a shared document on ia.net. With your friend, editor or another collaborator, you can work together on the document at the same time. When you're finished, you can close off the sharing session, remove it from the web, and save the content back to your device.
This post was written in a collaboration session and it made copy-editing a dream. We look forward to getting it into your hands too.