We have just updated iA Writer for Mac, iPhone and iPad. We have been working hard to make them compatible with upcoming Mountain Lion and iCloud features. What's new?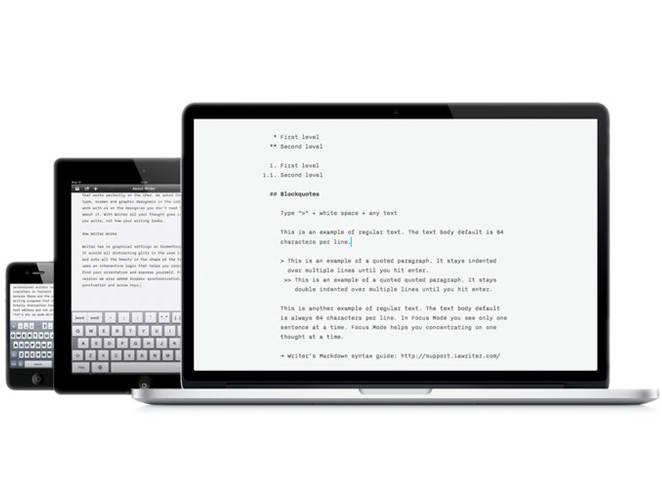 Mac: New parser and window framework
As you probably know, the Mac version comes with a powerful text parser and window framework that allows us to use the unique combination of:
Auto Markdown with auto-indent
Dynamic title bar
Focus Mode
And our famous blue cursor
To implement the dynamic title bar, we had to use a custom window framework that came with some downsides for third party apps, multi-monitor setups, and older machines. For this version we've overhauled our text parser, and built a completely new window framework. It is flying fast, and should work seamlessly with third party apps and multiple monitors.
Mac: Document panel
iA Writer for Mac is the first writing app that fully supports Mountain Lion, including folders in iCloud. To make this possible, we put all our energy into making iA Writer 100% ready for Mountain Lion.
Making those iCloud folders work both on OS X and iOS was a major achievement: you can now write and organize all your texts with one application.
The only downside is that you will have to wait another couple of days for Mountain Lion to launch. (Note: On Lion and Snow Leopard you can only view iCloud folders and their contents, not create them.)
iOS: Folders everywhere!
iA Writer for iOS is a universal app, meaning you get both the iPad and the iPhone apps in one. Since Mountain Lion allows you to work with folders, we wanted to support iCloud folders on iOS too.
We implemented Apple's standard behavior for creating folders on touch devices: simply drag a document and drop it on a second document, and they will automatically be put in a new folder.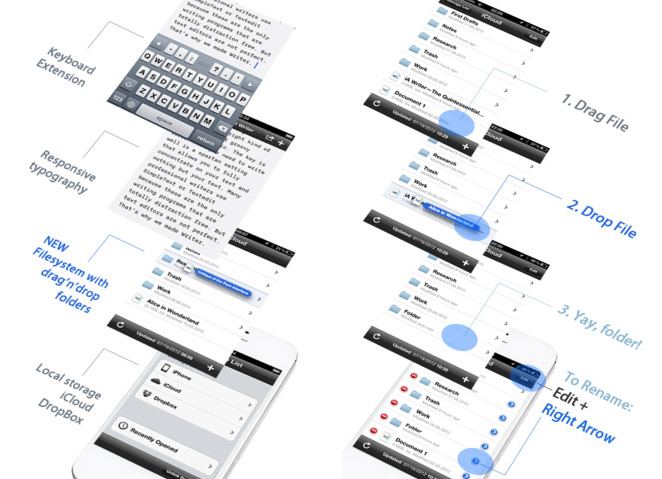 iOS: Responsive typography
As of our latest update, iA Writer for iOS comes with responsive typography. No matter whether you use an iPhone 3GS or a new iPad with a Retina display, the typeface will always look stunning.
What's next?
We hope you like these changes. Our next update will concentrate on more visual changes. If you haven't got our apps yet, now is a great time to buy them—both iA Writer for Mac ($4.99) and iOS ($0.99) are currently discounted, for a limited time!