iA Writer for Mac, version 5.0, is now available for download in the Mac App Store. It comes with a brand new document library, and apart from English, German and Japanese, it now also speaks French, Spanish, Chinese, Italian and Portuguese.
Favorito, Favorito…
We wanted to make file management intuitive and fast. So we added an Organizer panel on the left side of the Library, providing easy access to Library locations and Favorites. We invested a lot of time into finding a way to split the title bar without going too much off course from the Mac OS standards.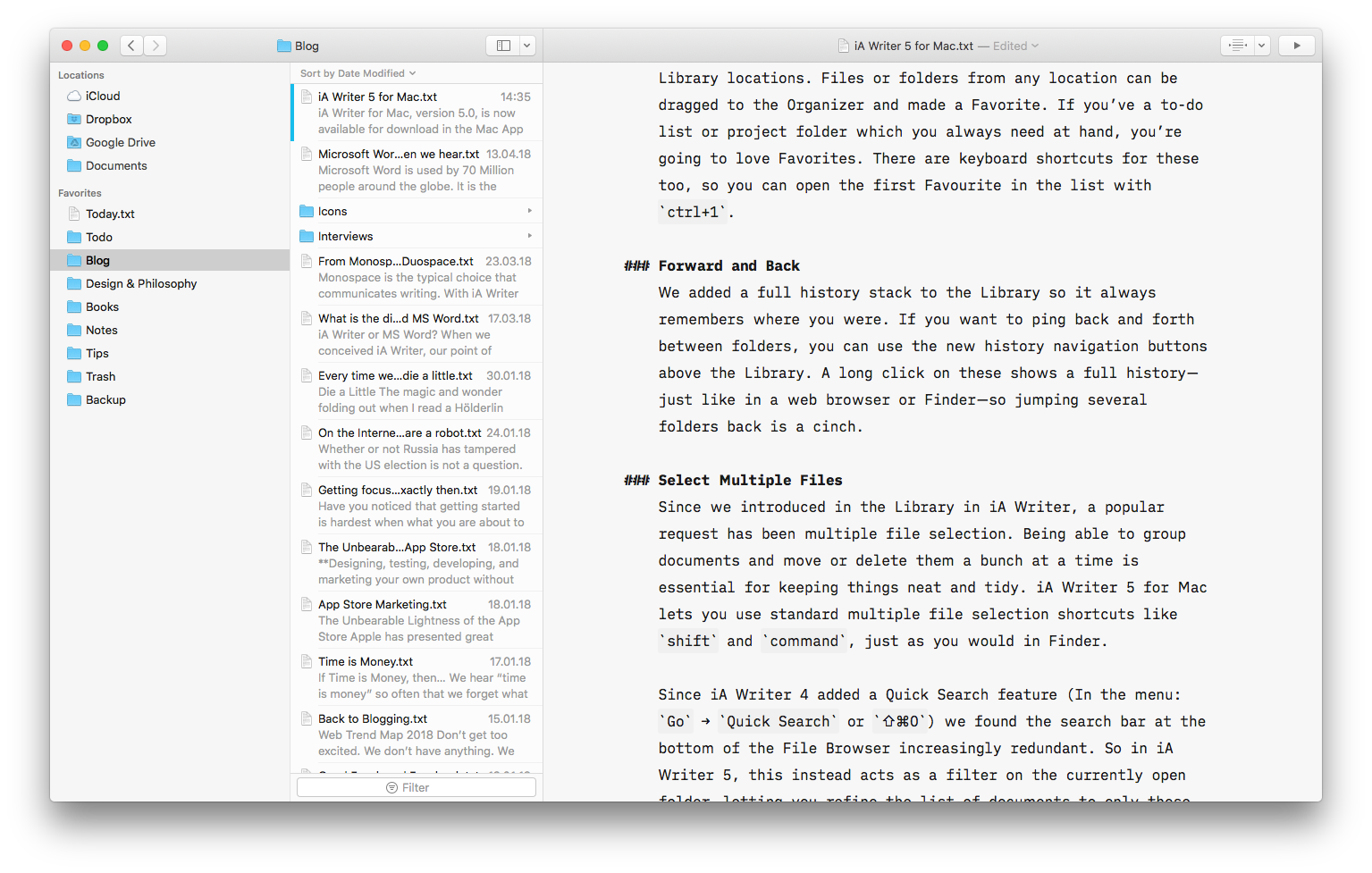 You can quickly drag & drop folders from Finder to add them as Library locations. Files or folders from any location can be dragged to the Organizer and made a Favorite. If you've a to-do list or project folder which you always need at hand, you're going to love Favorites. There are keyboard shortcuts for these too, so you can open the first Favourite in the list with ctrl+1.
Forward and Back
We added a full history stack to the Library so it always remembers where you were. If you want to ping back and forth between folders, you can use the new history navigation buttons above the Library. A long click on these shows a full history—just like in a web browser or Finder—so jumping several folders back is a cinch.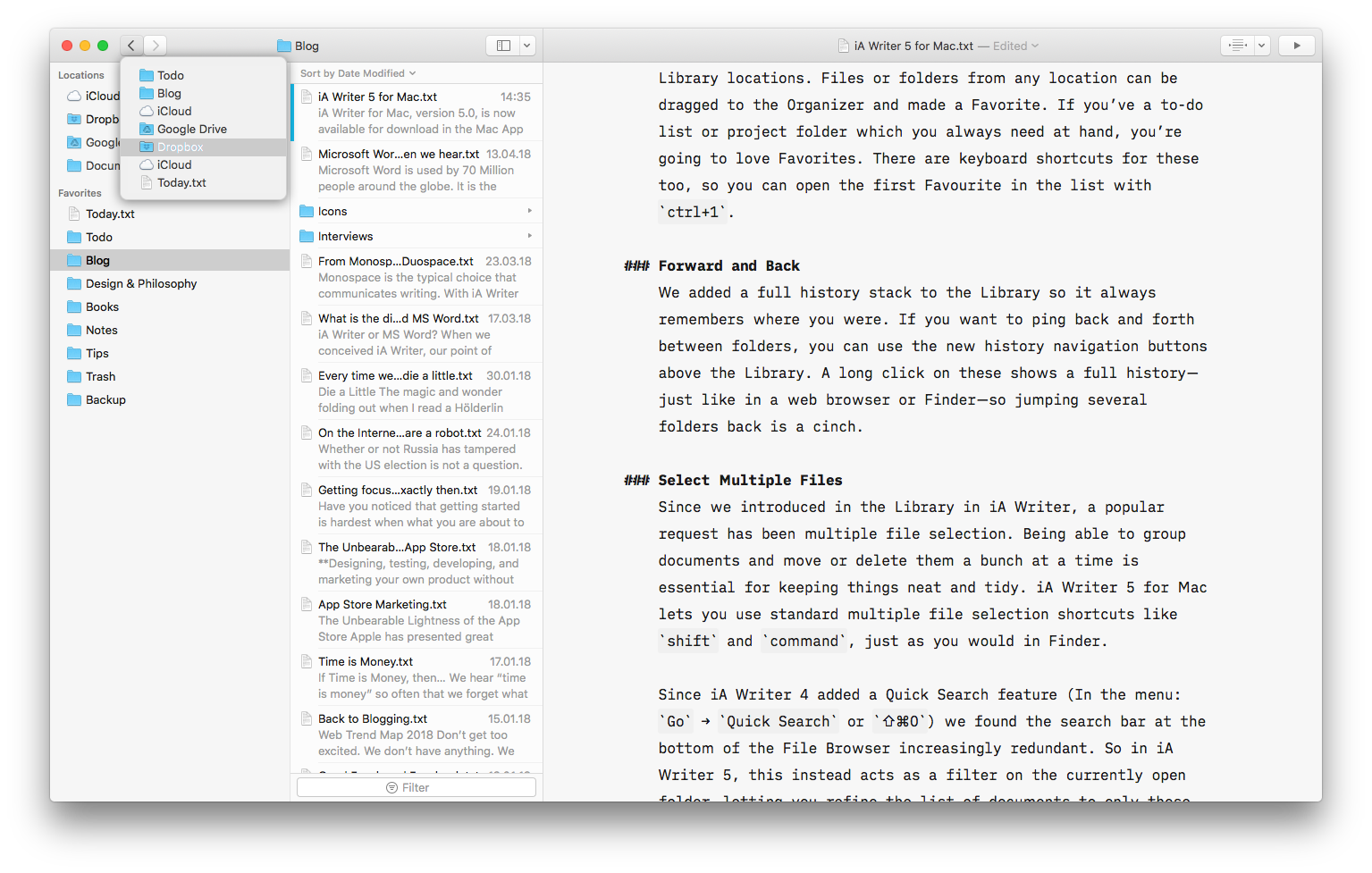 Select Multiple Files
Since we introduced in the Library in iA Writer, a popular request has been multiple file selection. Being able to group documents and move or delete them a bunch at a time is essential for keeping things neat and tidy. iA Writer 5 for Mac lets you use standard multiple file selection shortcuts like shift and command, just as you would in Finder.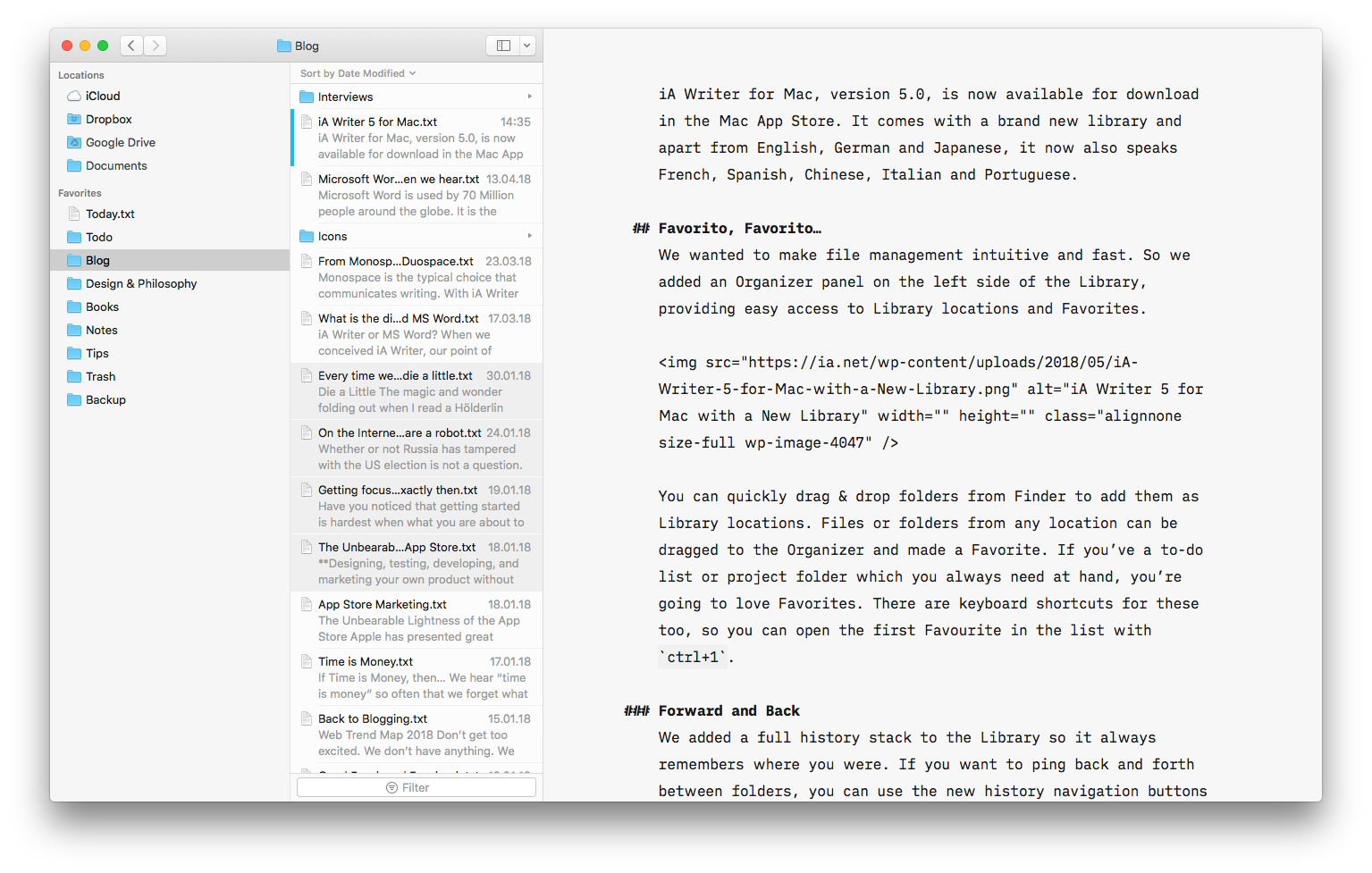 Since iA Writer 4 added a Quick Search feature (In the menu: Go → Quick Search or ⇧⌘O) we found the search bar at the bottom of the File Browser increasingly redundant.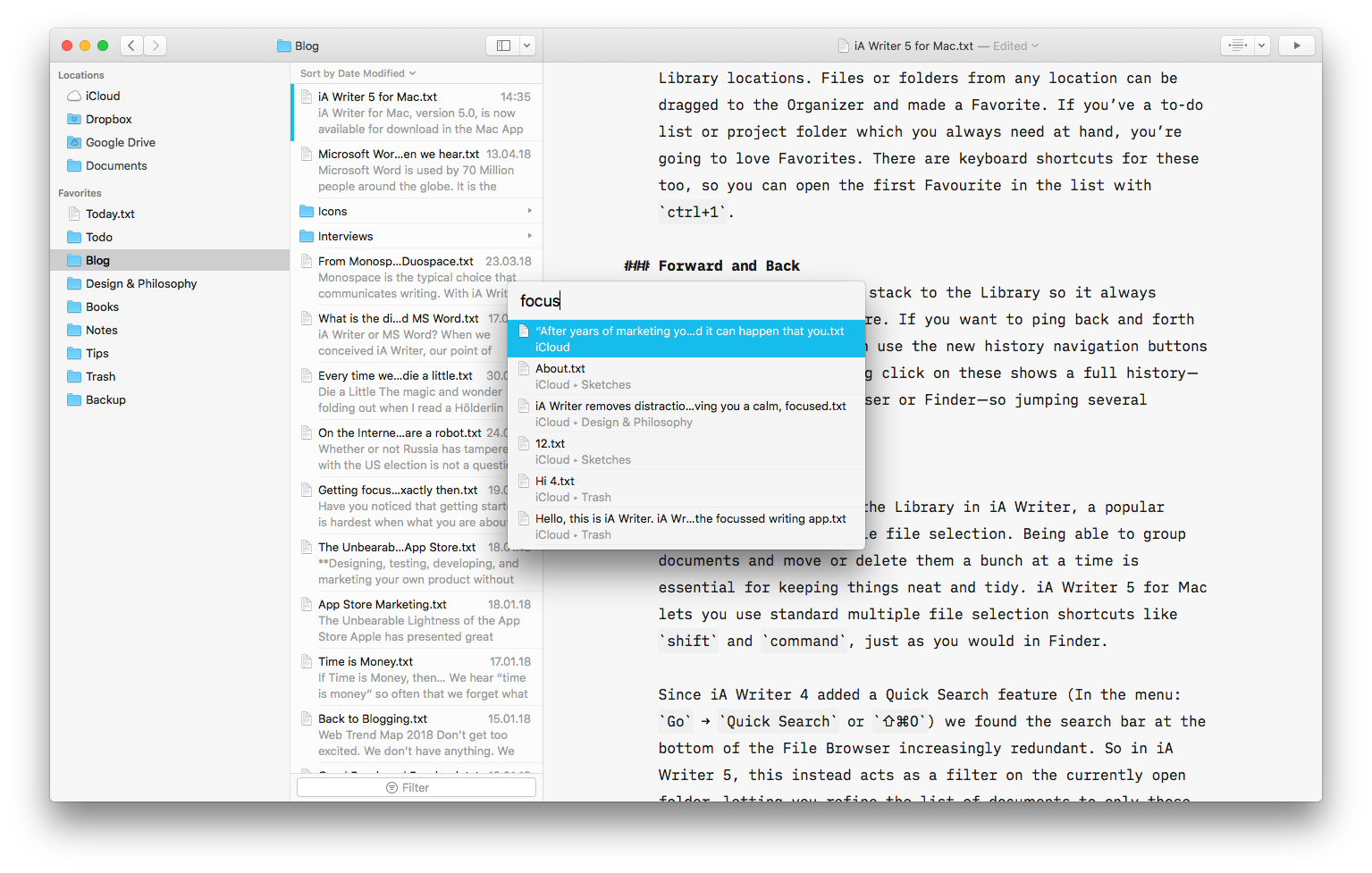 So in iA Writer 5, this instead acts as a filter on the currently open folder—letting you refine the list of documents to only those you wish shown.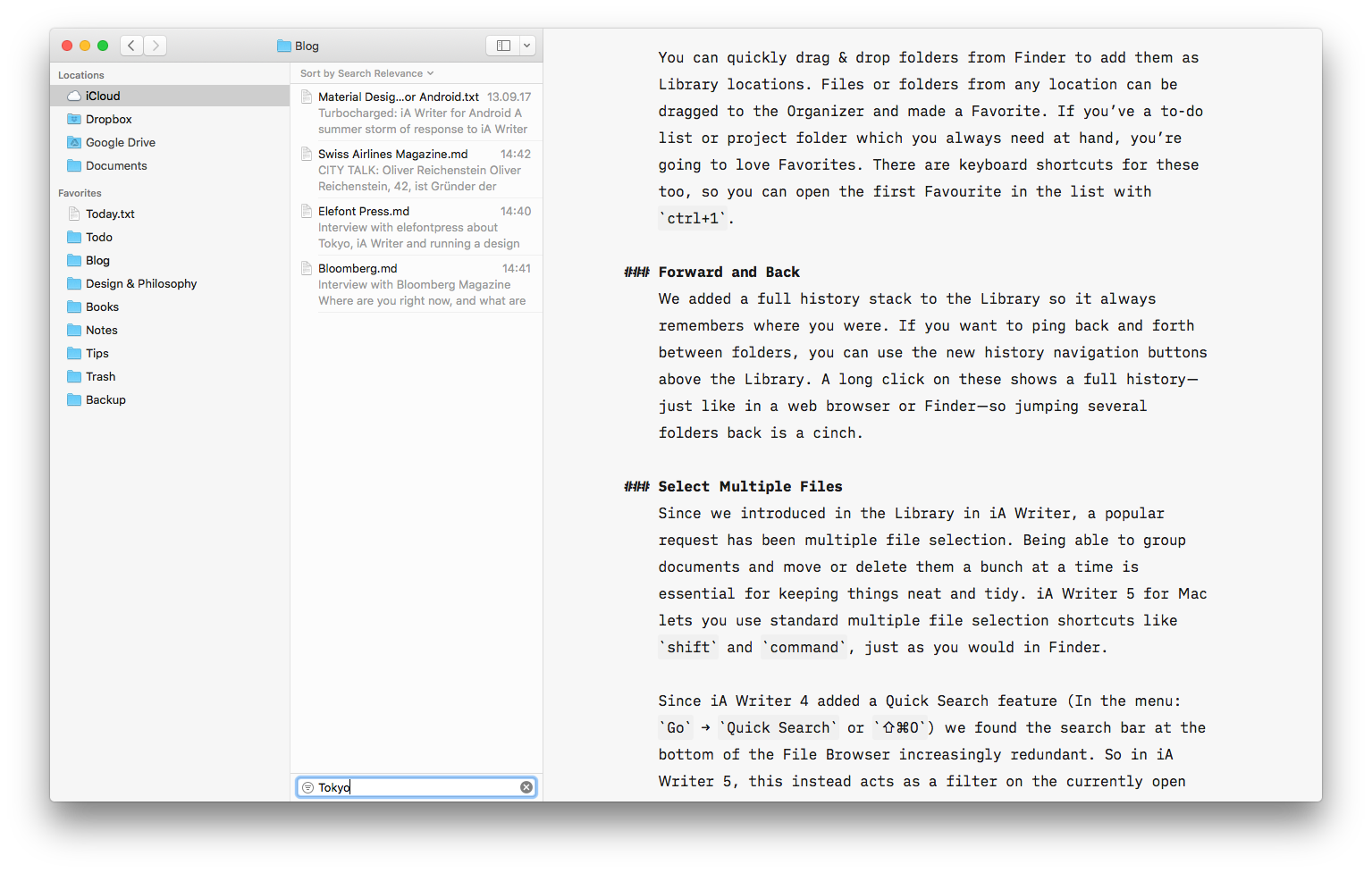 We regrouped all the focus functions (Sentence, Paragraph, Typewriter and Syntax Highlight) under one button. By popular demand, toggling it on and allows you to switch on Focus independently from Syntax Highlight.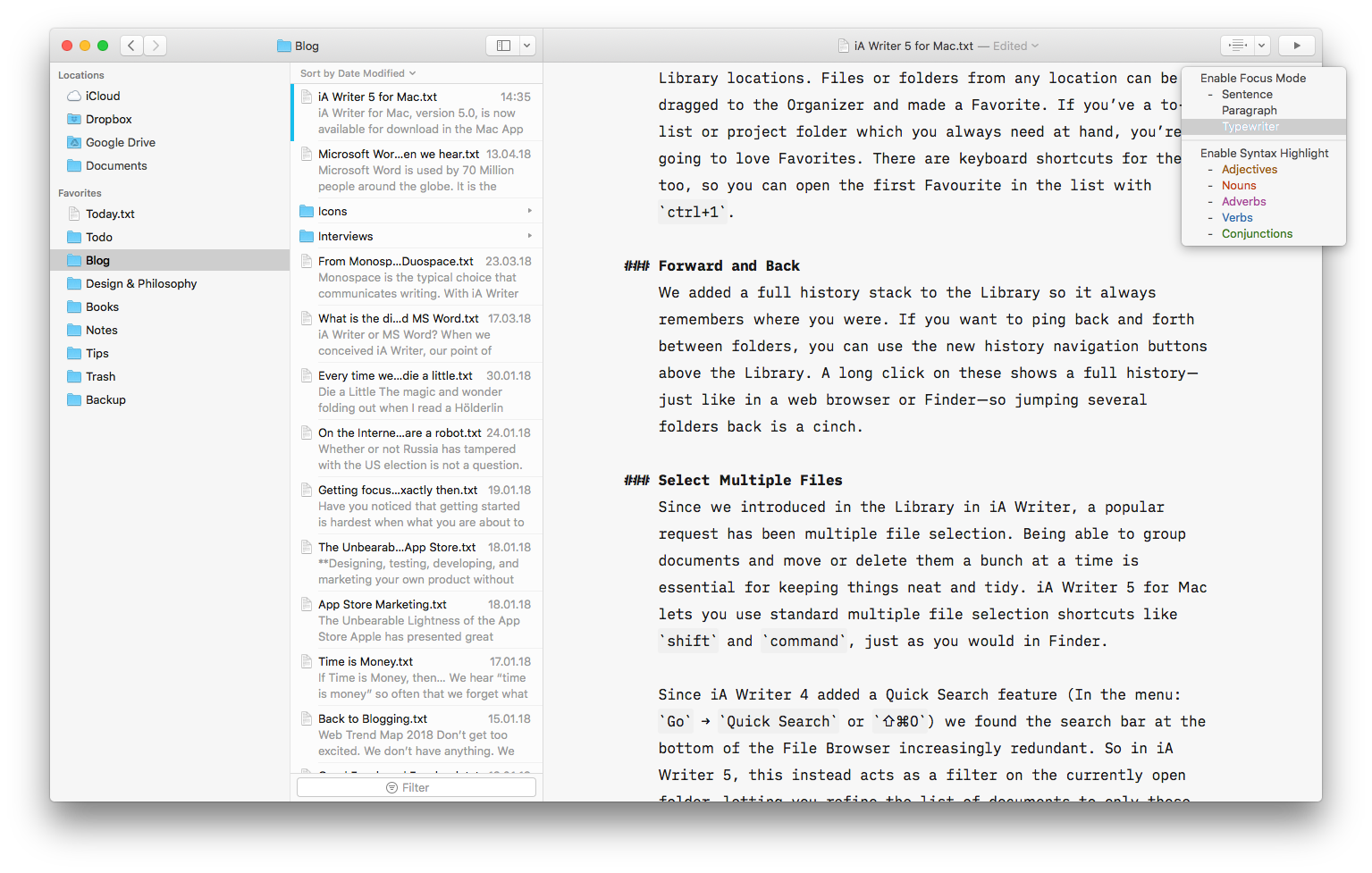 Ni Hao Per Vous También Hoje Em Dia
iA Writer has long been localized in English, German and Japanese. With 5.0, we're expanding this list to include French, Spanish, Chinese, Italian and Portuguese.
It's a lot of work getting all these languages translated appropriately, so it is quite possible we've missed the mark once or twice. To keep these localizations at their best, we created a GitHub repository. If you find a translation that needs improvement, you can let us know there and we'll look to add it into the next update.
In time, we also want to use this repository to bring in new languages too. We'll update here with more news on this as it develops.
Get it now
iA Writer 5 is available for $29.99 in the Mac App Store as of today. Word on the street is that the price might go up, soon…