In 2010, the original iA Writer introduced focused writing with Markdown. Twelve years later, iA Writer opens the doors to a simple and friendly knowledge management system with wikilinks.
iA Writer 6 for iOS, iPadOS, and macOS is its biggest update since its introduction in 2010. For almost two years, a group of over 1,000 beta testers worked with the iA team on turning a static document library into a living knowledge base.
Why Wikilinks?
We all heavily use Wikipedia to learn. It just works. Actively contributing to it, on the other hand, is not that popular. Creating and managing a wiki quickly gets you deep into coding territory with sci-fi nomenclature, intimidating user interfaces, and alienating programming requirements. That's a shame.
Wikis allow you to add everything you read and write to a body of ideas that live and grow. You can connect your thoughts and learnings, make them easily findable and thus build a living web of articles, notes, research, and ideas. Once you start connecting your documents, you simply do not want to go back to static files. Markdown and wikis will never be as popular as ice cream. But they should be as appealing and easy to get into for everyone that takes notes, researches, and writes professionally.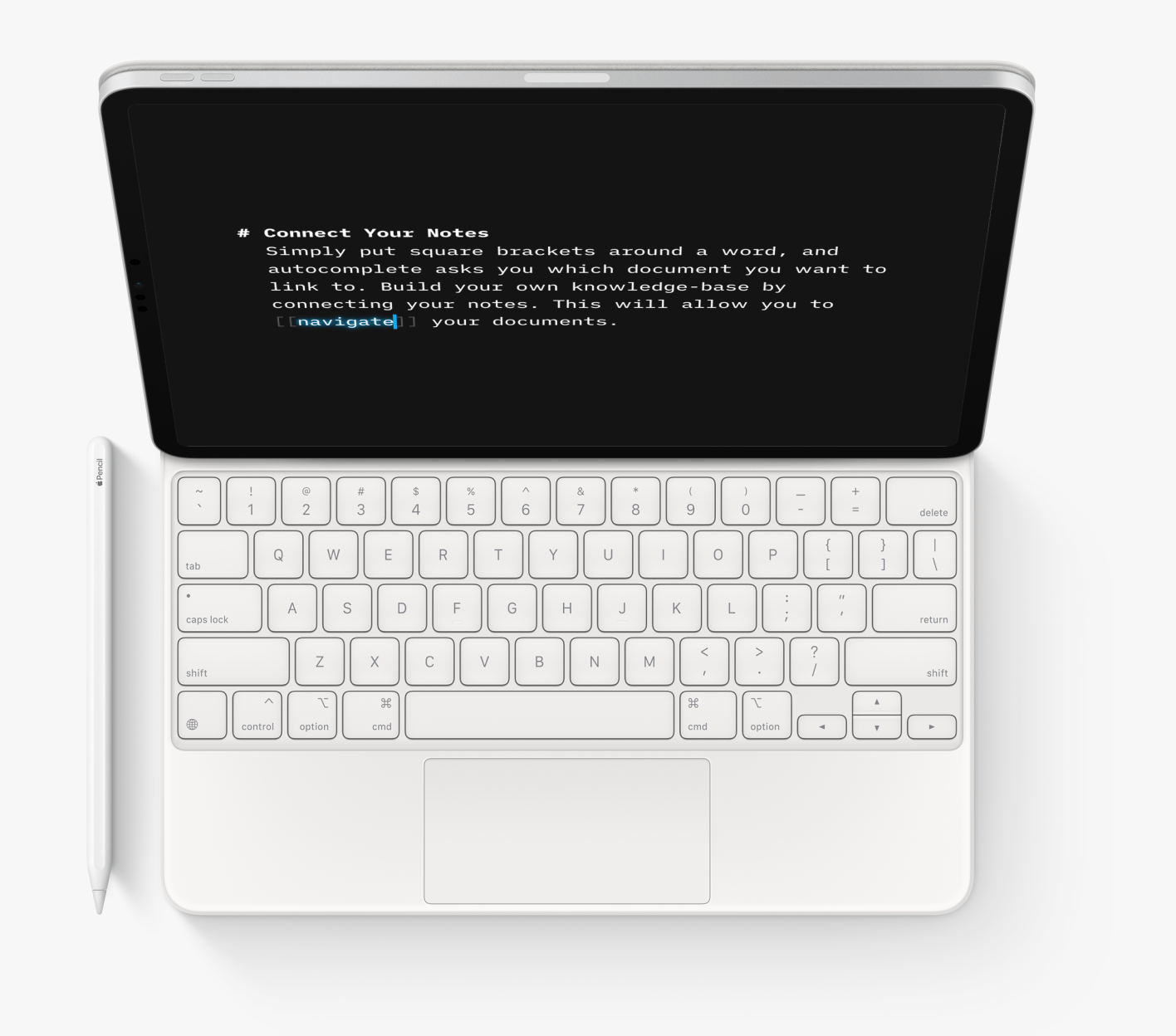 Imagine you could have your own Wikipedia with all the things you learn, think, know, and come across. Imagine it was as easy to manage, as beautiful and focused as iA Writer… Well, now you can.
By combining the simplicity of Markdown with the power of wikilinks, iA Writer opens the doors to anyone with basic Markdown skills to quickly start their own wiki.
What About These Lasers?
Wikilinks are enclosed in double square brackets: [[link]]. To make a wikilink, just type the opening brackets and the name of the file you would like to link.
The editor automatically inserts the closing brackets. Autocomplete suggests files from your library as you type. When the cursor is on a link, text lights up with a typographic laser.
You can open the linked file with Command-click, Command-Return, or laser arrow in the keyboard bar on iOS and iPadOS. If the file doesn't exist, it'll be automatically created and ready to type.
Navigation history keeps track of the files you recently opened using wikilinks. The previous document is a swipe or a keyboard shortcut away.
A Major Update
iA Writer 6 is a major update that improves every aspect of the app. Here are a few highlights:
We added autocompletion for hashtags, and automatic detection for all links.
Content blocks now support a simpler syntax inspired by wikilinks, and a set of powerful new features enabled by metadata variables.
You can now effortlessly preview your work in real-time side-by-side with the editor on iPadOS.
Lightning Menu on iOS and iPadOS provides fast access to your favorite formatting commands and features, right from the keyboard bar.
Completed tasks are now faded and crossed-out by default, and highlighted text features a fresh new style with six color choices, configurable in settings. We've modernized the apps to look, feel, and work consistently with the latest releases of iOS, iPadOS, and macOS.
You can see the full list of improvements in the apps, tailored to each platform.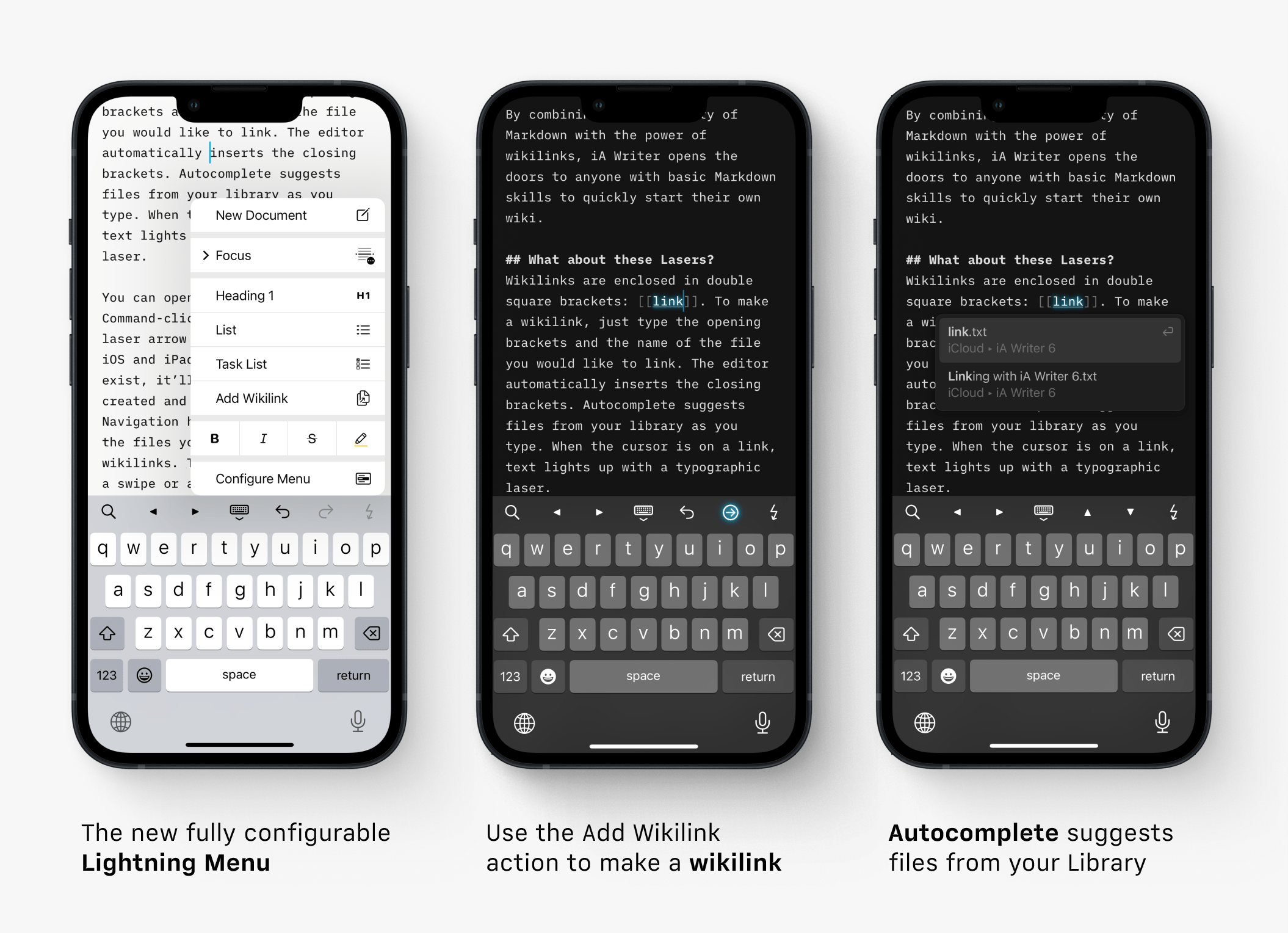 What About Feature XYZ?
Some features that have been frequently requested by our beta testers, like backlinks and automatically updating wikilinks when a file is renamed, are on the road map. However, iA Writer doesn't compete with feature-rich knowledge management apps. Our focus remains on the simplicity, focus, and joy of writing.
For years, we saw a significant rise of users that use iA Writer to write and feature heavy wikilink-based knowledge management apps to organize their notes. We believe that the core power of Markdown lies in its interoperability. iA Writer 6 allows users to easily move between different knowledge management apps without missing core functionality.
What? When? Where?
You can see the full release notes by searching for "What's new" in Quick Search on iOS and iPadOS, and in Help → What's New menu on macOS.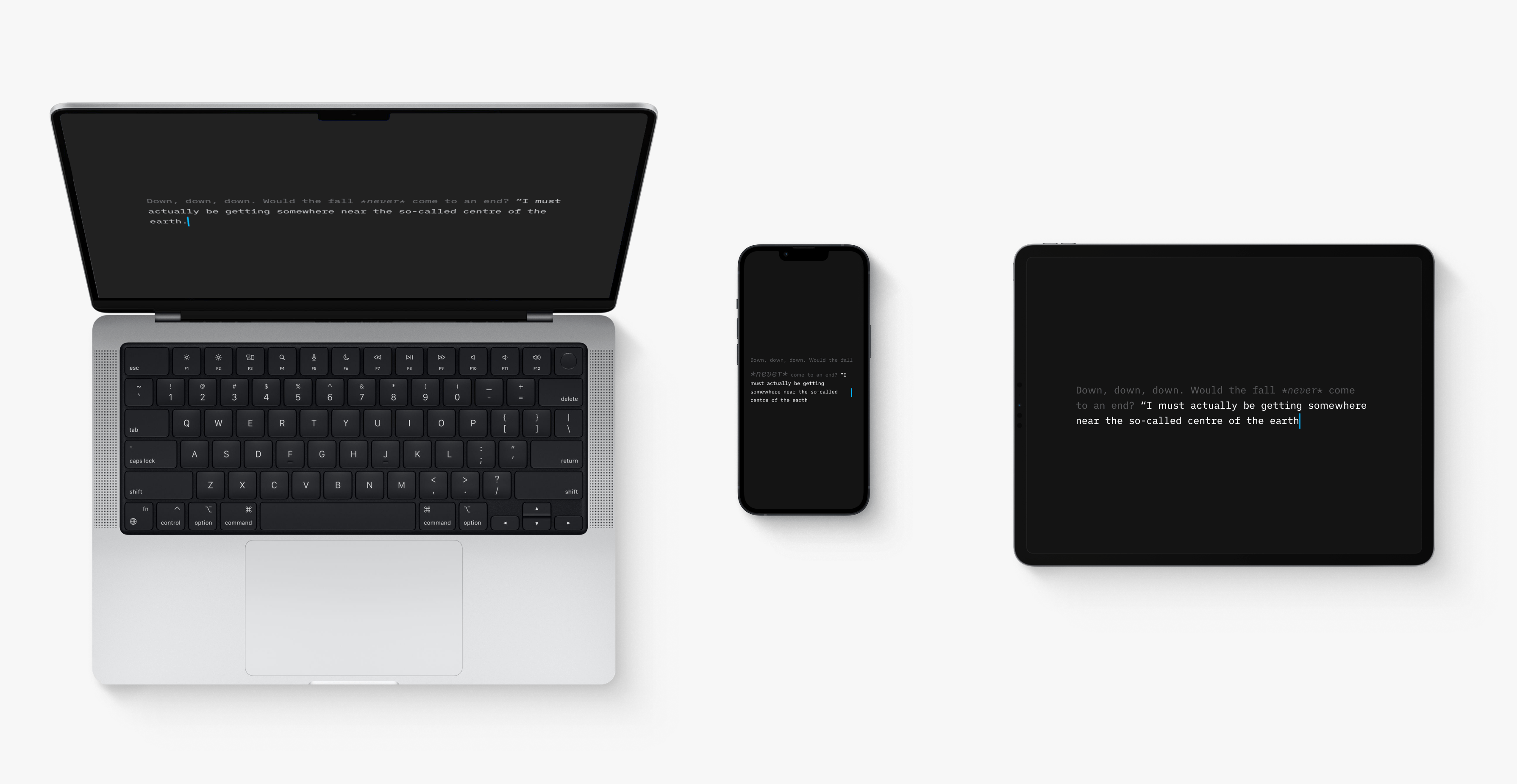 iA Writer 6 is available as a free update on the App Store: