Our meetings take too long, our presentations feel empty and no one pays attention. Tools like PowerPoint and Keynote shape the way we live and work, and boring slide presentations are part of the meeting theatre. Could better presentation tools help change the culture of never-ending boredom?
Business culture is riddled with bullshit and one cannot just blame Microsoft for the mess we are in. It's not PowerPoint's fault that we spend half our lives pretending to speak and pretending to listen. At the same time, PowerPoint is not entirely innocent:
"…responsibility for poor presentations rests with the presenter. But it is more complicated than that. PP has a distinctive, definite, well-enforced, and widely-practiced cognitive style that is contrary to serious thinking. PP actively facilitates the making of lightweight presentations."1
As designers, we are aware of how much our tools influence our behavior. Could we create a presentation tool that made us say something that is worth listening to?
PowerPoint is boring. People do learn in lots of different ways. And PowerPoint is not designed to make and hold captivating presentations. It's designed to make us design slides, pretend that we know what we are talking about, and make others accept boring, empty speeches as normal.2 Why does no one stand up and stop these boring bullet-point bonanzas? Why are we still using it ourselves?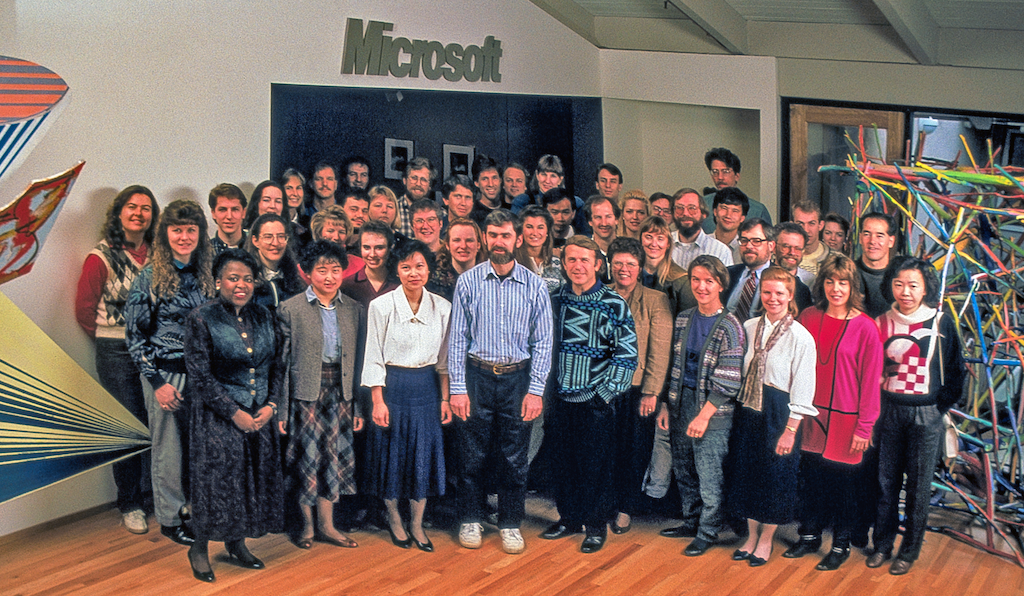 PowerPoint templates as fashion: The core team that created PowerPoint 3.0 in 1992, wearing clothes that look like PowerPoint templates. Source: Robert Gaskins
Getting started is hard
The first challenge is always getting started. Even more, when it comes to presenting. There's a natural resistance to beginning a task that will end in people judging us. We are going out on a limb and sharing a point of view. All eyes are going to be on us. Sometimes our audience will agree with us, and sometimes they won't. That can make us feel insecure and full of self-doubt.
How many holes will they poke into my argument?
Do I have anything worth saying?
What if people think I suck?
Left unchecked these fears can turn into procrastination, and then frantically working on our presentation the night before we have to deliver it. PowerPoint gets us started—with a procrastination bonanza, by delaying the decision on what we want to say and how we structure it in favor of picking fonts and colors.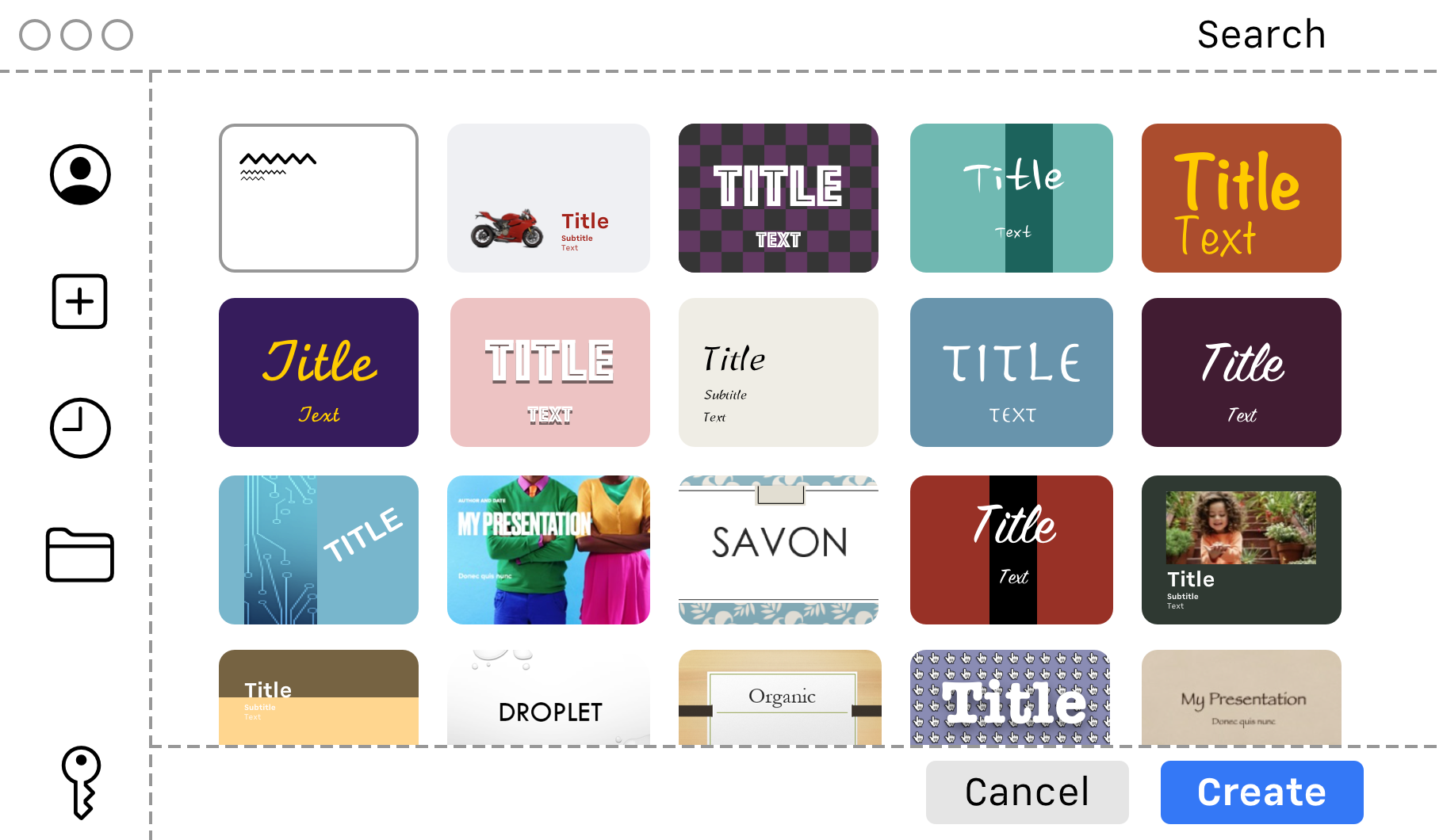 Design First: What font? What colour? What layout?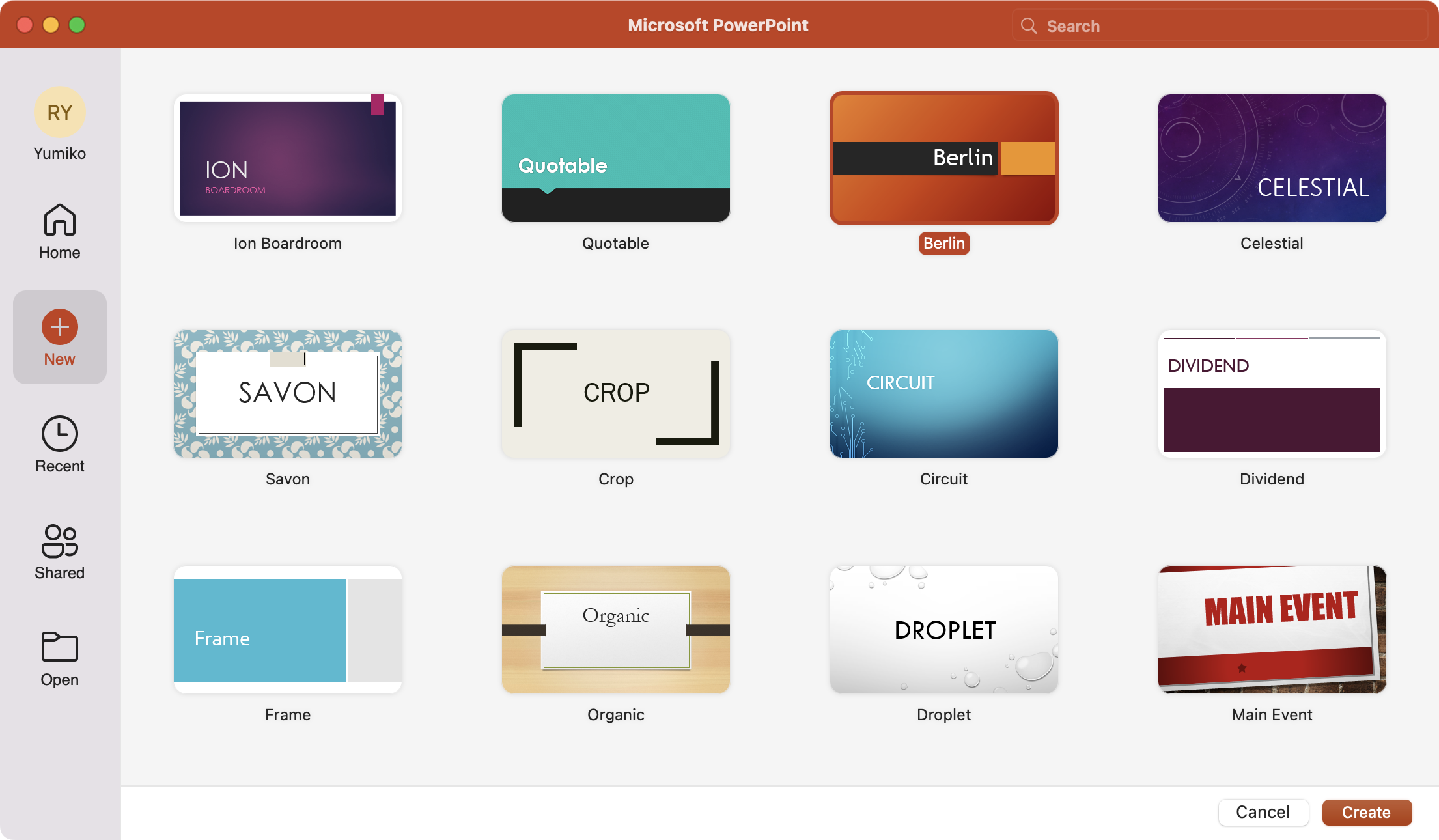 Reality Check: And if you look closely: Are any of these templates any good?
Common presentation software gets you over the fear of starting by letting you choose a template. Picking templates feels nice. Suddenly, starting looks like fun. At the end of the day though it just delays the pain of asking yourself what you want to say. It invites procrastination.
Slides are weird and take ages to create
It doesn't help that presentations have to fit into slides. What are slides anyway? They seem like a hangover from the days of overhead projection. A way for teachers to save on chalk, and elbow grease, long before we all had computers.
No matter how experienced you are as a speaker, designer and typographer, you will never quite know what you're supposed to do with a slide. Is it a picture? Is it an index card? Is it a page? Outside of presentation apps we don't use slides to communicate, so they feel a little awkward and unfamiliar.
The first slide is usually a title slide. It looks easy, almost asif you just need to fill out a couple of forms, and you'll be done. The focus is still on the design. Instead of writing content, you are invited to click and move boxes. More procrastination.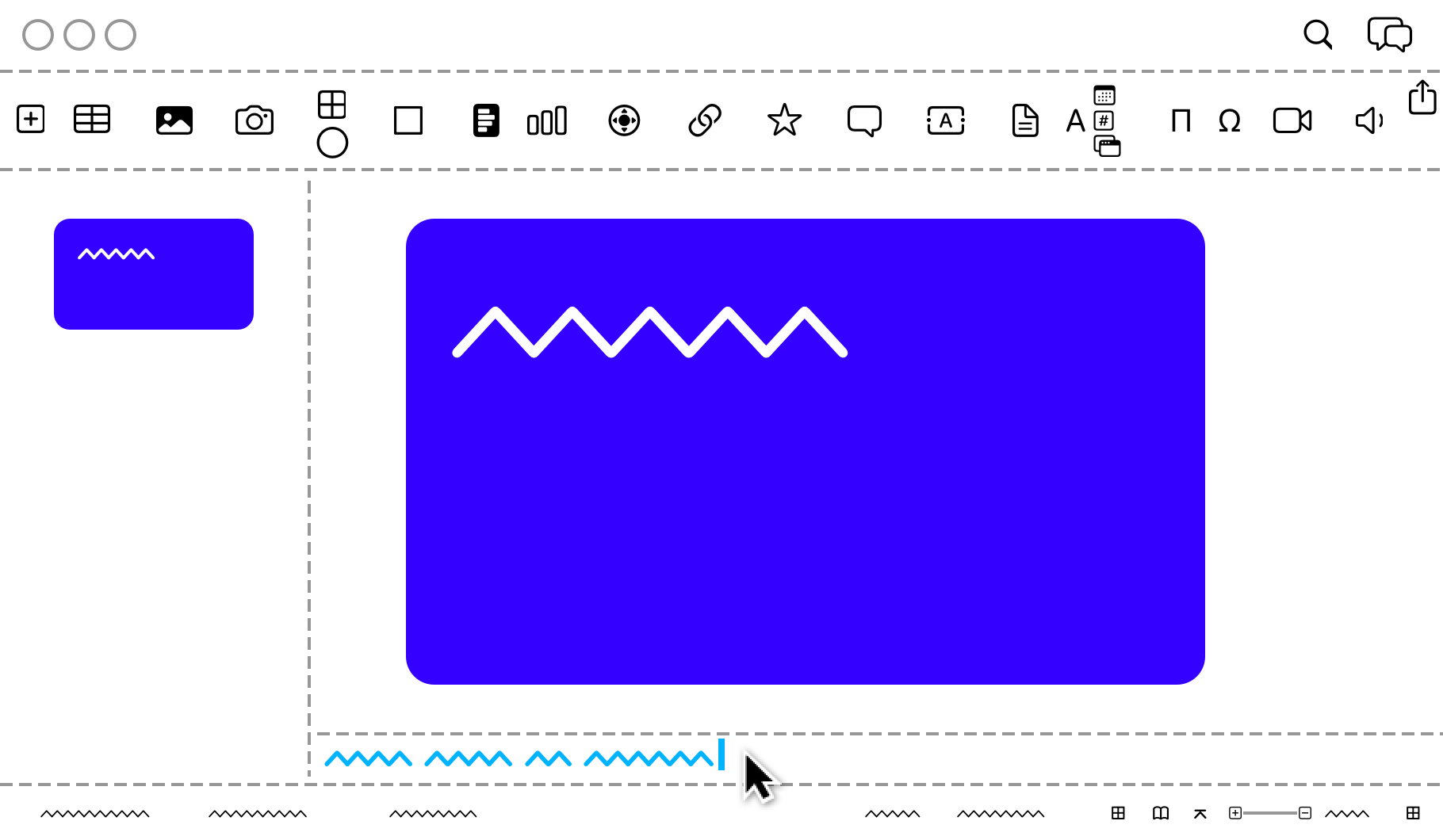 Adding notes: Not much space. The WYSIWYG UI eats up half the screen estate.
Reality check: Try to spot the notes field in this screenshot.
Slide apps encourage us to play, to focus on the visuals, the layout and the fancy transitions. To create "beautiful, dazzling, stunning" presentations. This is well intentioned, it helps us get started and it makes us feel creative, but the result is often a chaotic delivery that fails to connect.
Because slides are awkward, our presentations often feel like a major production. We have to start from scratch and invest a lot of our limited time to put them together.
In the real world, we send text messages, emails, tweets, we write a blog post or we talk. Now and then we might share a photograph or a video, but mostly we use our words to communicate, and we do it quickly.
Forgetting what we need to say: the stuff of nightmares
One of the great fears associated with presentations is that we'll go blank on the day. And it's a valid point. A picture is worth a thousand words. Until the heart is pumping, everyone is staring at you, and you completely forget all the clever things you had to say about that picture.
Speaker notes are supposed to help, but they can be hard to read with "adrenaline eyes". That's why the bullet points sneak into our slides. Bullets are great in theory, but in practice, they trigger a lot of umms and errs as we fumble to expand them. And they are hard to process for spectators, too.3
Bullet points also seem to be a gateway drug to slides stuffed full of text. One bad presentation and the next time you're up there you want to put everything you need to say onto the slide.4
"Subjects who were exposed to a graphic representation of the strategy paid significantly more attention to, agreed more with, and better recalled the strategy than did subjects who saw a (textually identical) bulleted list version."5
What seemed like a good idea can get really uncomfortable. When we start reading from the slide, while our audience is trying to do the same, our voice clashes with their internal dialogue and for them, it's like listening to two people at once.
Boredom, the silent career killer
What's worse than the fear of blanking—and this is possibly the biggest problem with presentations—is the boredom of sitting through them. Boredom can be more damaging to our careers than we might imagine.
The audience gets bored when our presentation isn't moving them towards their personal goals. If we were being boring in a conversation, they might just interject and change the topic. But in a presentation, audiences have been conditioned to sit quietly until the end, and this just makes things worse. It turns the room into a prison.
An audience that feels bored, but can't do anything about it, quickly becomes resentful. And that resentment is aimed squarely at us. They might not come at us with pitchforks, but they will remember how we made them feel, and, generally speaking, they won't want to repeat that experience.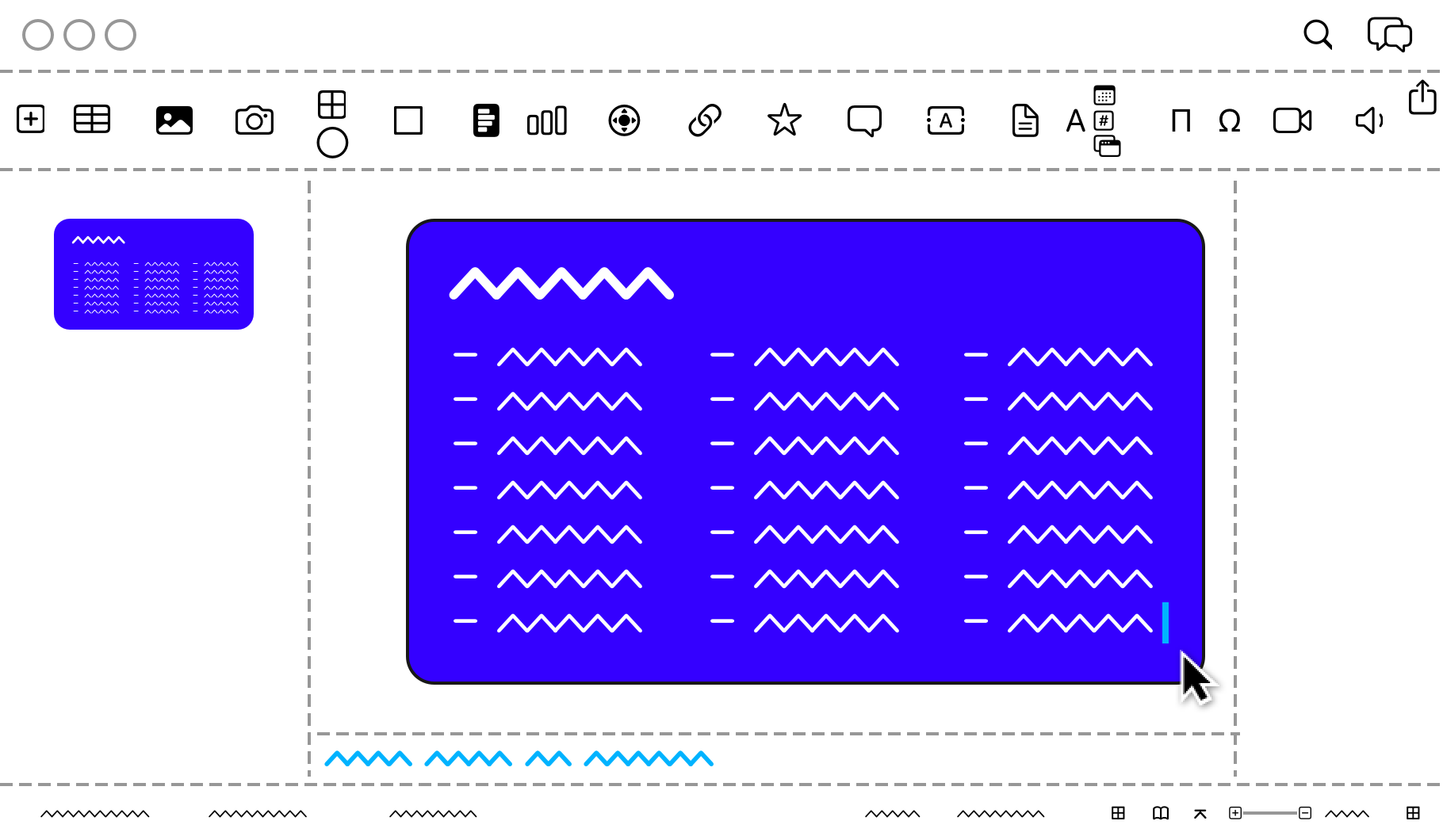 Adding bullets to not forget: Filling your slides with bullet points is a fail safe way… to lose people's attention.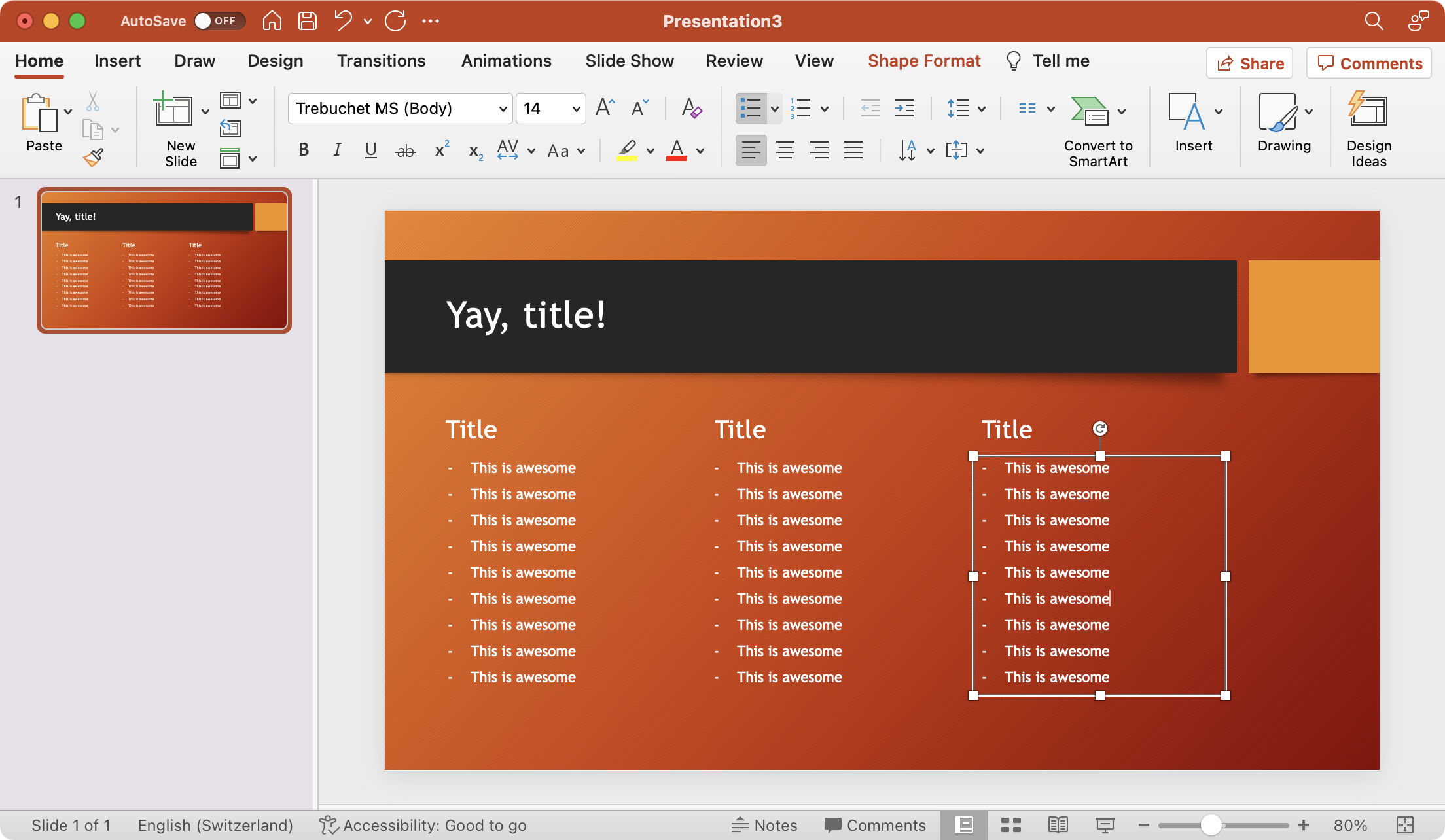 Reality check: Hard to read, hard to understand, difficult to stay focused. You can put all of this information in a readable format in your notes instead.
Boring presentations lower our status and leave us on the sidelines, watching others playing the game. We lose our credibility and the opportunity to influence people in the future.
Boredom, the silent business killer
Business culture has evolved in a direction where it is expected that we bore each other for hours without protesting. You'd think that "if companies would have as little respect for business as they have for presentations the majority would go bankrupt."6 In fact, if boredom is damaging your employees, it is damaging to your business. How could boredom ever be beneficial for your company? The reality is dire:
37% of our time is spent in meetings and presentations7
91% of listeners at business presentations admit to daydreaming8
39% of listeners at business presentations even fall asleep at some point
90% of the presented information is forgotten
If your employees bore each other, how is your business going to create exciting products? Boredom is one of the main reasons why people quit their jobs.9 And since slide presentations are one of the main bores, maybe it's time we all do something against it.
What's Next?
Those are the challenges that we've been dealing with around presentations: Getting started, understanding the weird and time consuming format of slides, remembering what we wanted to say and not being boring. In Part II, we discuss how we think these issues could be solved. After that, in a third post, we'll show you our solution: iA Presenter.
iA Presenter Trial for Mac
Enter your email to get iA Presenter trial, receive product updates, announcements, and a look behind the scenes.