2019 was a good year for iA Writer. Sales were good, reviews were good and in the end we got rewarded for our work with the App of the year prize from MacStories.
"Whether you're a novelist, blogger, academic, or simply someone who's looking for a great text editor, iA Writer represents the very best developers can create for Apple's platforms in 2019 – a rare combination of thoughtful design, performance, customization, and native integrations with the system." MacStories Selects 2019: Recognizing the Best Apps of the Year
A prize by a team that, day in day out, tests and uses Apple software so thoroughly that Apple's own Senior Vice President of Software Engineering, Craig Federighi, reads their reviews of Apple's latest OS releases.
Obviously, our team was super happy with MacStories recognition. Not only were we part of an impressive series of apps, iA Writer was chosen to be the best of all of them! What else can we say but: Thank you!
New! A local backup for iOS
The prize came at the right time. 2019 was a great year but the second half came with some frustrations, too. In the first half, we set back our plans to build a better templating system and invested a lot of time to keep our apps up-to-date with new iOS and macOS releases.
We had high iOS hopes for Dropbox, Google and OneDrive to finally allow folder syncing in iOS. But instead of getting new native syncing options, Google, Microsoft and Dropbox are still twiddling their thumbs. We're still hopeful as we heard that Apple is also working on addressing this feature on their end.
iOS 13 had a rocky beta cycle with a lot of iCloud bugs. Apple reverted the changes after a public outcry. Unfortunately, since iOS 13.2 some of our customers have experienced a new iCloud syncing bug which prevents all apps from opening and saving files. If your device is affected, simply restart it.
After seeing all the iCloud bugs with iOS 13, we decided to extend our built-in backups to all files. Files are backed up locally on the device where they're edited. How do you recover your files? Go to the file browser and swipe left, then find the latest locally saved version. Here is how it works: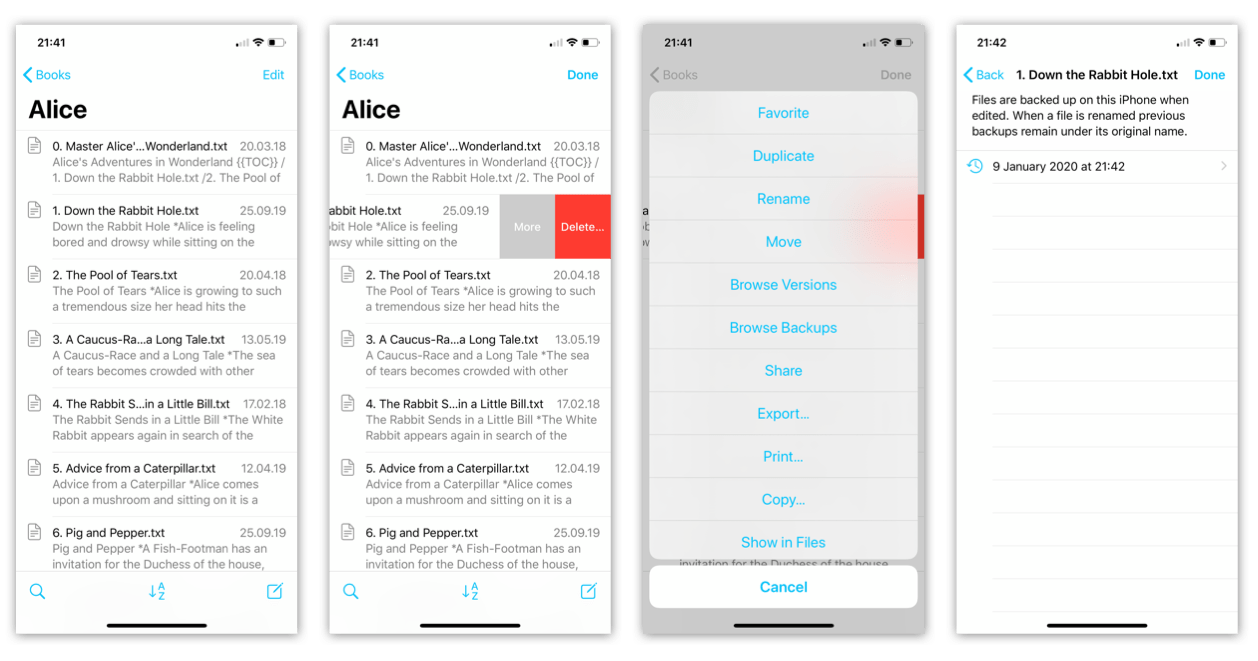 There is more: You can share, export, publish, print, and copy directly from context menu in Library. We added a Copy Markdown action (includes Content Blocks), you can share any file to other apps, and our best-in-class Word export keeps improving with bug fixes and new features. And, again, everything comes as a free update. Happy New Year!