iA Writer 5.5 for Mac and iOS has arrived. The update adds a powerful mix of functionality and delicate subtlety that will improve your writing workflow.
PDF Preview
When you open the Preview you can choose between Web and PDF modes. On Mac this can be toggled in the bottom toolbar. On iOS you can tap the template button in the nav bar to bring up the selector.
But why do I need a PDF Preview? Isn't the Web Preview good enough?
Web Preview will make you happy if your everyday workflow involves, well, the web. If you're making a PDF—or printing on paper—then having the PDF Preview is a blessing. It shows each full page of the document, complete with headers, footers and the location of each page break. Now you'll see, before printing or exporting, exactly how the text will look on the page. Did we mention PDF Preview automatically refreshes and scrolls in sync with the Editor, just like Web Preview?
What if you never print anything and instead publish most of your writing online? We have good news for you, too…
Online Publishing Improvements
iA Writer 5.5 adds a turbocharge to how and where you can publish on the web.
For starters, we added Micropub support. This means you can publish to Micro.blog and other IndieWeb tools. Now the IndieAuth system can be used elsewhere too: If you run a self-hosted WordPress.org site, you can publish straight to it using the slim IndieAuth plugin instead of the Swiss-Army-Knife that is JetPack.
We took the opportunity to improve account management for each service. You can use multiple accounts for each of WordPress, Medium, Ghost and Micropub. And since having three WordPress and two Micropub entries in the account listing isn't very useful, you can reorder and rename each of these accounts in the UI: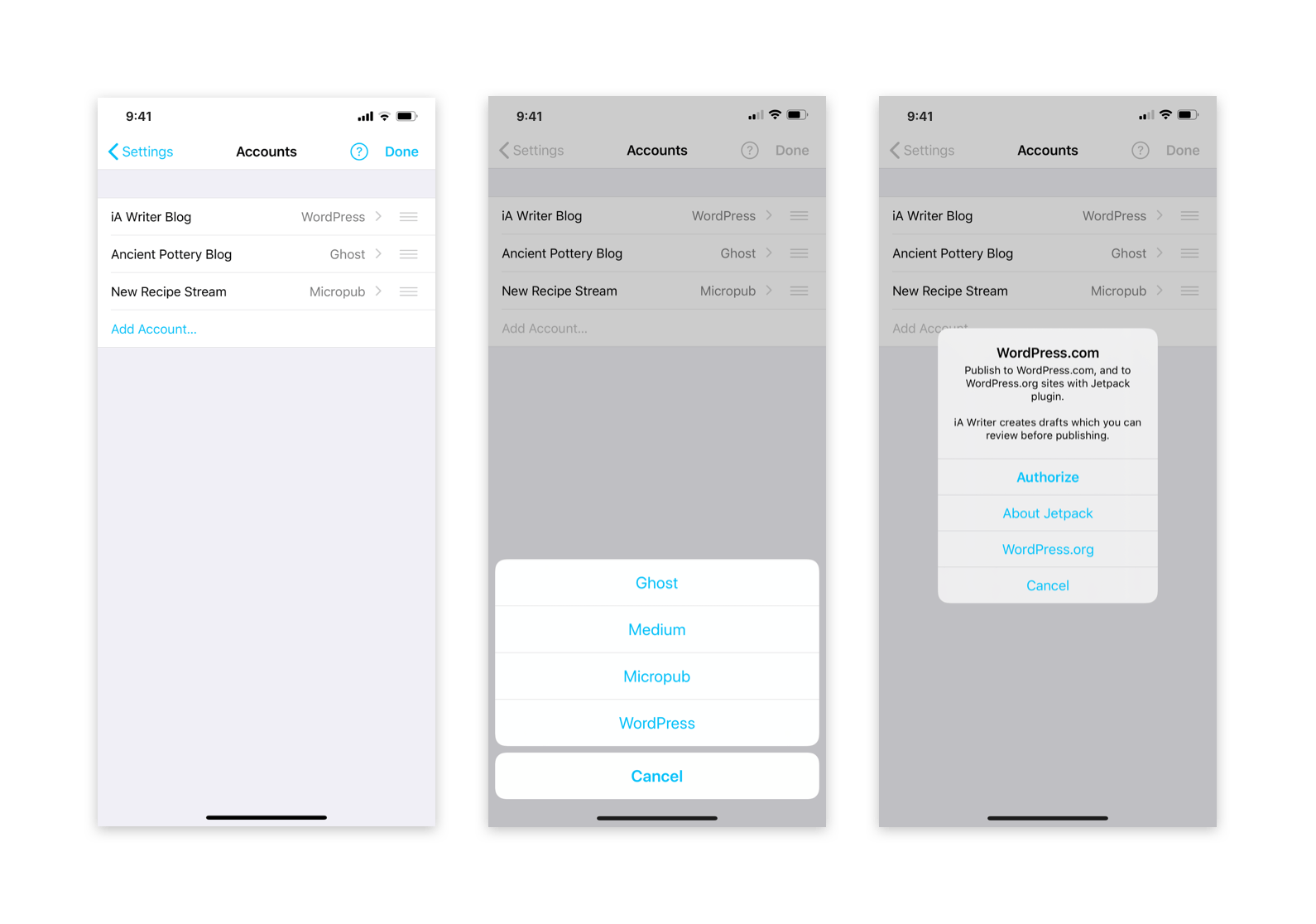 Improved Editing and and and
Many have asked us to improve the Preview/Export/Publishing side. And you asked us to improve the editing experience. So here it comes.
If you surround text with two equals signs, it will ==highlight==. You can use a keyboard shortcut for it, along with two other inline styles:
Toggle highlight with Option Command =
Toggle strikethrough with Option Command –
Toggle inline code with Option Command `
Statistics got an upgrade in 5.5, too. You wanted a character count that excludes spaces. You got it. Clearly, not everyone needs all these stats at once. We let you decide which you want to make visible. Eagle-eyed readers might have spotted this in effect in the first screenshot of this post.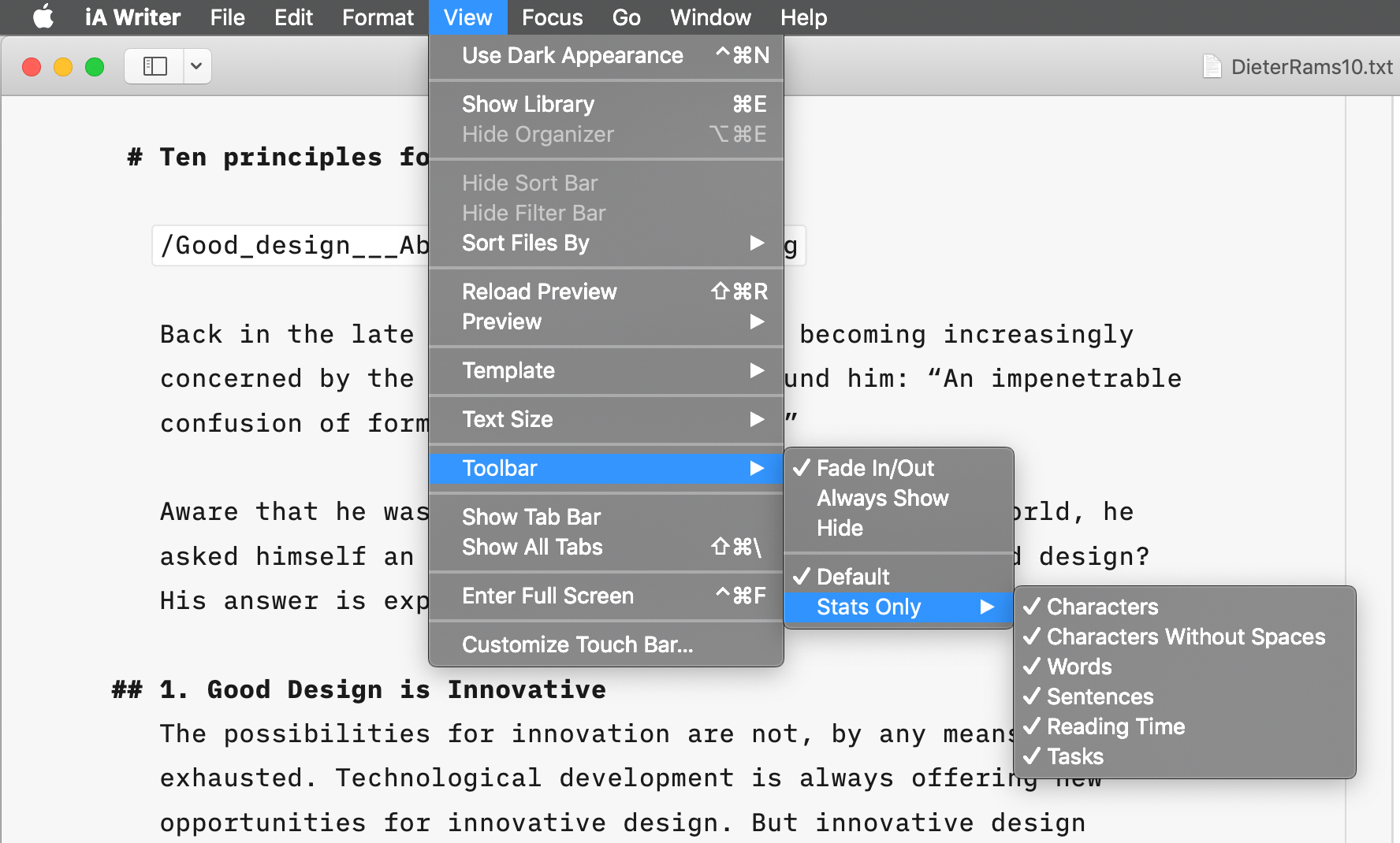 On Mac, right click in the bottom toolbar or use the menu to pick and choose. On iOS, tap the stats bubble and toggle which stats you want to show.
Other Improvements
There are a several smaller improvements in iA Writer 5.5. You can find a list of some of them below. We'd encourage you to update and try them out yourself. It's a free update so nothing should hold you back. If you haven't purchased an earlier version of iA Writer then you can still try out all these features in the Mac trial app here.
Mac Exclusive Improvements
Hold Option when in Library contextual menu to delete folders and files without a confirmation
Improved support for increase contrast accessibility option
iOS-Exclusive Improvements
Command Return to begin editing without touching the screen
Tap and hold back button to go to Library root
Tap title in Library to rename the current folder, Smart Folder, or Library Location
Improved trackpad support
Preview keeps scroll position in sync with Editor
Added A3 and A5 paper sizes
Both
KaTeX \gdef now works as expected
Lists can begin immediately after a paragraph, an empty line between them is no longer required
What's next?
We hope that this update finds you well and healthy. While individually we all had to deal with the situation, the way we work has stayed largely the same. The iA Writer team has been working remotely between Tokyo, Helsinki, Lyon and Zurich for many years. We don't have any remote working tips for you other than communicating regularly and naturally. And we're not virologists, so we don't have any opinions to share there either other than wishing you to take especially good care of your friends, your family and yourself.
At the same time, we have been more productive than usual. iA Writer for Mac and iOS will see another release with a core update to Syntax Highlight very, very soon. (It's a core feature that was planned with the very first version but has been delayed for years and years). iA Writer for Windows is coming out with a major update including Syntax Highlight for English, and the long awaited new version for Android is as good as ready. In case you didn't know, this is our tenth year. We have some nice things for you for the anniversary. Subscribe to our newsletter to not miss the next updates.