iA Writer for Windows 1.3 is the biggest update the platform has ever seen. It's available to download right now and comes as a free update for existing users.
Syntax Control
We've offered Syntax Control on Mac and iOS for a long time. It is great way to quickly highlight parts of speech so you can identify weak verbs or superfluous adjectives. As it relied on language libraries built into Apple devices, we didn't have way to offer this on Windows. So we built it ourselves.
Using machine learning operating on a large corpus of English text1, we trained the app to be able to identify parts of speech and then highlight them appropriately. It is English-only for now, but it's theoretically possible to train it using any language in the future.
Individual Scroll
We've drastically improved the algorithm used to keep the Editor and Preview aligned. Now, even if your text contains large elements like tables or images, the top element in the Editor always matches the top of the Preview. For long documents with varying element sizes, this is a lifesaver.
Keep it in Sync
Snippets
Snippets allow you to write a small keyword which will be expanded into a larger text. We're fans of text replacement on Mac and iOS and wanted to bring that capability to Windows. Even better, Snippets in iA Writer for Windows allow for dynamic contents like the date or text from the current clipboard. You can create and modify your own snippets via the menu: Edit → Snippets.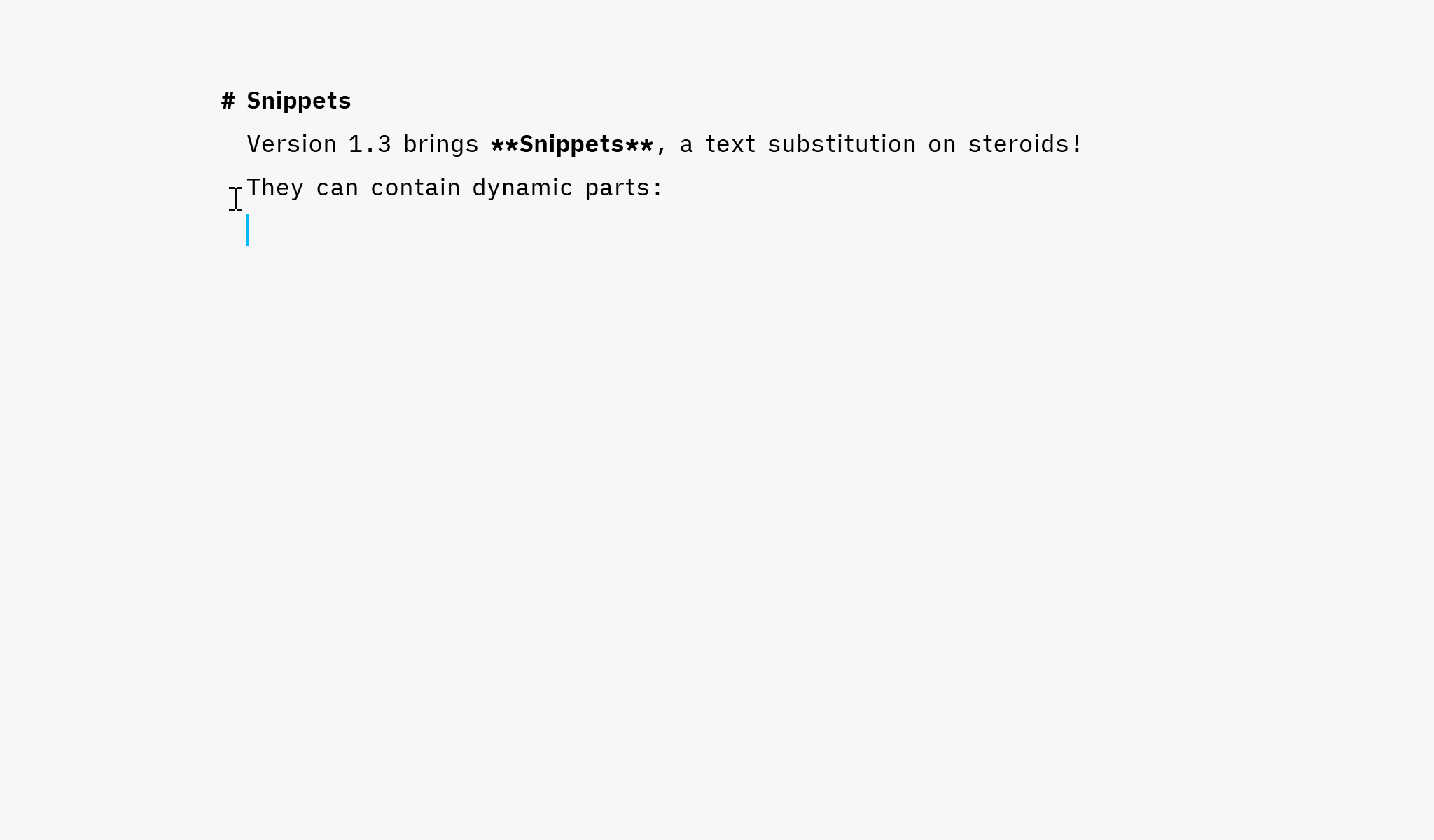 Create Macros
Smart Tables
Markdown tables are always a bit of a pain, so we've added improvements that makes managing them easier. Tables will now automatically resize the formatting to wrap your content. You can use Tab to move forward through cells in the table and Shift+Tab to move back. If you ever need to add a new row, you can use Shift+Enter and all the cells will be created for you.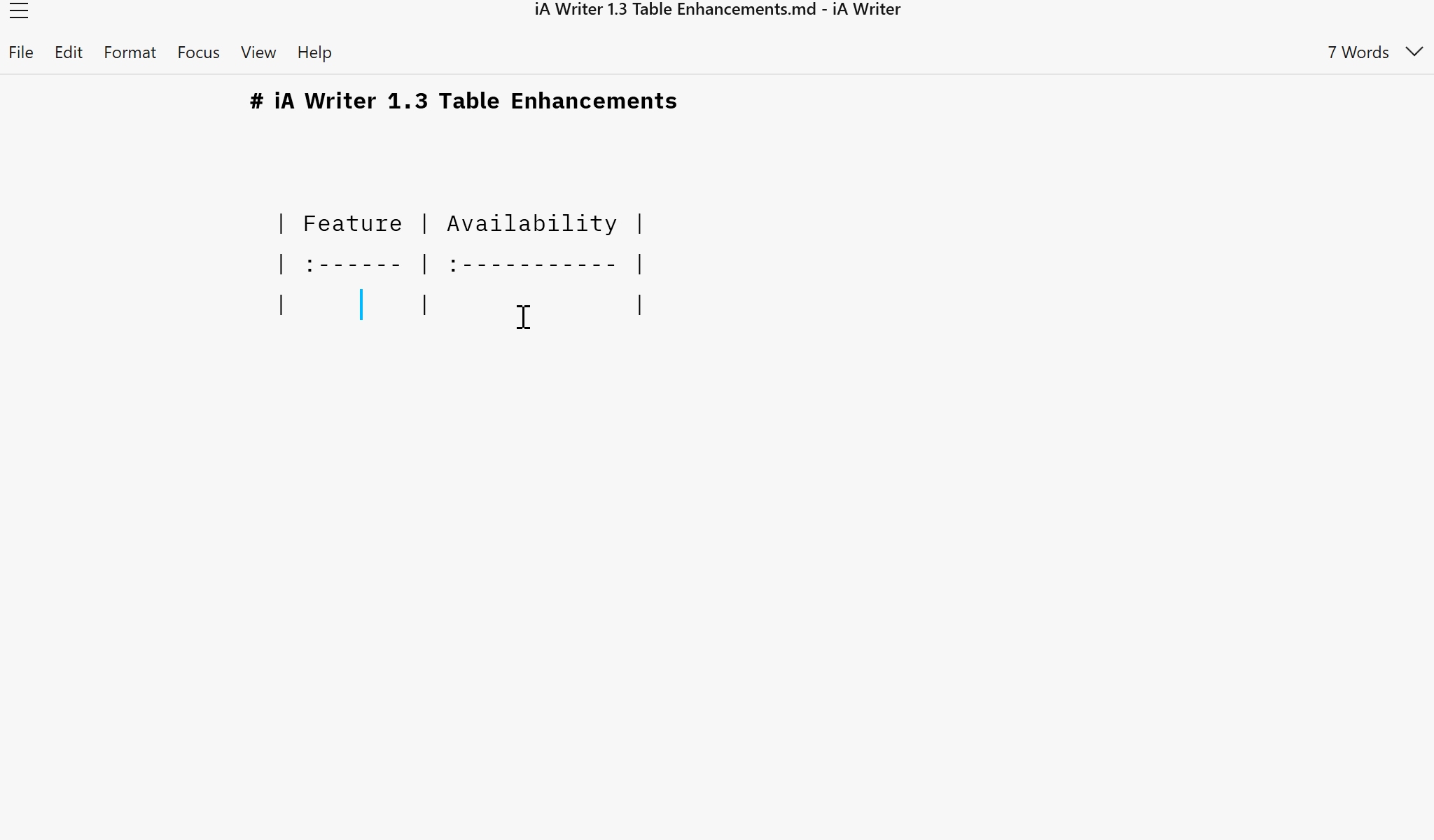 Aligning and navigating markdown tables is easier than ever
Backups and Autosave
While not as flashy as other improvements in this release, Backups and Autosave should bring peace of mind.
Your documents are now periodically saved automatically as you write—no more need to reflexively hit Ctrl+S every few seconds. On top of this autosaving to the intended location, iA Writer now creates backups of your documents on a defined schedule. This means that if, for any reason, iA Writer cannot save to the intended location—say a network folder or cloud service—a backup is still saved.
To access your backups, right-click any File or Folder in the left-pane of the Library and choose "Browse Backups".
Backend Improvements
1.3 comes with a truckload of improvements under the hood, too.
Updated Chromium to version 79, which adds a host of new benefits to the Preview and Export
Adopted the new Paddle SDK for Windows
Improved AutoMarkdown in the Editor
File List scrolling optimization
KaTeX update to support copy-tex and mchem modules
XSS filtering
and much more
If you haven't already updated to 1.3, restart the app and it will ask you to install the update on the next launch. For those of you who haven't jumped into iA Writer for Windows yet, you can get the free trial here. Why wait?
---
Please get in touch with [email protected] if you have access to large language corpuses in other languages. We'd love to add more. ↩