It's one year since our last Web Trend Map. A lot has happened, but there are not enough changes in the landscape of domains in the last 12 months to create another domain-based Web Trend Map. The big changes happened one level higher, on the social layer, that is: On Twitter and Facebook.
Since Twitter is becoming an alternative web protocol that—together with Facebook—gets closer and closer to replacing the domain/search paradigm, we decided to make an info graphic that shows how, and through whom, Twitter developed into what it is now, close to its 4th birthday.
What Is It?
We call it Big Bang. It shows the explosive development of Twitter since the beginning from its center (birth) with two people, to its edges (today) with 75 million people. Well aware that a big paper thin disc is probably going to be a bitch to print and a big pain to put on the wall—we are still going to try to print it circle round. Please don't faint just yet. Here is the logic:
The main circle represents the amount of people within twitter.
Instead of North-South-East-West, we divided the circle in different content categories. We tried to arrange the content areas so that similar categories are neighboring, and contrary categories are opposite.
The circles within the circle represent the followers of a selection of the most relevant twitterers. The circles represent on a 1:1 scale what piece of the pie each twitterer covers. They have a spread (follower score) and a core (list score). Each bubble will feature the first tweet of that user. For some high activity accounts we might need some help to determine what the first tweet was. (More on that later).
How You Can Help
We made a choice of 140 tweeters. The main criterion to be featured among the 140 is whether you're a "cosmic" tweeter or not. Cosmic Tweeters are:
so famous that, by merely joining Twitter they created a main disturbance in the force (Oprah, DalaiLama, BillGates…)
those who changed the Twitter universe, making it become what it is (shitmyfathersays, badbanana, ev…).
are cosmically stupid political puppets (you know…)
cosmically overrated Social Media pundits (no comment…)
play cosmic football (even though you probably don't know them if you're American)
Also note that you don't need to like the people on the list—not everyone that matters is necessarily sympathetic to you. Some are just there because a cosmic number of idiots think that they must be followed.
You can help us by making sure that we don't forget anyone. 140 twitterers is a pretty tight list. So if you suggest someone, make sure that you suggest someone else for deletion. (We have some general doubts if there should be any corporations on the list, your opinion on that matter—via Twitter—is very welcome). You can see the shortlist and help us by collaborating on our current spreadsheet on Google docs.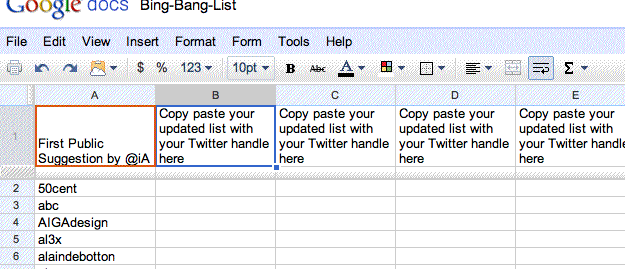 Where Can I See It?
We are still working on the design. It's not ready for daylight just yet. Here is just a conceptual wireframe for you to get an idea how it works: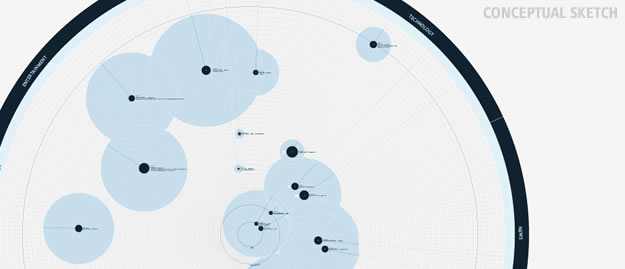 Let me paint you a picture: it's going to look like a late sixties/early seventies poster that your parents would have put on their wall, slightly influenced by some LSD flashbacks. OK, now you can faint!
Sold out—Sorry, the Cosmic 140 is no longer available.