Earlier this year we speculated that in 2007 "Big ad investments start streaming in". Our prognosis was heavily understated.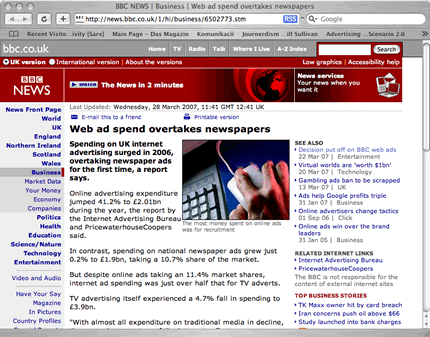 The BBC reports that Internet advertisement in the UK is exploding:
Online advertising expenditure jumped 41.2% to 2.01bn during the year, the report by the Internet Advertising Bureau and PricewaterhouseCoopers said. In contrast, spending on national newspaper ads grew just 0.2% to 1.9bn, taking a 10.7% share of the market.
Shocking, isn't it?—In terms of ad revenue share the only news business in the UK now ahead of Internet is TV; the budget for TV ads is still about double of the budget of Internet ads, yet investment in TV ads fell 4.3%:
But despite online ads taking an 11.4% market shares, internet ad spending was just over half that for TV adverts. TV advertising itself experienced a 4.7% fall in spending to 3.9bn.
This time it's not a bunch of weird Internet geeks in Tokyo pushing their silly tech thing, but Business consulting heavy weight PricewaterhouseCooper stating:
With almost all expenditure on traditional media in decline, the upward momentum of the internet reflects a new era … which is driven by high-speed broadband take-up and user-generated content.
Yesterday we got some insights into the finances of our newspaper client and the profit they made in 2006 is incredible. Yet most of that profit doesn't come from their serious edition but from their boulevard channels, that invested a lot of money into their Internet edition.
Now the weird geeks from Tokyo say: If the main edition is properly set up, it will make much more money than the boulevard edition, as ad space has a much higher value there. Luckily, we are on the case. Original BBC story is here, discovered via Techmeme, further discussion at iab, Profy and Podcasting News
UPDATE: The numbers in the States are considerably lower:
Although only 5.8% of current U.S. ad spending, online ad spending is expected to be $36.5 billion or 11% of total ad sales in 2011. Indeed, Internet ad revenue rose by 34% in 2006 to $16 billion. The Internet is expected to account for half of a newspaper's income and the majority of its readership by 2020. —The Huffington Post
…yet the story is the same:
Explosion of online growth at the Washington Post. After pouring hundreds of millions of dollars into WaPo's digital operations, the Post is starting to reap the benefits. It's gone from being a largely local paper with a print circulation around 656,000, to an international paper attracting eight million unique online readers a month. The paper's digital efforts are now turning a profit, and online revenues will only continue to rise. Discussing the paper's digital future with Bob Kuttner, WaPo business reporter Steve Pearlstein couldn't have been clearer: "This is our salvation."
UPDATE: The Guardian is wide awake:
Discovered via wk london