In einem Nachmittag zusammengeflickt war die erste Web Trend Map, die zweite kostete uns eine Woche und die dritte verschlang bereits einen ganzen Arbeitsmonat. Die Web Trend Map Nummer 4, erscheinen soll sie im Februar 2009, hat bereits jetzt mehr Vorbereitungszeit in Anspruch genommen als alle ihre Vorgängerinnen zusammen.
Mit der wachsenden Datenmenge stiess das ursprüngliche Trend Map-Konzept an seine Grenzen. Deshalb haben wir beschlossen, die alte Idee über Bord zu werfen und komplett von vorne zu beginnen.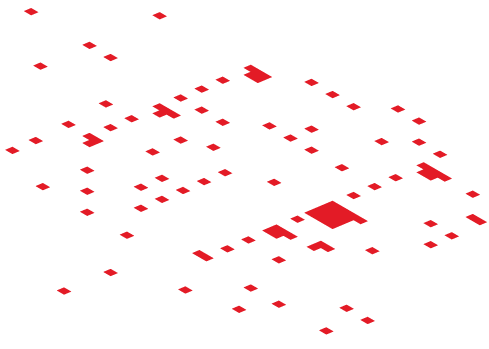 Das neue Design überzeugt Sie nicht? Nun, noch verraten wir nicht, wie es genau aussehen und funktionieren wird. Was wir mit unseren Lesern diskutieren möchten, ist die unten gezeigte Liste von Online-Netzwerken, Websites, Online-Unternehmern und Online-Trendsettern, die wir für die Aufnahme in die 4. Version der Web Trend Map vorgesehen haben. Wen haben wir vergessen und gibt es Personen oder Sites, die besser nicht drauf wären?
WEB SITES AND NETWORKS: 163.com, 1UP, 24 Gi, 2ch.net, 4chan, 4shared, 56.com, 6.cn, A List Apart, ABC, About.com, Adaptive Path, AdBrite, Adobe, AIGA, AIM, Al-Jazeera, Alexa, Alibaba, Amazon, Amazon Japan, Amazon.de, Ameblo, Ancestry.com, Android, Answers.com, AOL, Apple, Ars Technica, Ask.com, Badongo, Baidu, BBC, Bebo, Beppegrillo, Bigpoint, Blogger, Bloomberg, BoingBoing, Boxes and Arrows, Brandchannel, BuzzMachine, Cisco, CNET, CNET Downloads, CNN, COLOURlovers, Comcast, Comedy Central, Compete, Coudal Partners, Craigslist, Creative Commons, Crooks & Liars, Crunchbase, Crunchyroll, CSS Beauty, CSS Mania, Cyworld, Daily Kos, Dailymotion, Daring Fireball, DataPortability, Dave Winer, del.icio.us, Deposit Files, Der Spiegel, Design Observer, Design Shack, Designers Republic, deviantART, DevX, Die Zeit, Digg, Discuss, Disney, Doodle, Double Click, dpreview.com, Drudge Report, Drupal, DZone, Eastmoney, Easy Share, eBay, eBay Germany, eBay UK, eBuddy, eHarmony, El Mundo, El País, Engadget, ESPN, Expedia, Facebook, FactCheck, FARK, FC2, Federated Media, FeedBurner, FileFactory, Firefox, Fireworks, Flickr, Fotolog, FOX, Friendster, Frog Design, GameFAQs, GameSpot, Gawker, Getty Images, Gizmodo, Globo, Go Fug Yourself, goo, Google, Google AdSense, Google Syndication, Google Analytics, Google Image Search, Google Maps, Gmail, Google Reader, Google News, Google Video, Google Books, Picasa, Google Groups, Google Docs, Google Earth, Google Apps, Google Finance, Google Adwords, Google Answer, Google Checkout, Google Calendar, Google Blogsearch, Picasa, AdSense, Google China, Google Espana, Google France, Google Germany, Google India, Google Indonesia, Google Italy, Google Japan, Google Mexico, Google Netherlands, Google Poland, Google Russia, Google Saudi Arabia, Google Thailand, Google Turkey, Google UK, Gutenberg, Hatena, Heise, Hi5, HowStuffWorks, Huffington Post, Hulu, ICQ, IDEO, iG, IGN, ImageShack, ImageVenue, IMDb, IMEEM, Internet Archive, isoHunt, iTunes, IXDA, Jabber, Joox, Kotaku, kottke, La Repubblica, Last.fm, Le Monde, LinkedIn, Linux, Live Messenger, Live Search, Livedoor, LiveJournal, Mail.ru, Match.com, Media Matters, MediaFire, Meebo, MegaUpload, Megavideo, Metacafe, metroFLOG, Microsoft, Migente, Miniclip, Mininova, Mixi, Monster, MOO, Mop.com, MovableType, MSN, Multiply, MyBlogLog, MySpace, MySQL, MyVideo, Naver, Netflix, Netlog, Netvibes, New York Times, Newsnetz, Newsvine, Nicovideo, Ning, NZZ, O'Reilly, Odnoklassniki, OhMyNews, Opensecrets, Opera, Orkut, Pandora, PartyPoker, PayPal, PChome.net, PDF, Peachpit, PerezHilton, Photobucket, PHP, PingMag, Plaxo, Podcast Alley, PokerStars, Python, QBN, QQ, Rakuten, RapidShare, Reddit, Rivva, Ruby, sapo, Scobleizer, Sendspace, Sina, Skype, Skyrock, Slashdot, Slate, Smashing Magazine, Snap Shots, Snarf-It, Softonic, Sohu, Something Awful, SourceForge, Starware, StatCounter, Studiverzeichnis, StumbleUpon, Subtraction, swissmiss, T-Online, Tagged, Taobao, Techcrunch, Techmeme, Technorati, Terra, The Consumerist, The Daily Show, The Economist, The Onion, The Pirate Bay, The Register, TheGuardian, ThinkGeek, TOM.COM, TorrentMatrix, TorrentReactor, Torrents, Torrentz, Tudou, Twitter, Typepad, U9, Universo Online, USA Today, UseIt, UserCash, Uwants, V Kontakte, Valleywag, Veoh, Versiontracker, Vimeo, Vnet.cn, VOX, W3C, W3Schools, Walter S. Mossberg, Wall Street Journal, Washington Post, WebMD, Wikipedia, Wikileaks, Wired News, Wonkette, WordPress, WRETCH, Xanga, XING, Xunlei, Yahoo!, Yahoo! Answers, Yahoo! Japan, Yahoo! Mail, Yahoo! News, Yandex, Y Combinator, Youku, YourFileHost, YouTube, ZeFrank, Zeldman, zShare
WEB ENTREPRENEURS AND TREND SETTERS: Akash Garg, Alex Welch, Alexis Ohanian, Allen Blue, Anca-Alina Seghedi, Angelo Sotira, Arianna Huffington, Avinash Kaushik, Aza Raskin, Benjamin Bejbaum, Beppe Grillo, Bill Gates, Biz Stone, Bobby Chang, Brewster Kahle, Brian L. Roberts, Bruce D. Smith, Challis Hodge, Charles Geschke, Chris Anderson, Chris DeWolfe, Chris Hughes, Dalton Caldwell, Dan Nye, Darren Crystal, Dave Silfry, Dave Winer, David Heller, David Plotz, David Tokheim, Dmitry Shapiro, Drew Curtis, Elaine Wherry, Eric Boyd, Eric Schmidt, Evan Williams, Eyal Hertzog, Felix Miller, Gabe Rivera, Garrett Camp, Geoff Smith, George Bodenheimer, Gina Bianchini, Greg Forgatch, Hiroyuki Nishino, Hosea Jan Frank, Ian Anderson, Iggy Fanlo, Jason Calacanis, Jack and Alexander Levin, Jack Dorsey, Jack Ma, Jakob Lodwick, Jakob Nielsen, Janus Friis, Jean-Luc Vaillant, Jeff "CJayC" Veasey, Jeff Bezos, Jeff Jarvis, Jeffery Zeldman, Jesse James Garrett, Jim Buckmaster, Jim Coudal, Jim Jarrett, Jim Safka, Jimmy Wales, John Amato, John Battelle, John Gruber, John T. Chambers, John Warnock, Joi Ito, Jon Stewart, Jonah Peretti, Justin LaFrance, Ken Lerer, Kenji Kasahara, Kevin Rose, Khoi Vinh, Larry Page, Larry Sanger, Loic Le Meur, Marc Andreessen, Marissa Mayer, Marc Benioff, Mark Zuckerberg, Markos Moulitsas, Martin Stiksel, Matt Drudge, Matt Mullenweg, Matthew Stephens, Meg Whitman, Michael Arrington, Michael Bloomberg, Michael Dell, Mitchell Baker, Mike Jones, Neil Clark Warren, Olivier Poitrey, Paul Graham, Perez Hilton, Pete Cashmore, Pete Deemer, Peter Rojas, Ramu Yalamanchi, Reed Hastings, Rick Cecil, Rob "CmdrTaco" Malda, Robert Scoble, Robert Small, Rupert Murdoch, Sandy Jen, Seth Sternberg, Scott Jarkoff, Sean Parker, Sergey Brin, Seth Godin, Sheryl Sandberg, Steve Jobs, Steve Ballmer, Stewart Butterfield, Thomas Enraght-Moony, Tihan Presbie, Tim Berners-Lee, Tim Brown, Tim O'Reilly, Tim Sullivan, Tina Roth Eisenberg, Tom Anderson, Toni Schneider, Vince Broady, Vint Cerf
Welche Sites werden 2009 neue Höhen im Bezug auf Traffic und Einnahmen erklimmen, wer wird zu den grossen Verlierern gehören? Welche Personen werden 2009 neue Internet-Trends setzen und welche gehören zu den Dauerbrennern? Wir freuen uns auf Ihre Meinung.