We all had a bad feeling about this right from the start. Why is the blog watch-and-search engine Technorati bonding with the No.1 PR giant Edelman? Can we trust the hub for independent bloggers after they hook up with the biggest corporate opinion maker? Why a 260 Million Dollar PR agency is engaging at the core of the free media is clear, but why Technorati continues its relationship with Edelman after their latest Wal-Mart caprioles raises questions.
So PR companies astroturf? Of course… Before the big deal, Edelman tried to trick us with fake blogs that were sponsored and tuned to become PR instruments for Wal-Mart; after all, astroturfing is their job:
In politics and advertising, the term astroturfing describes formal public relations (PR) campaigns which seek to create the impression of being a spontaneous, grassroots behavior. Hence the reference to the "AstroTurf" (artificial grass) is a metaphor to indicate "fake grassroots" support. —Astroturfing, Wikipedia
But instead of slowing down on the astroturfing they started to loudly advocate openness, transparency and interactive communicational values through WOMMA. And, at the same time, headstrong as they are, they intensified the fake blogging business. So:
In summary: Edelman violated WOMMA's Code, they're going to do a better job at educating their employees/sub-contractors, mistakes happen, you know. No sanction for Edelman. Why? —Constantin Basturea
Edelman has been put on a probation period by WOMMA, and recently "Urged To Overhaul Wal-Mart Flogs".
Why does Technorati go on dealing with Edelman? Let's not jump to conclusions, after all Technorati helps us a lot and maybe Mr. Edelman is just doing his job.
## An Offer You Can't Refuse At first sight Edelman looks like they're the only communication company that gets it. They advocate openness, transparency, company client interaction, high ethics. Richard Edelman looks like a true poster boy for the next generation of PR managers:
Edelman's devotion to innovation and embracement of the blogging environment won it many fans in 2005. CEO Richard Edelman began blogging, the company partnered with blog search firm Technorati for multiple surveys, and an impressive online component helped Dove garner great media attention for its "Campaign for Real Beauty" initiative. Edelman also worked with Wal-Mart, giving the much-maligned brand a human touch in the wake of the devastating hurricane season, providing all the news of its philanthropy efforts to bloggers.
The Consumerist, an outspoken critique of Wal-Mart and Edelman received an email from right wing blogger and "Edelman PR's Wal-Mart advocate" Mike Krempasky. Krempasky invited him for a drink, so they could talk:
[…] the question that was posed to Editor Ben by Krempasky will make your stomach sink. According to Consumerist, Krempasky, representing both Edelman and Wal-Mart, asked, "What can we do to get you to stop writing about our companies?" Sort of Godfather, no?
Did Edelman try to corrupt or threaten the Consumerist? Edelman's advocate Krempasky's answer: "Does anyone think I am that STUPID?" Krempasky is a smart person, smarter than most of us, but not smart enough to control his hubris. Edelman PR's Wal-Mart advocate:
What can we do to get you to stop writing about our companies?
Edelman tried to fool us twice with their phony Wal-Mart blog campaigns and hoped we'd believe in their call for openness and transparency.
Who Is Edelman?
Edelmann is a case of its own. They do understand the new rules and play along swift and jumpy like teenagers. Given their CEO Richard Edelman could be my uncle, he does a heck of a job. Uncle Richard even writes his own blog. Where he keeps on advocating openness et cetera. They understand the media. It seems. It seems as after what's happened you're not sure what's real and what's fake anymore.
[…] PR firms must be very conscious to abide by some very clear ethical standards, so that we do not compromise bloggers. First, we must always be transparent about the identity of our client and the goal of the PR program. Second, we should ask permission to participate in the conversation, and be comfortable with any communication being made public, whether by the blogger or an investigative journalist. We should support bloggers' transparency re. the source of their information. Third, we must reveal any financial relationship with bloggers, whether consulting or even reimbursement of trip expenses. Fourth, we must ensure that the information we provide is 100% factually correct and not "spin."
The celebrated Halo2 launch viral earned Edelman a lot of recognition as viral marketer. Of course you have to ask yourself: Was it the genius of the campaign or is it the popular game itself that created the hype? Is the next guy that releases a "secret pic" of the next iPhone a marketing prodigy or another dude that rides the wave? Words from the head of a company that organized one of the most talked about undercover corporate viral campaigns in 2005. Okay, viral marketing. Fair enough. Virals are funny after all, aren't they? Funny doesn't need to obey those serious standards. And funny has nothing to do with those high ethical standards.
Yet in the light of the first Wal-Mart scandal, then the consumerist flap and the second Wall-Mart scandal; in the light of how Richard Edelman reacted, one might start having doubts about the veracity of those ethical claims. After the first scandal made it to the front page of the New York Times, Edelman decided that the best way to deal with the fiasco was to shoot back at "the main stream media". Richard Edelmann:
Today's front page story […] of the New York Times by Michael Barbaro titled "Wal-Mart Enlists Bloggers in Its Public Relations Campaign" is the latest in a series of articles in mainstream media that criticize bloggers for questionable ethics.
Acting as if he defend the bloggers against the New York Times—while actually it's not the bloggers that are under fire but Edelman himself… This is PR Karate at its best.
Everything Going Just as I Have Foreseen
Manipulation doesn't work when you deal with collective intelligence. You need to be genuine when you expose your self to the communicating Internet meta-brains. If you act like you go with the revolution because you want to cash in, if you believe you can "use" the new technology for PR-purposes, you might fool the uncles at Wal-Mart and Microsoft, but you are not fooling us. Not three times. The result of this is a PR fiasco that hurts both the public, your clients and the business of all of us that work in communication:
According to a recent report by Shel Holtz, Richard Edelman blames the fiasco on the fact that senior members of his team were not very experienced in social media. Then why were they assigned to an account that was social media driven? Or why weren't those individuals properly educated on the ethics of social media prior to leading their client into a firestorm? Sounds like a company that knows how to talk but hasn't yet learned how to walk.
Thing is: New technology is not to be used for PR, new technology is PR. You are probably going to use this in your next PowerPoint presentation, but before you do that, please consider this: The public doesn't need an intermediate to influence or steer its relations. The public forms its own opinion. If you want to be part of the public relation network that is the Internet, and if you want to teach multinationals how to communicate online, first learn how to do a state-of-the-art website for yourself.
Let your clients communicate more openly on their own websites, not because Robert Scoble told you so the very first time you tried to fool us, but because this is how the medium works.
The Walk and the Talk: Edelman's Website
And the ice they walk on gets even thinner when you look at Edelman's website. It's an unreadable, unstructured patchwork. It looks, feels and works like a pagemaker do-it-yourself home shop product. Well, it doesn't need to look professional, but you could at least make sure that your website is usable. Your blog entries are overlong, self referential testimonials of corporate boredom, an unscannable desert of letters. We have a hard time going through those small text lines of glossy words and letters.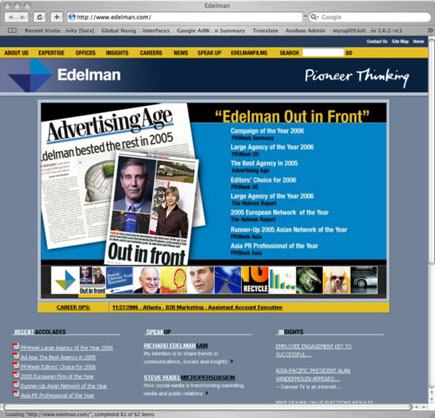 It's a mystery how this low-end website is able to convey any professionalism to internationals like Shell and Microsoft. It's a mystery how Technorati could agree to team up with such an anti-technorati. Money? Due to the media hype, Technorati's traffic jumped up as soon as Technorati and Edelmann teamed up. It had no major effect on edelman.com: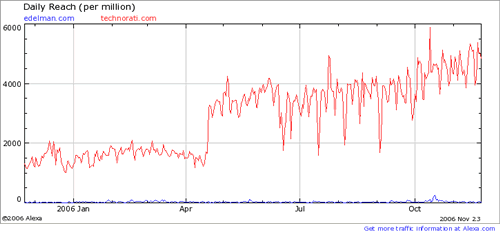 What Can We Do?
Can we trust trust Technorati? Can we trust an open service that teams up with the world's biggest PR company? Strumpette thinks:
[…] we are calling for an independent audit of Technorati and the Edelman-Technorati deal. It is in the wake of continuing concerns over the operations at Technorati, dramatically compounded by Edelman's public admissions to the recent scandal for corrupting the blogosphere, that this is now an imperative. We hope the blogosphere joins us in demanding that the audit take place immediately.
The problem with Strumpette's suggestion is that this is not going to happen. iA is close to quitting its Technorati account and calling out a boycott. The uneven relationship destroys the trust in one of the blogosphere's key tools. We'll wait for our reader's reaction.
The only long-term solution we see is that Technorati stops this nonsense or someone else will come up with a different, independent service to replace Technorati.
UPDATE: Since December 2006 Technorati and Edelman no longer cooperate.