Microsoft Word is the classic do-all text editor for everyone, used by over 70 Million people. What are the advantages of a modern, focused writing app like iA Writer? When do I pick which?
Created in 1983, Microsoft Word was conceived in a time when documents were created by one person to be printed on one printer. Often it is the only option people have at the office or when they exchange documents with their colleagues, clients, or publishers.
What Is iA Writer?
iA Writer was created in 2010. The New York Times describes it as "a clean, simple and distraction-free writing environment for when you really need to focus on your words." iA Writer is the digital equivalent of a typewriter. It offers a clean slate where everything gets out of the way and lets you type immediately.
| | iA Writer | Word/Office |
| --- | --- | --- |
| Created | 2010 | 1983 |
| Price | $29.99 PC $49.99 Mac/iOS $29.99 Android | $129.99 PC $99.-/year $299.- Home $399.- Pro |
| Output | Multichannel | Print/PDF |
| Purpose | Writing | Writing, Layout |
| Sold | 2 Million × | 2 Billion × |
| Users | 500,000 | 70 Million |
| Format | .txt | .docx |
What Does Word Do?
When opening Microsoft Word, you are first invited to choose a template. This is symptomatic. Word offers layout and writing in one. It constantly makes you think about the design. This makes it slow and unfocused. If you quickly pick the "Blank Template," it still takes seven seconds from opening Word to writing your first sentence. Now, compare that to iA Writer:
In Microsoft Word, you are typing inside the final layout, the letter, the PDF, or the book. The upside is that you see your text in its final shape. What you see is what you get. The downside is that there is no final shape in web publishing. And if you are indeed producing a PDF, the reading layout is not necessarily a great layout for writing text. Writing and reading require a different mindset.
| | Reading | Writing |
| --- | --- | --- |
| Tempo | Fast | Slow |
| Process | Linear | Iterative |
| Design | Fixed | Liquid |
Reading is fast. Writing is slow. Reading is a linear process. Writing requires great flexibility to move words and blocks of text around. Reading happens in a designed, defined frameset. Writing needs to create text independent of different layouts. Shouldn't writing and reading environments follow different design principles, too?
| | iA Writer | MS Word |
| --- | --- | --- |
| Layout | Screen layout | Print Design |
| Look+feel | Digital | Paper |
| Character | Focus Mode | Panels |
| Text size | Dynamic | Print size |
| Structure | Via Keyboard | Point+click |
| Input | Mostly keys | Mouse, keys |
| Output | .txt | .docx |
| | HTML/CSS/PDF | .docx/PDF |
| | Multichannel | Printing |
Today, writing is rarely done by one person or in one program alone. It's widely shared before publishing. A lot of apps now read Word's .docx format. MS Word's proprietary format requires an app that reads and writes .docx. Docx is a widely shared standard, but using a proprietary format, you risk losing formatting, getting into conflicts between different platforms or document versions and losing data. Things go wrong because of the high complexity of the Docx format. This is how a .txt file looks compared to a .docx file: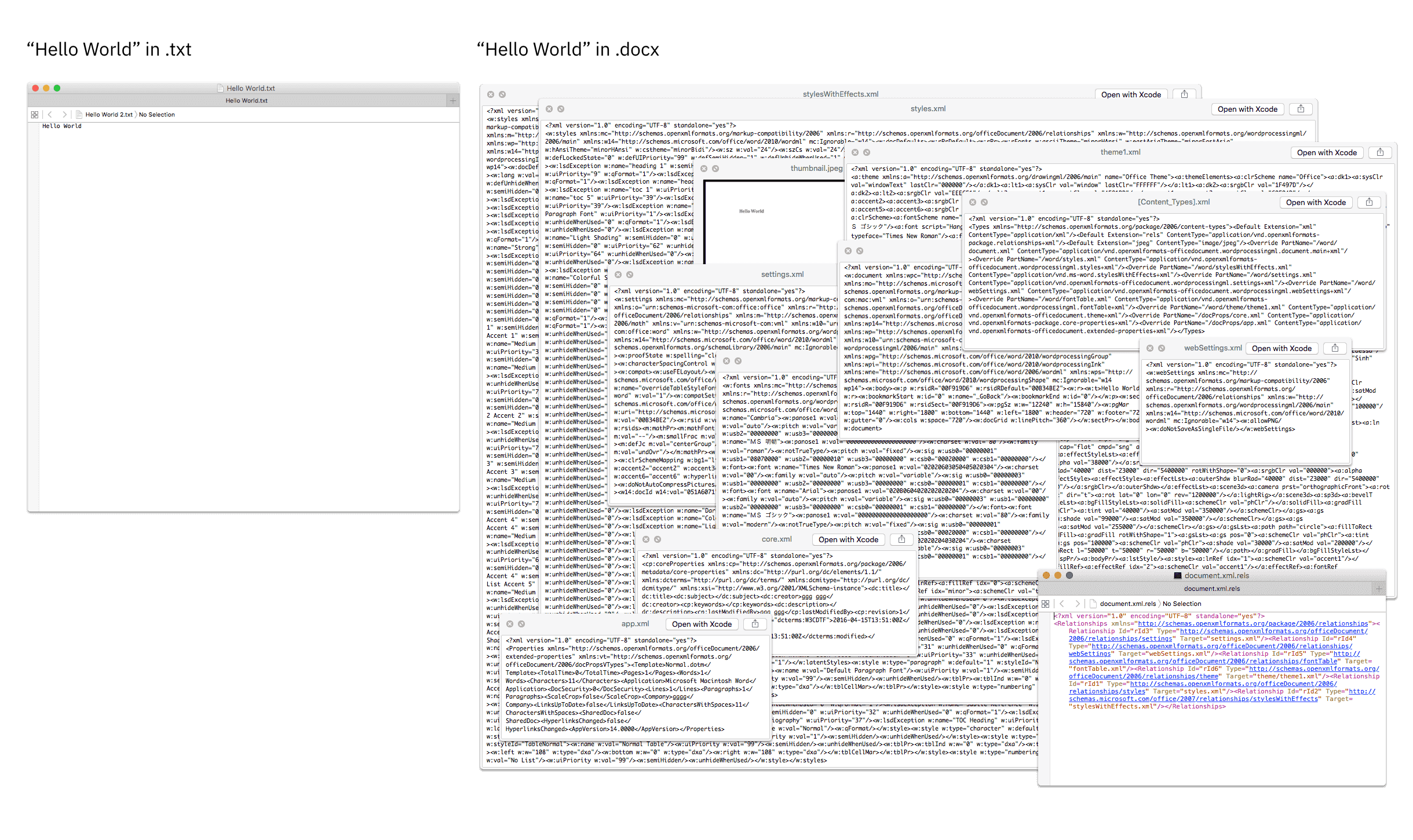 In 2018, writing and publishing require a sharable basic format. Ideally, form and content are separated, as it is in HTML and CSS, as each platform has different formatting conditions.
| | Plain Text | .DocX |
| --- | --- | --- |
| Weight | Minimal | Heavy |
| Readability | 100% | Dependencies |
| Sharing | 100% | Dependencies |
iA Writer uses universally readable plain text and strictly separates between form and content. iA Writer allows you to share the draft and publish the final document in different formats.
Focus
When we are about to do something important, we are most likely to procrastinate. So we don't need to face others and ultimately ourselves. We procrastinate to protect ourselves. The only way to fight that fear is: Focus, get started, and get it done.
Focus Mode blinds everything out except the sentence or the paragraph you are working on. Focus Mode is iA Writer's signature feature. Microsoft's "Focus Mode" puts a black frame around the paper sheet and hides its bells and whistles: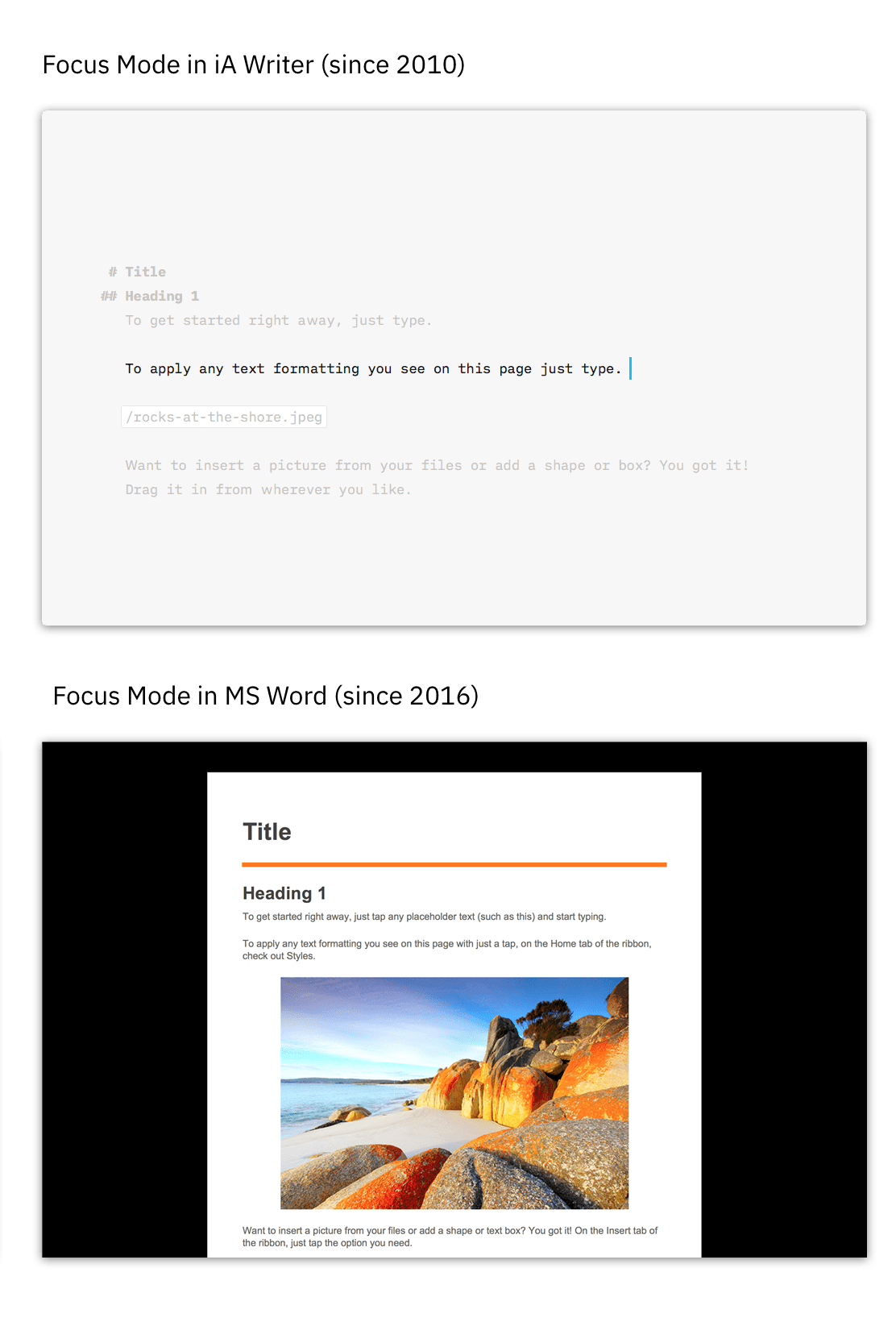 Syntax Highlight allows you to quickly spot stylistic errors, and Content Blocks allow you to work with tables and pictures and connect documents without ever leaving the plain text.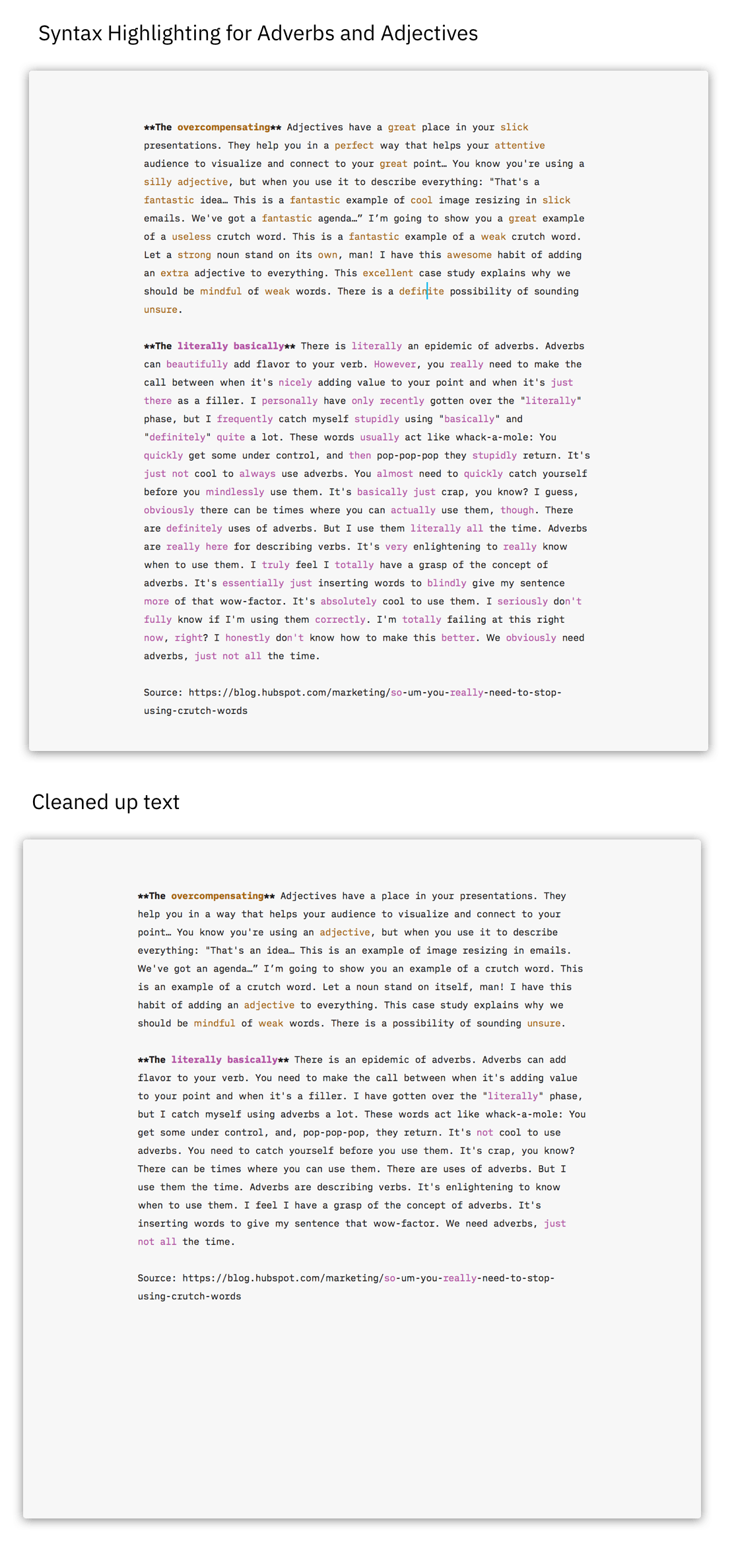 Auto-Markdown formats your text as you type. All you need to learn are a few characters, and you never need to push any buttons to structure your text. Compared to using both mouse and keyboard, it is fast. But, most importantly, it keeps your mind in the text.
iA Writer Duospace is a special writing font that comes with all the benefits of a classic typewriter font but gets rid of the downsides.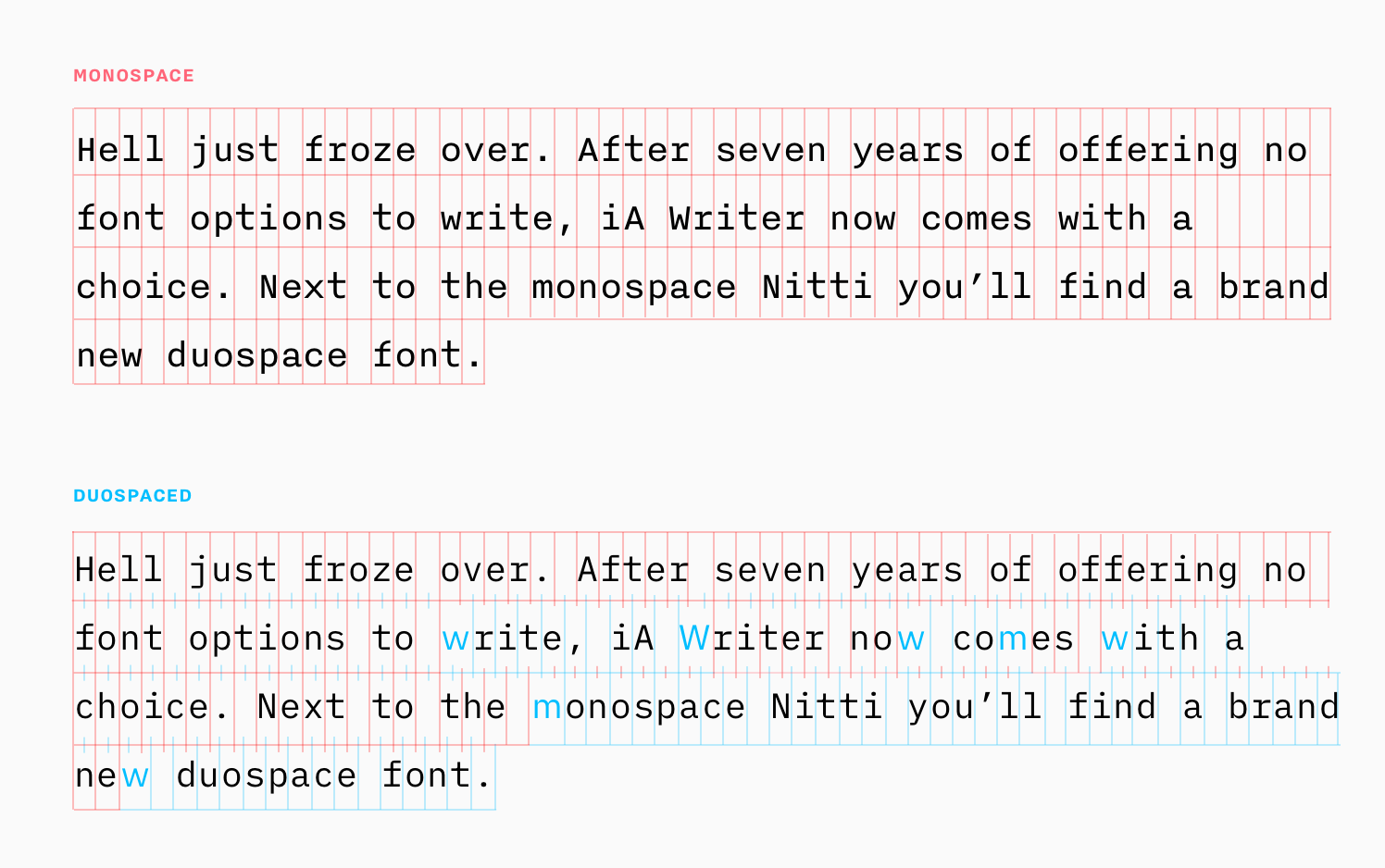 Writing is most efficient if it is done carefully. Instead of hacking your text out and revising it without end, you should write as you speak. Coherently, slowly, carefully.
Conclusion
The design of a writing app can go two ways: 1) Write in the published form. 2) Optimize the writing experience. Microsoft Word was created when the final form was clear (paper), iA Writer was created to optimize the writing experience. And it shows:
"iA Writer is an example of how powerful simplicity and accessibility can be for creating commercially successful interfaces, applications or services." –The Guardian

"Everything goes away, except the Writing Experience" –Stephen Fry

"Your program is the single most useful and remarkably clever—invisibly so—device for writing that I can name." –Augusten Burroughs
In consequence, Word needs an infinite number of features. The upside is that it lets you do anything you like. In return, it is slow, complex, and heavy. iA Writer is focused on writing, designed to be fast, simple, and light. Microsoft Word is hard to beat if you need an app that lets you design, program, comment, and format text. If all you want to do is write, you should give iA Writer a try.