Skip to content
Get focused. Get started.
Writer removes distractions. Giving you a calm, focused, writing space.
Watch Video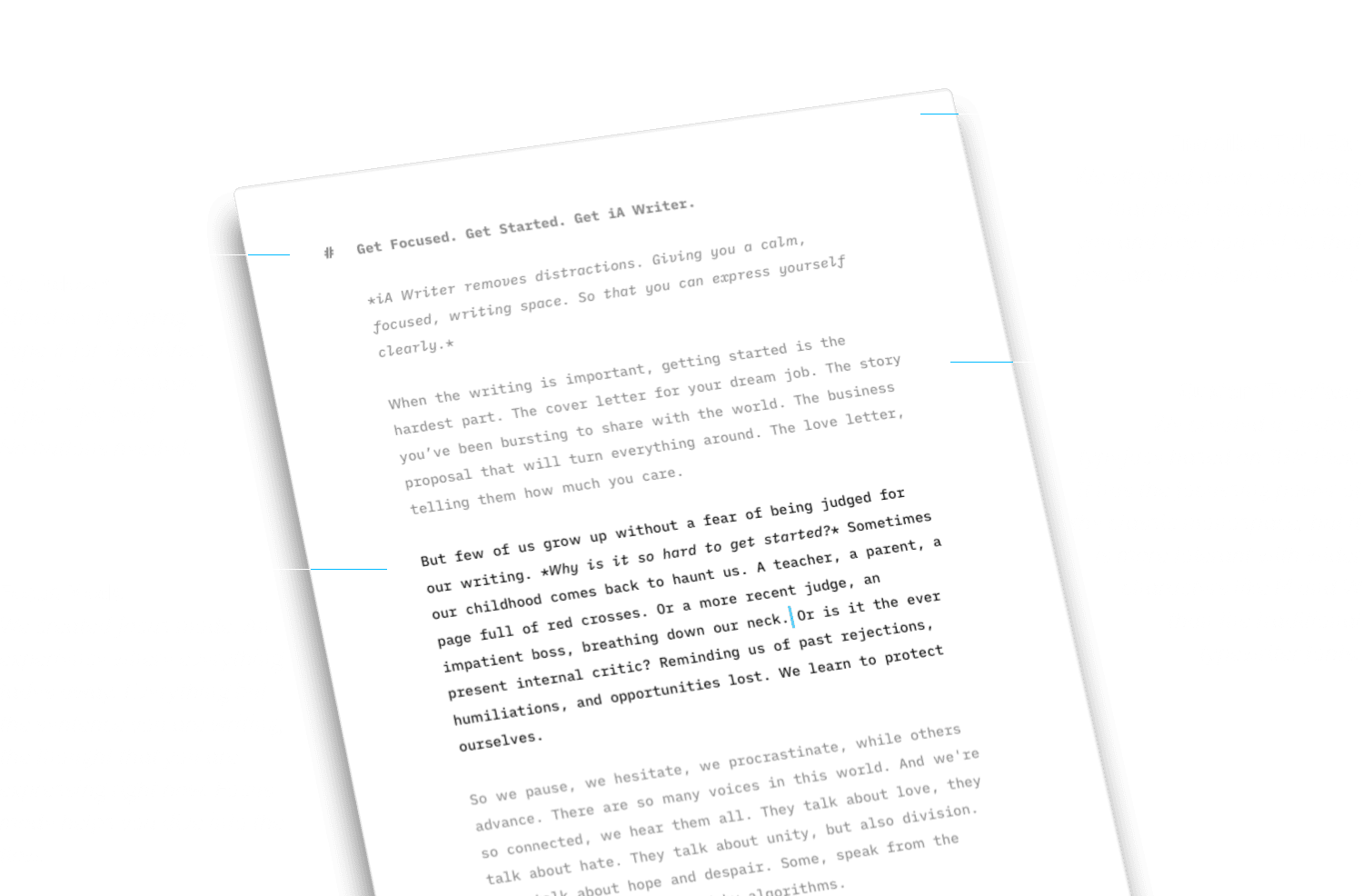 WE ARE HERE FOR YOU
As a customer you'll find our support section offers answers to the most frequent requests. As well as video tutorials and guides for those who love the details. And you can always get in touch with us directly. We're here to help.
Testimonials
"Beautiful and Simple." -The Guardian
"Writer has out-innovated Apple" -Fast Company
"Astonishingly simple. Everything goes away except for the writing experience." -
Stephen Fry
"Thanks for the simple - life seems to be to always throwing complex, simple and beautiful is best." -Grant Frost.
"A couple of weeks ago, I forgot my iPhone at home while I went out to take care of some business. While taking care of my business, it was quite nice to feel isolated from the outside world. My only care was what was in front of me. Suddenly, I was feeling a lot less worried. This is sort of what I feel like when I'm working with iA Writer. With every other system, there is some distraction whereas with iA Writer I can easily dig into what I'm working on." -Can Surmeli.
"Its simplicity betters my focus. Its beauty keeps my attention. I don't remember not feeling good about writing in iA Writer. This is like having a room dedicated to deep thinking. Every time I would enter that room my mind would do its best. Maybe that is why this is hard to explain: you have to use it for a while before you experience it fully." -Mostafa Hajizadeh.
"I guess it's the clean slate that it offers. It reminds me of a piece of paper I just need to put on my desk and start writing on. Thoughts can flow and as soon as I'm ready I can go through the text and edit it like I would do on paper. But more efficiently as I don't have to use correction fluid. So it's like Super-Paper?" –Kevin Wammer.
"iA Writer was the first app I've ever bought on the AppStore. It was when I realised moving to Mac was a good decision." –David Garcia.
Get iA Writer