Add images to your presentation quickly with a drag and drop. You can drag them from Finder or even from your browser directly in the Editor.
You can also add images to a presentation by copying/pasting.
Note that in the article below, we will call container the available space to place your images. Depending on the layout, it can be the full slide, a column, or just a cell, in case of a grid.
Supported Formats
| Format | Extension |
| --- | --- |
| Portable Network Graphics | .apng, .png |
| Graphics Interchange Format | .gif |
| WebP | .webp |
| Joint Photographic Experts Group | .jpg, .jpeg |
| Tagged Image File Format | .tif, .tiff |
| Scalable Vector Graphics | .svg |
| Portable Document Format | .pdf |
Syntax
The traditional Markdown syntax for images ![](image.png) is supported but we recommend the simplest Content Blocks Syntax.
You can then simply use the path or URL of the image you want in Presenter. Presenter uses two special "virtual" folders:
/assets/ example: /assets/image.png for graphics added to the presentation.
Theme example: /Theme/image.jpg to reference graphics bundled with a theme.
The .iapresenter file is a format (actually a .zip file) containing your markdown presentation file and all your images. There is no need to store your images aside from the presentation. You can manage them using the Visuals Tab of the Inspector (see below).
If you are always using the same images, you could add them into a custom theme in order to avoid duplication in each presentation.
The Visuals Tab
The Visuals Tab, available on the right side of The Inspector allows you to:
See all your graphics (images & videos)
Drag and drop them into the Editor
Delete unused ones
Rename them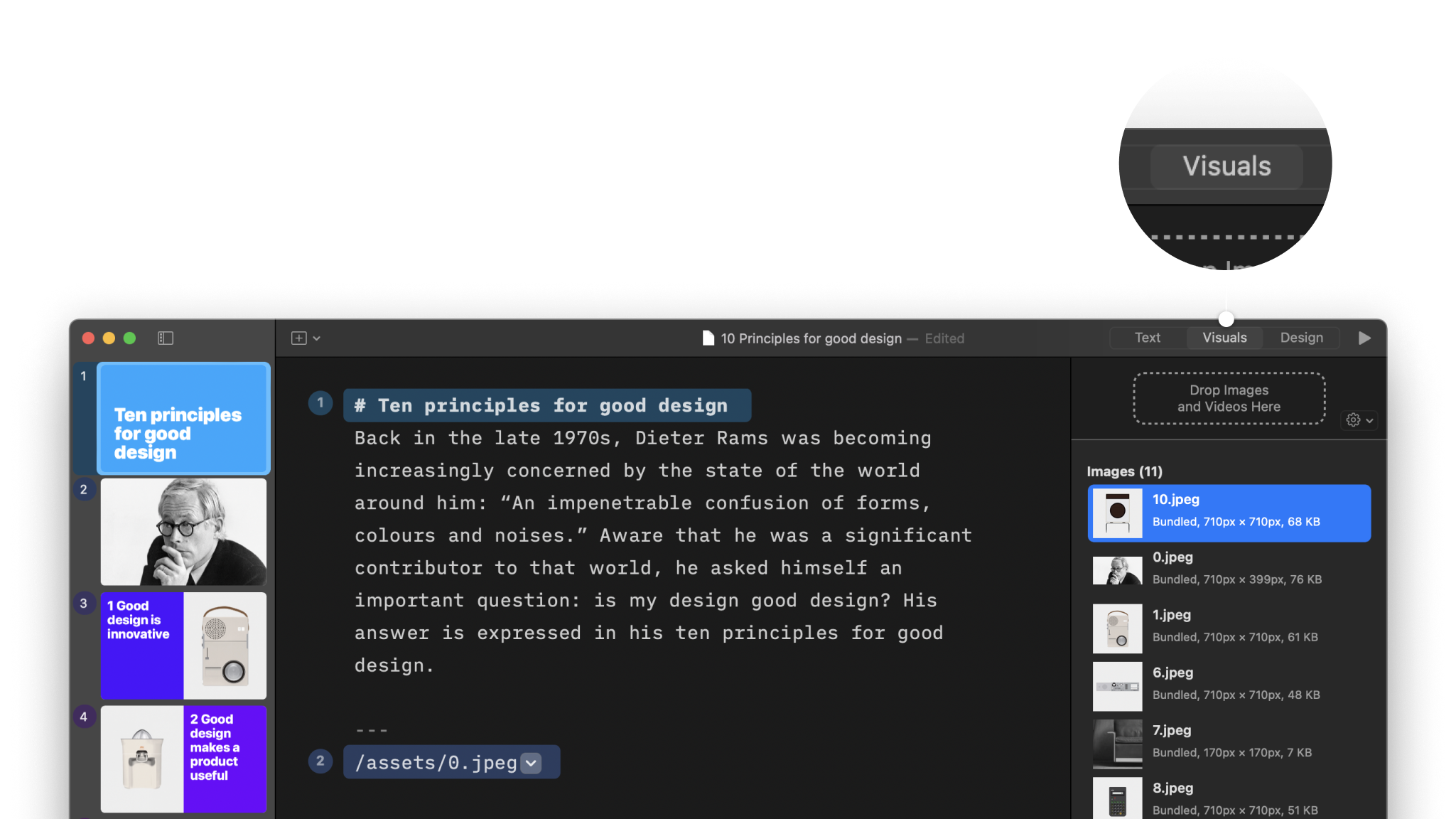 Controlling Images
Images size and position can be controlled when using the Content Blocks Syntax, using meta-data. You can set them using the dropdown arrow ⬇️ at the end of the image's path.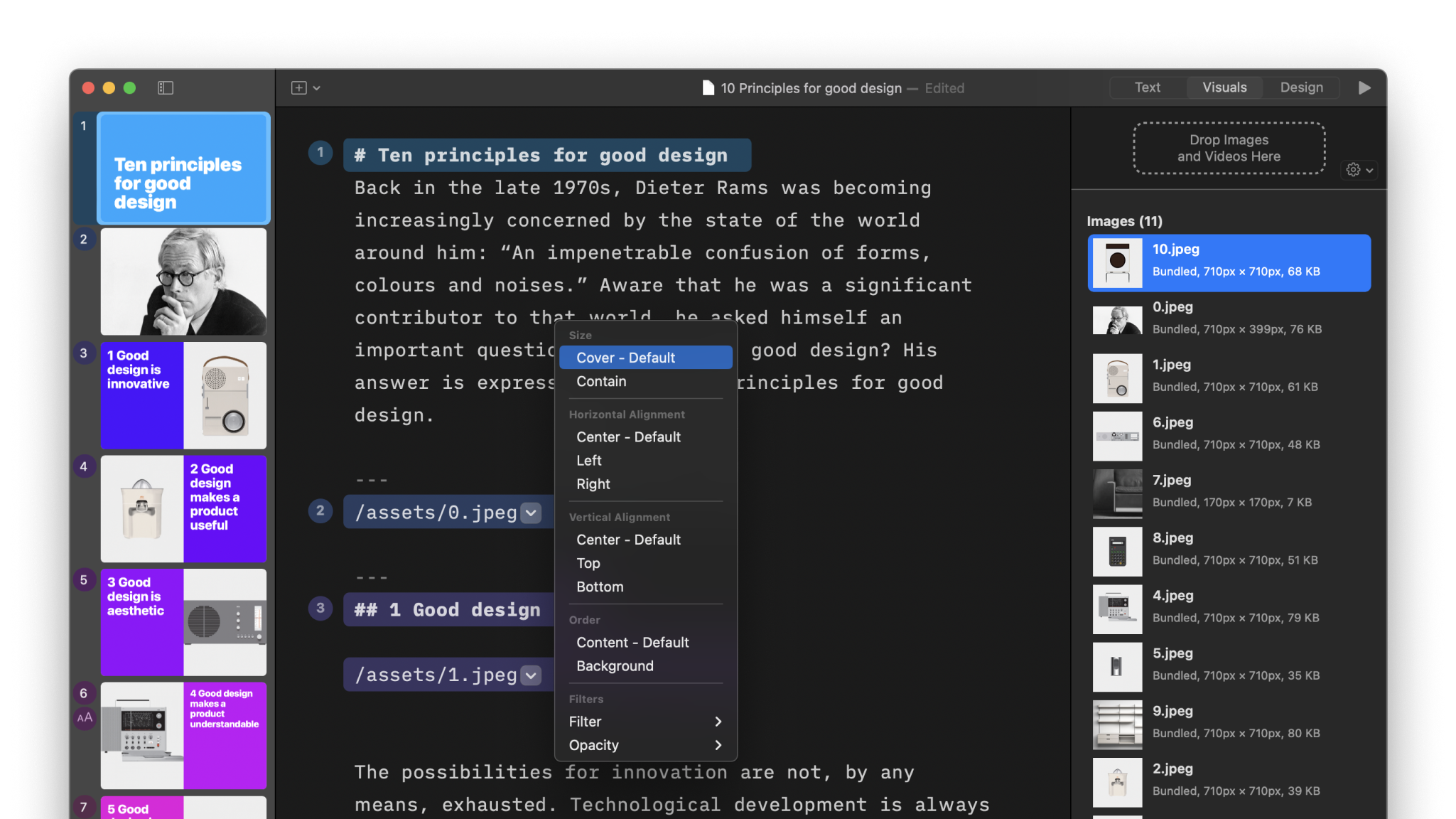 Sizes
1. Cover
The image is resized to entirely cover the available space while preserving its aspect ratio. If it does not match the aspect ratio of its container, the image will be clipped.
2. Contain
The image should fill the available space while preserving its aspect ratio, so it will be "letterboxed" if its aspect ratio does not match the aspect ratio of the container.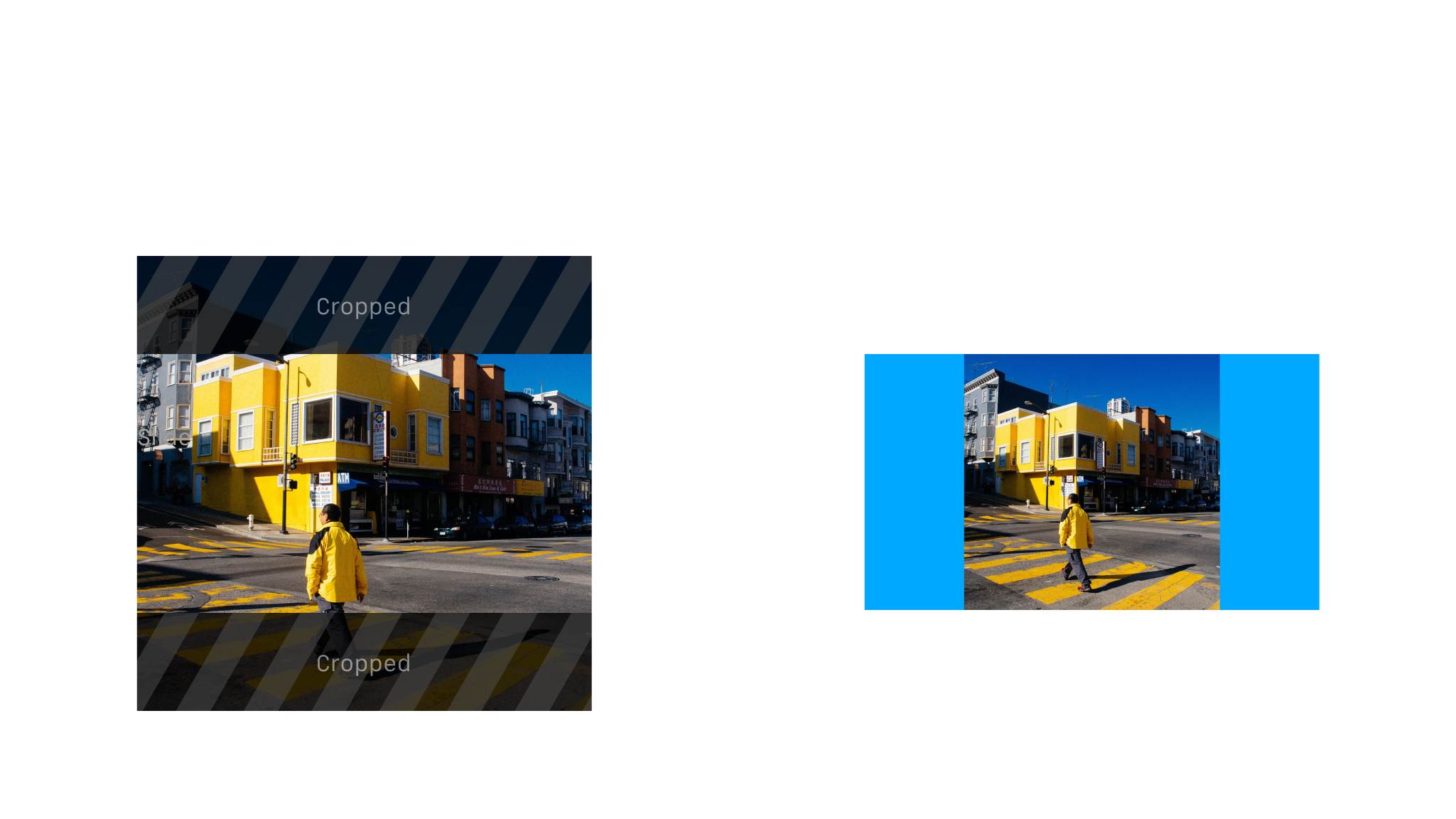 Positions
It is important to know that vertical or horizontal positions are only available depending on the aspect ratio of the image and its container.
You have the choice between:
Center (default), Left and Right for Horizontal Alignment
Center (default), Top and Bottom for Vertical Alignment
The image will be by default a foreground element, "Content" (sharing space with other elements such as titles) but you can turn it into a background.
Filter and Opacity
You can add filters (Lighten, Darken, Grayscale, Sepia, Blur) to your images or opacity. Those options are useful when using an image as a background with other content on top.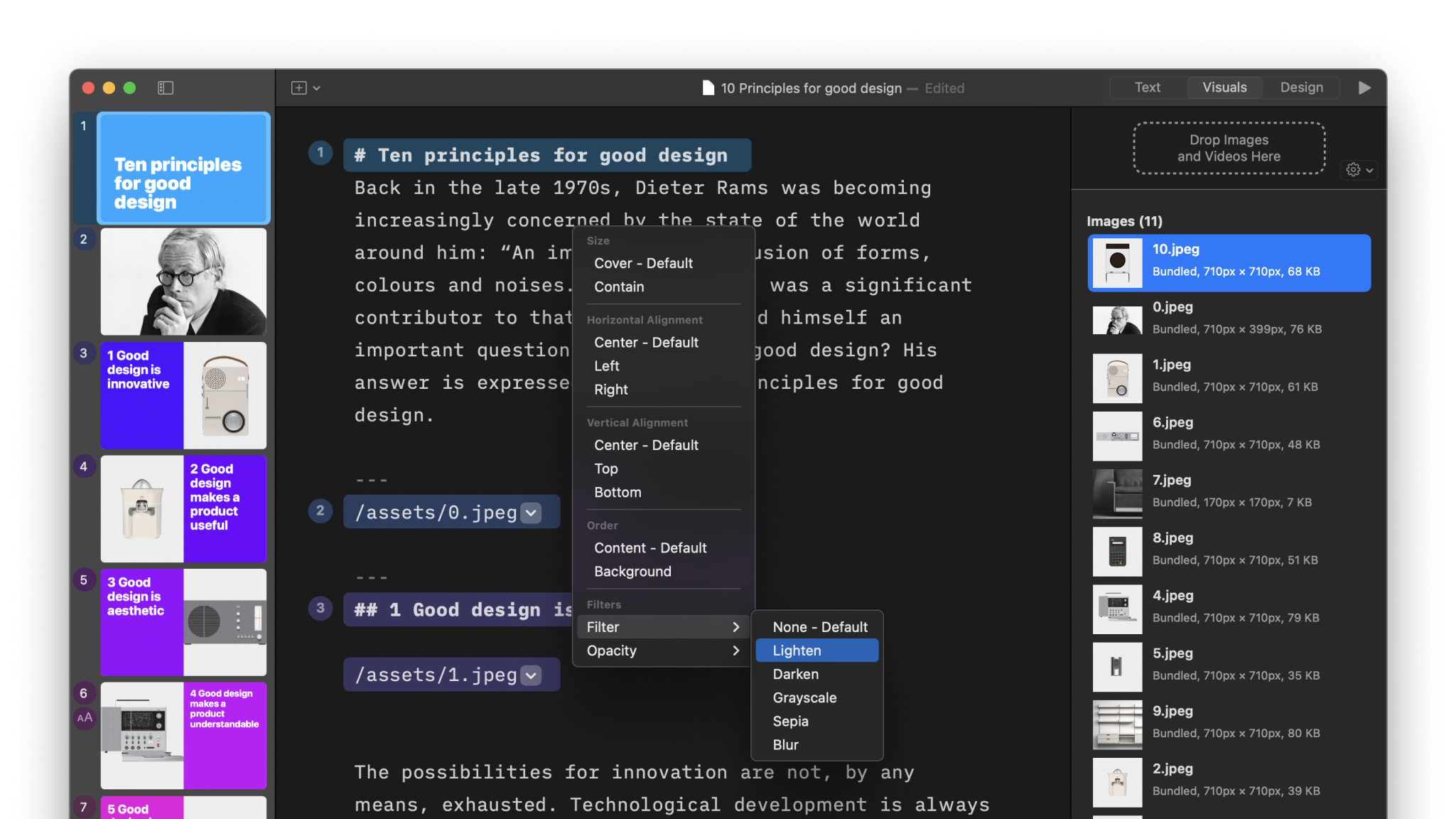 To have your images shine at their best, don't hesitate to play with all the different Layouts of Presenter.