You can access the Settings for iA Writer for Windows by clicking the ⚙️ at the top of the Library or from the Menu File → Preferences. Settings are divided into 5 groups.
Library
Sort By
Choose whether to sort files by Name or Date.
Sort Order
Choose ascending or descending order for files.
Folders on Top
Check this box to keep folders pinned to the top of the File list instead of sorted among regular files.
Show Extensions
Check this box to display file extensions in the Library list.
Show Excerpts
Check this box to display an outline of your file in the Library list.
Editor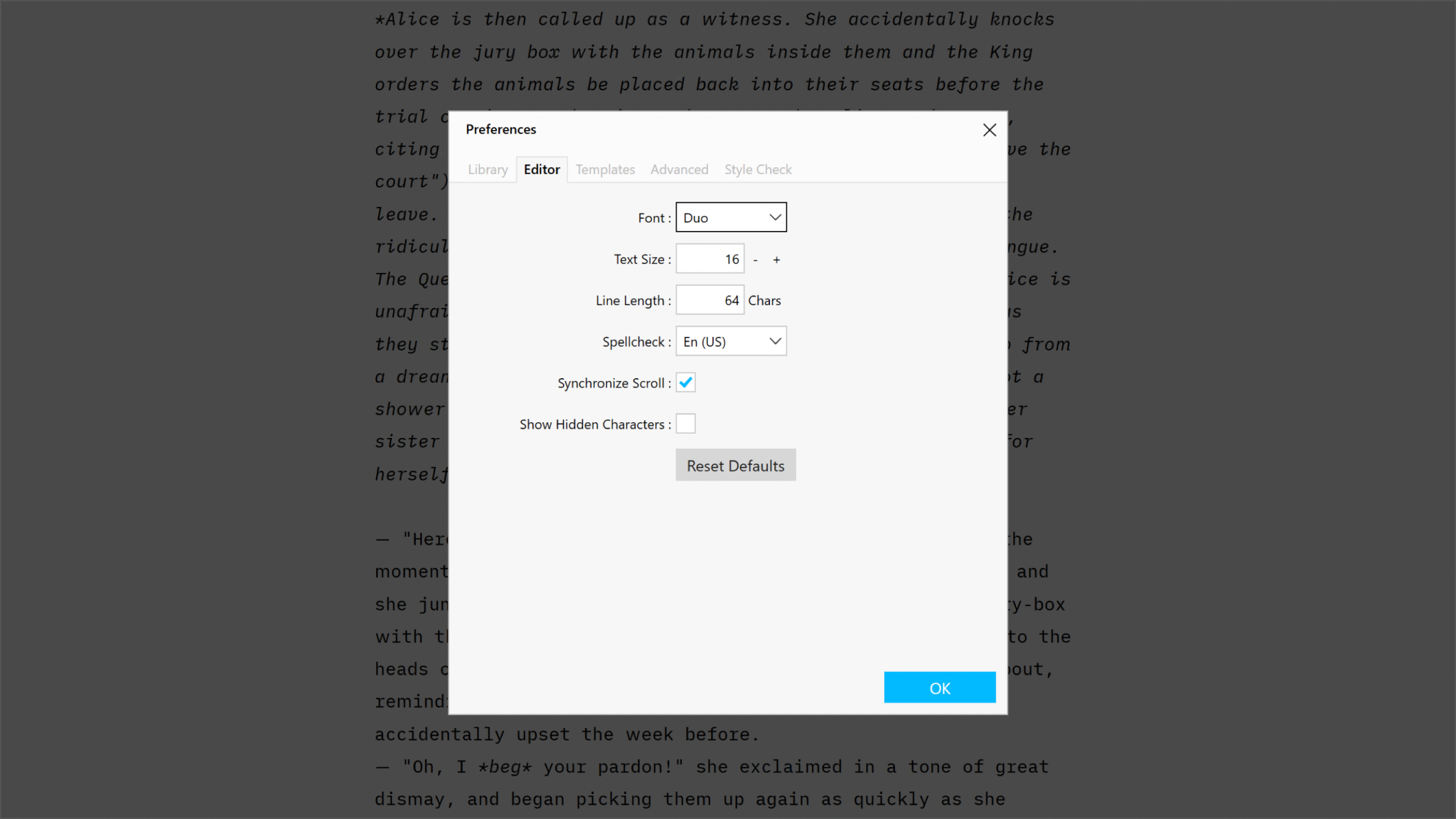 Font
Choose between iA Writer Mono, Duo, or Quattro fonts.
Text
Size Increase or decrease font size in the Editor (this won't affect Preview).
Line Length
The default width allows for 64 characters on a single line before it wraps.
Spellcheck
Choose the language to be used for the spellcheck. spell-checking can be added too.
Synchronize
Scroll Toggle to keep Preview and Editor aligned or scroll them independently.
Show Hidden
Characters Toggle to show invisible characters in the Editor, like spaces or tabs.
Templates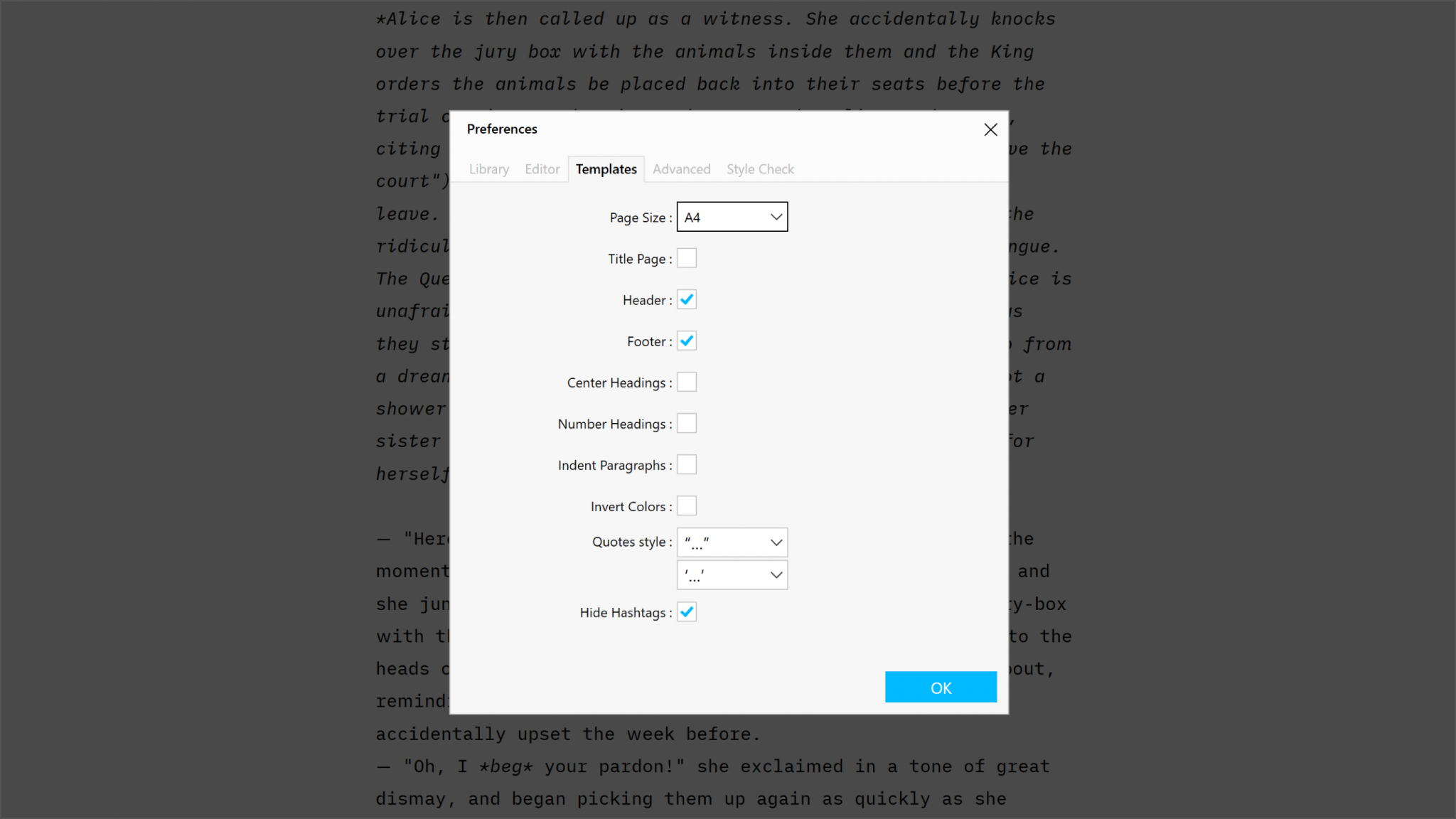 Page Size
Choose between A4 or Letter for PDF export.
Title Page
Choose to include a title page for your exported PDF.
Header
Toggle to include headers in your exported PDF.
Footer
Toggle to include footers in your exported PDF.
Center Headings
Centers all headings instead of positioning them flush left.
Number Headings
Numbers headings beginning with H2.
Indent Paragraphs
Use indentation to indicate new paragraphs instead of vertical space.
Invert Colors
Preview will show as Day Mode while the Editor is in Night Mode and vice-versa.
Quotes Style
Straight quotes in the Editor will be automatically converted to whichever quotes style is selected here.
Hide Hashtags
Hashtags written in the Editor will not appear in the Preview/Export.
Advanced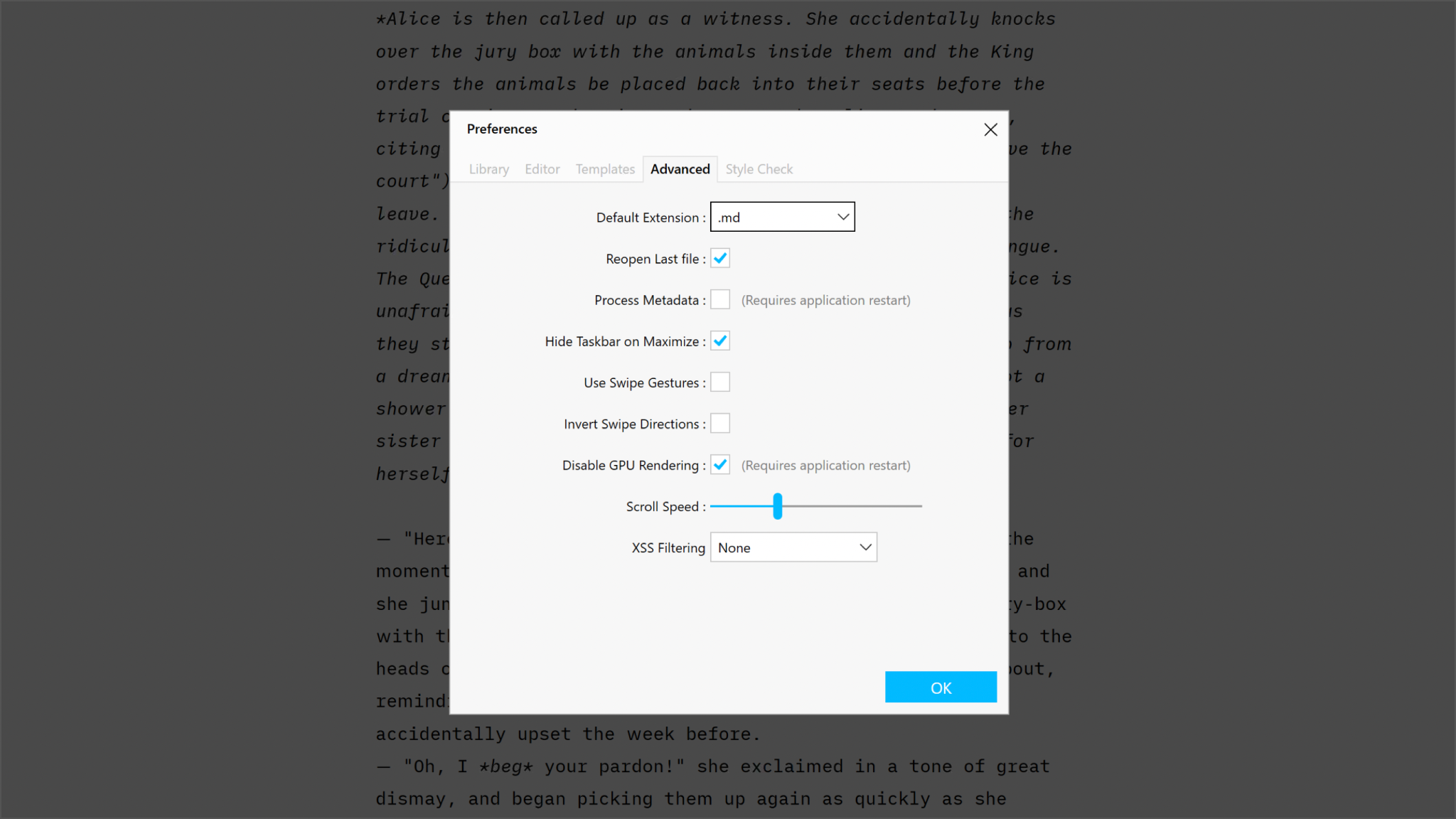 Default Extension
iA Writer will create new files using this file extension.
Reopen Last File
If ON, when relaunching iA Writer, this will reopen the last used document; if OFF, an empty file is presented.
Process Metadata
YAML metadata at the top of a file will be processed and hidden from the Preview/Export.
Hide Taskbar on Maximize
Check this option to get the true full-screen experience.
Use Swipe Gestures
A trackpad or mouse wheel with a tilt function can be used to swipe in/out the Library and the Preview.
Invert Swipe Gestures
If the swipe gesture feels unnatural to you, it can be inverted to the other direction.
Disable GPU Rendering
Some graphics cards and HiDPI monitors can cause issues with refresh rates or dialog visibility—use this function to render everything through software.
Scroll Speed
You can adapt the speed of scrolling in iA Writer to your needs.
XSS Filtering
To protect your file against Cross-site scripting attacks.
Style Check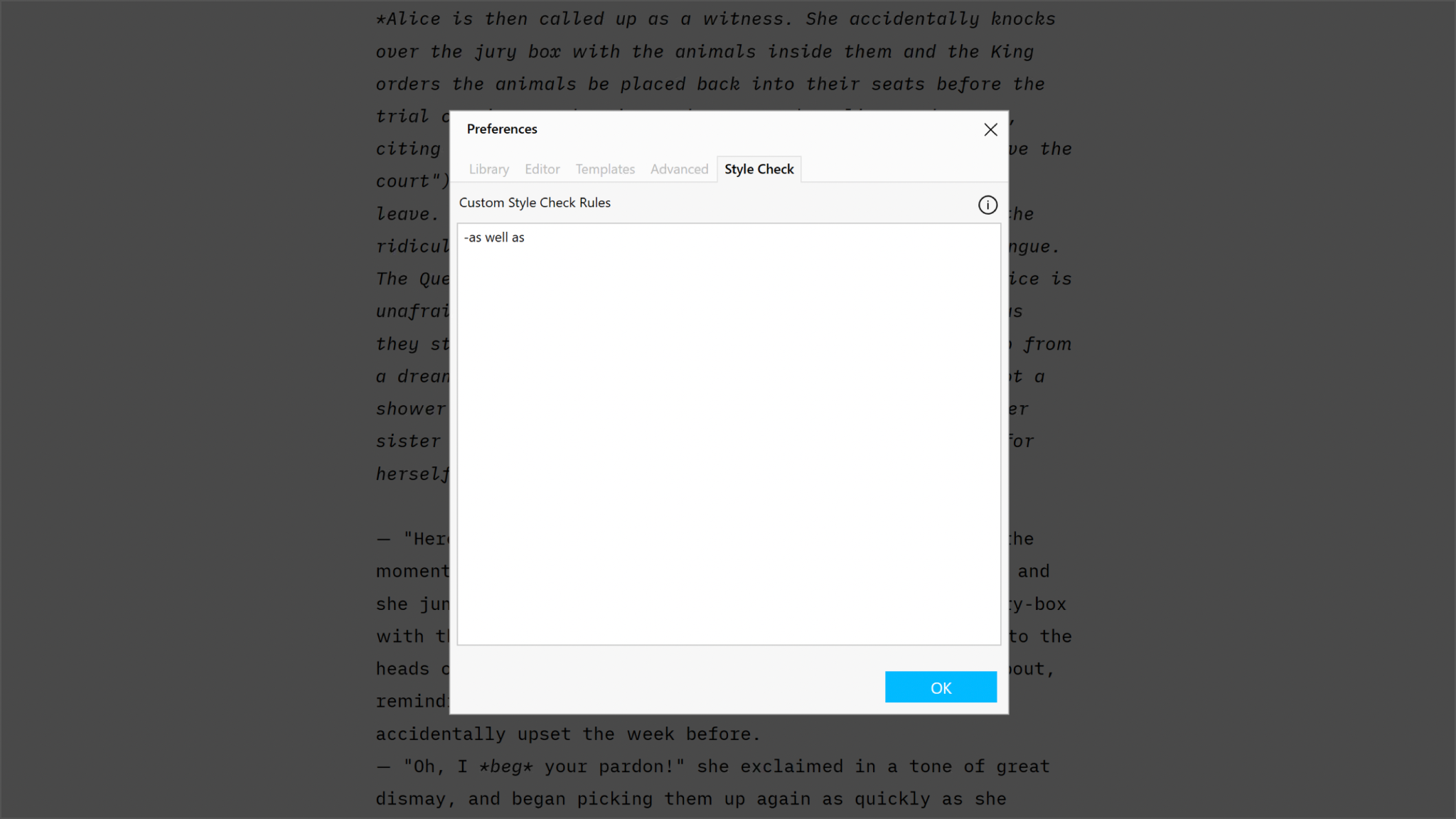 Custom Style
Check Rules You can add custom patterns to Style Check from here. For more about, check our Style Check section.