On Mac, access Settings from the Menu iA Writer → Settings or with the keyboard shortcut ⌘,. Settings are grouped into seven tabs.
General
Appearance
Choose between Light and Dark themes for iA Writer.
Dock icon
Choose whether to show the Light or Dark icon in the dock while running iA Writer.
File extensions
Show or hide the extension of your files in the Library.
Window
Various ways to set up the main window of Writer.
Titlebar
Choose if you always see the Title bar or if it fades in/out.
Toolbar
Choose if you always/never see the Toolbar or if it fades in/out.
Automation
Turn on support for URL commands URL Schemes.
Accounts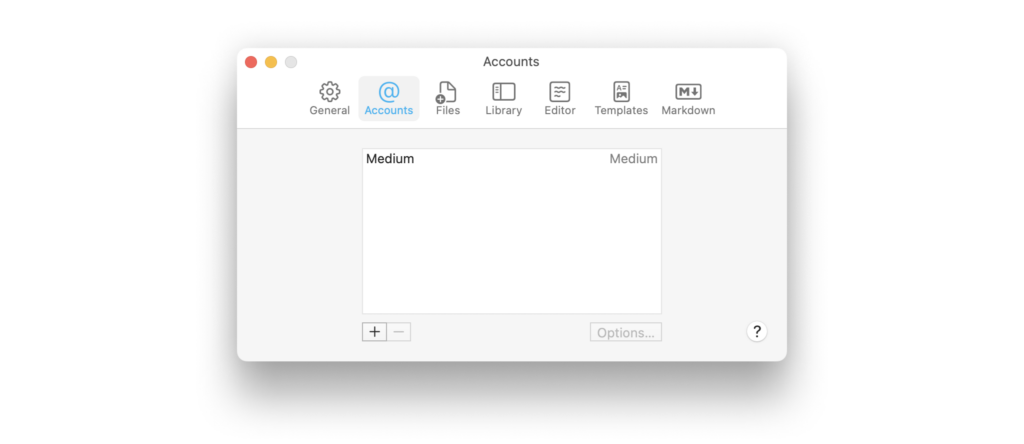 The + / - will add or remove blogging accounts. The Options... let you choose whether drafts for the selected account are posted in HTML or Markdown.
Files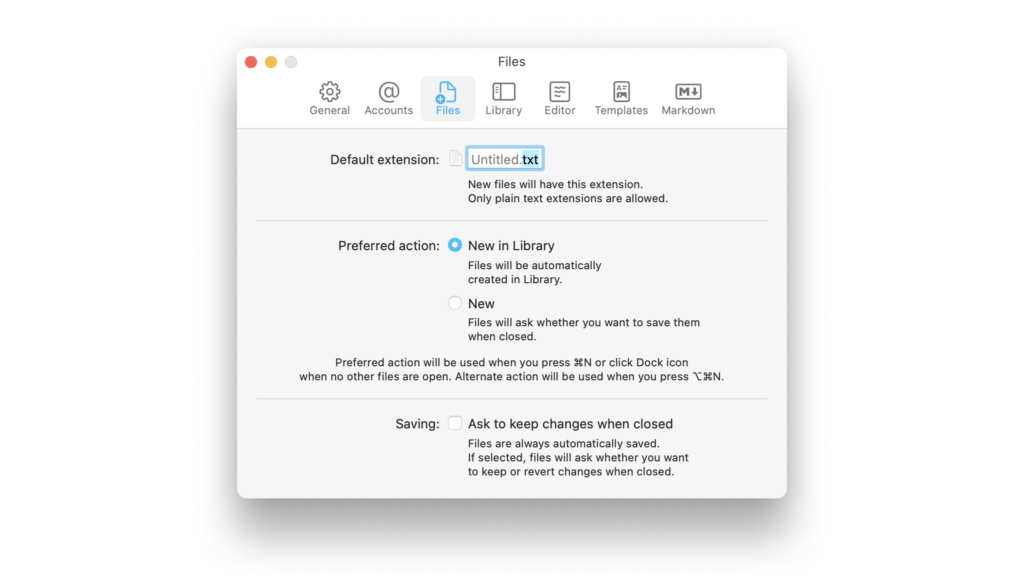 Default extension
New files will be saved with the extension provided here. Common extensions are .txt, .text or .md for Markdown.
Preferred action
Determines the behavior of ⌘N; either create files in the currently shown folder of the Library or prompt for a save location upon ⌘S.
Saving
Enable or disable for "Ask to keep changes" when closing.
Library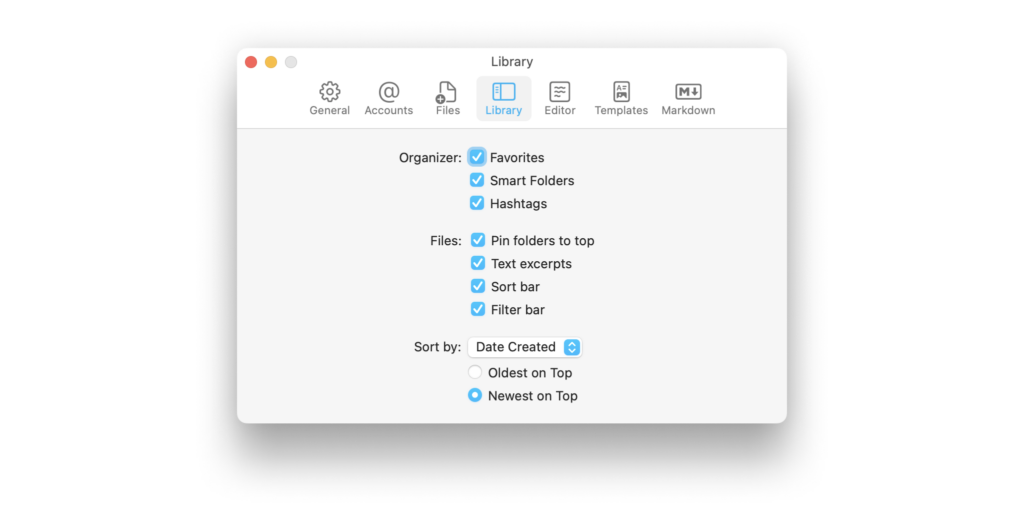 Organizer
Choose which sections to display in the Organizer.
Files
Toggle these options to keep folders at the top of the library list, show text excerpts for each file and show or hide the Sort and Filter bars.
Sort by
Choose to sort documents in the library by modification date, name, or kind.
Editor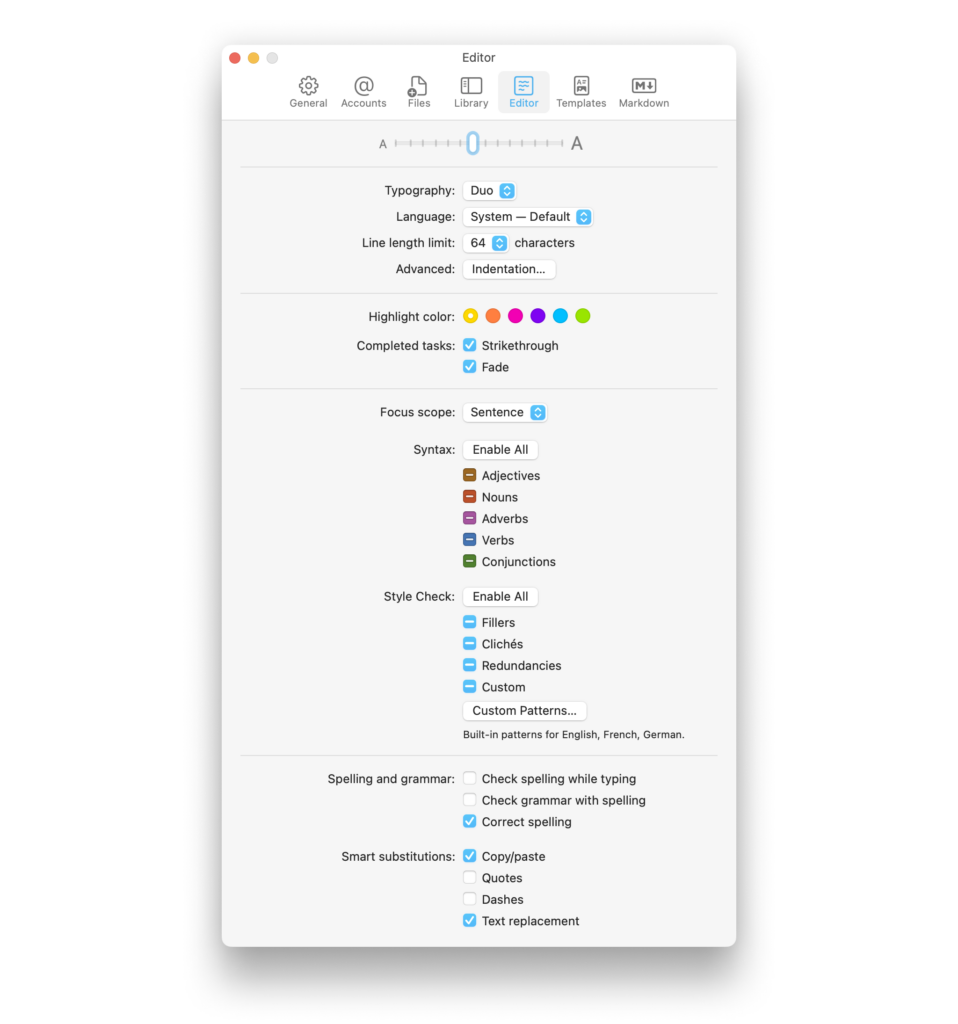 Text size
Adjust slider to desired text size.
Typography
Select the font between iA Mono, Duo or Quattro.
Language
Select language corresponding to the typography (for CJK optimization).
Line length limit
Select maximum characters per line (64, 72 or 80).
Advanced
Adjust indentation, tab key behavior, tab width, and treatment for wrapped line/whitespace.
Highlight color
Choose the color for the highlight function between yellow, orange, pink, purple, blue and green.
Completed tasks
Determines the appearance of a task when complete, either strikethrough, faded or both.
Focus scope
Determines the focus mode, between Sentence/Paragraph/Typewriter.
Syntax
Select parts of speech to be highlighted when Syntax Control is enabled.
Style Check
Select parts of speech to be crossed out when Style Check is enabled and add Custom Patterns to compliment built-in lists.
Spelling and grammar
Decide how iA Writer checks your spelling and grammar, if at all.
Smart substitutions
Copy/Paste
Automatically removes word-bordering whitespace.
Quotes
Replace straight quotes with curly quotes
Dashes
Two hyphens in a row are converted to an emdash
Text Replacement
Toggles replacements from  → System Settings → Keyboard → Text Input.
Templates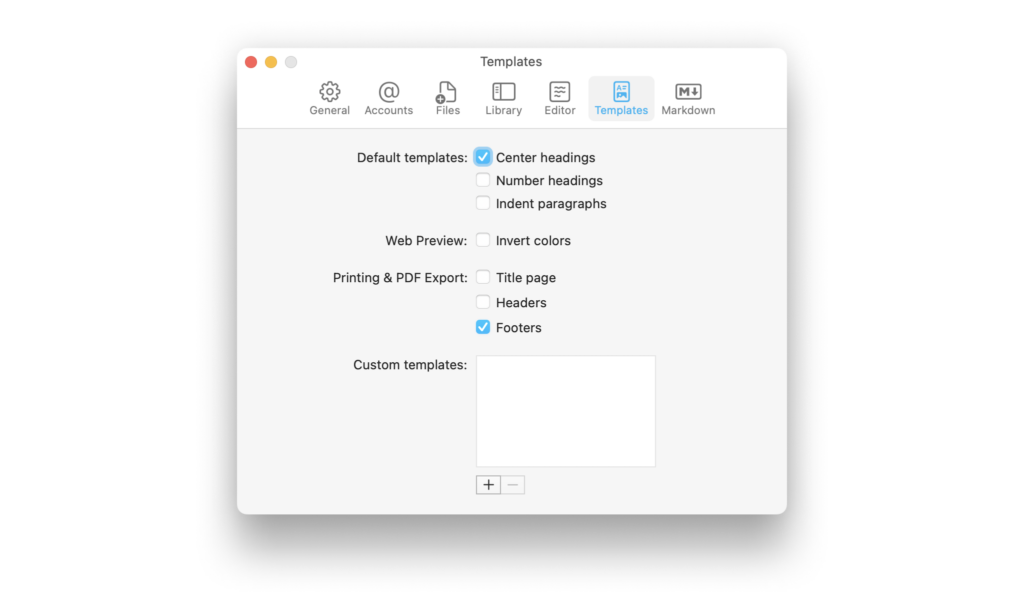 Center Headings
Toggle to center or left-justify headings (H1, H2, etc.)
Number Headings
Automatically number headings in Preview
Indent Paragraphs
Indicate new paragraphs with indentation instead of vertical space
Web Preview
Invert Colors: uses Night Mode when the Editor is in Day Mode and vice-versa.
Printing & PDF Export
Choose whether to include a Title page, headers and footers in your printed documents and exported PDFs.
Custom templates
Add or remove Custom Templates here using the +/- buttons or dragging them into the field.
Markdown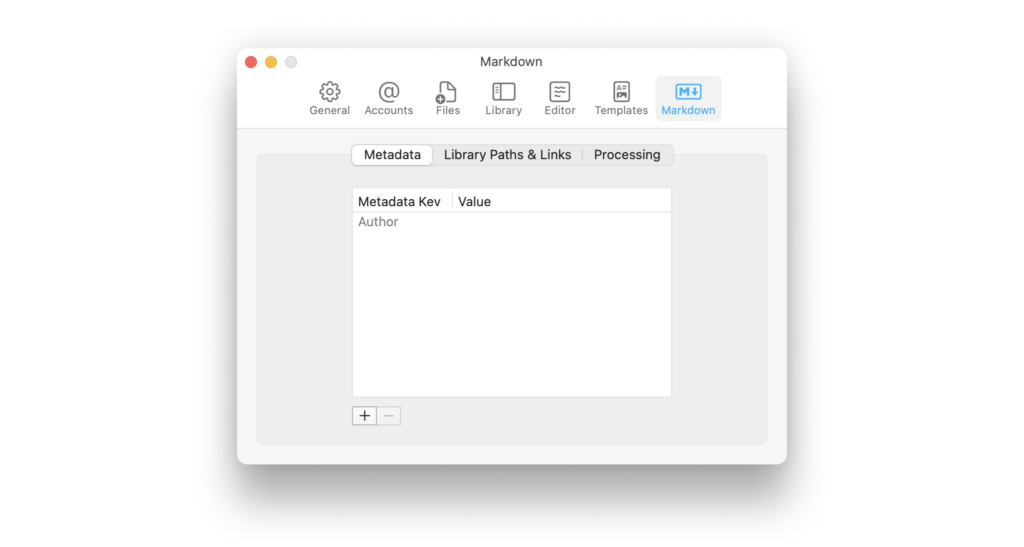 Metadata
To determine Global metadata, which has the lowest priority.
Library Paths & Links
Advanced settings for Wikilinks, Content Blocks or Hashtags.
Processing – Apply smart punctuation
Turn on to prettify punctuation in the Preview (e.g., Convert straight quotes in the editor to curly quotes in Preview)
Processing – Single return starts a new paragraph
Allows for "lazy paragraphs" by only requiring one return to create a new paragraph—instead of the usual two needed for Markdown documents