Version History iPad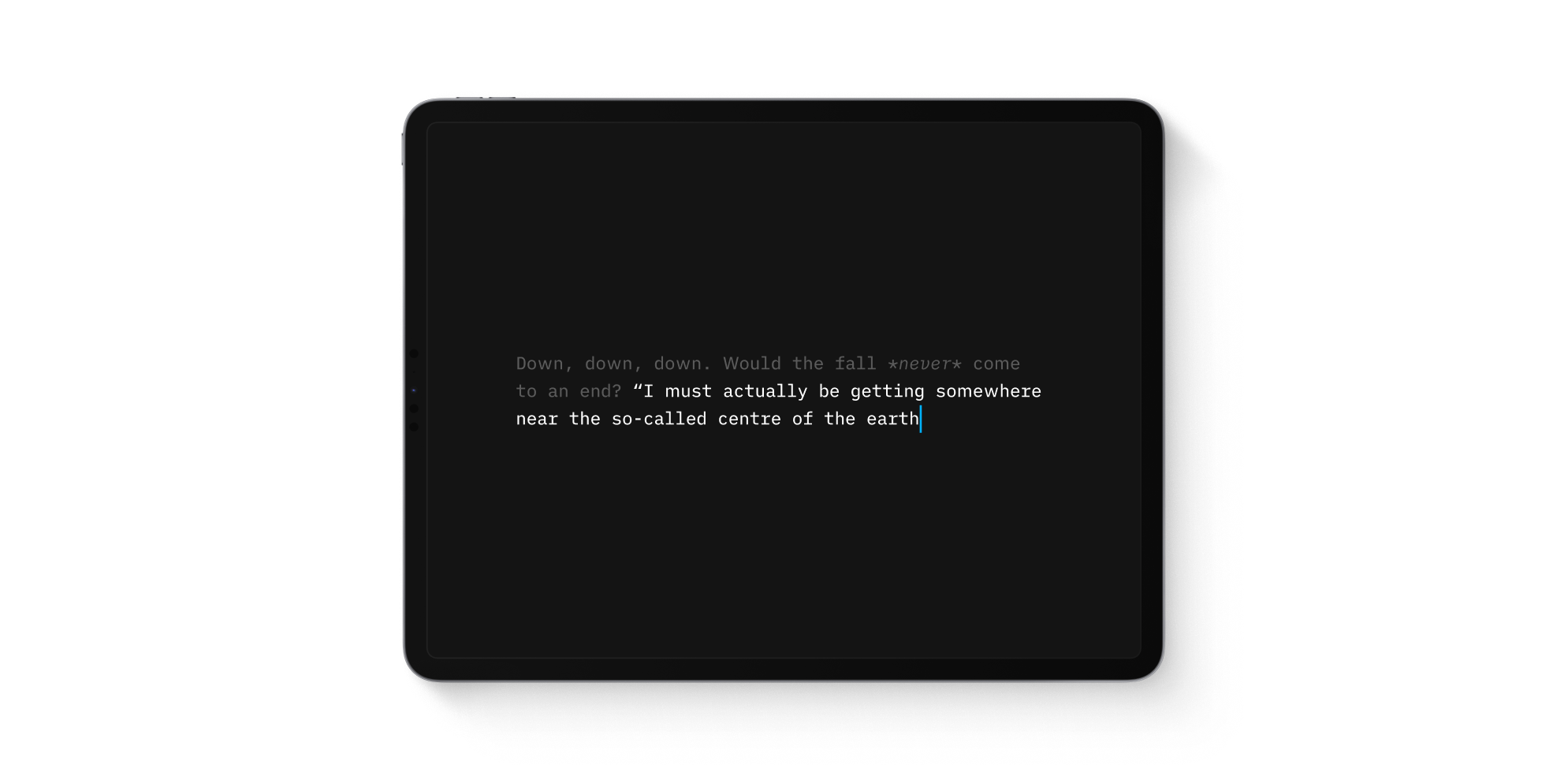 Find below the Version History of iA Writer for iPadOS.
6.0
Wikilinks
Navigation History
Navigation history keeps track of the files you recently opened using wikilinks, Library, or Quick Search
To go back and forward, swipe right or left anywhere in the document
Or tap the document name in the navigation bar and select Go Back or Go Forward
To go back and forward, tap the history buttons in the navigation bar
Or press ⌃⌘← and ⌃⌘→
Swipe right or left with two fingers anywhere in the document on screen
Or hold ⌘ and swipe right or left on a trackpad
Fast access to your favorite formatting commands and features, right from the keyboard bar
Available starting with i

Pad

OS 15
Fully configurable in Keyboard settings
Split Preview (on iPad)
Added ability to show Preview side-by-side with Editor
Enable in the menu
Scrolls in sync by default, configurable in Interface settings
Hashtag Improvements
Hashtags can be now added anywhere in text
Autocomplete suggests hashtags as you type
Consistent styling for hashtags and other links
Show a hashtag in Quick Search using the button in the keyboard bar, ⌘-click or ⌘⏎
Autolinks
All web links and email addresses are automatically detected
Open a link in browser or compose a new email using the button in the keyboard bar, ⌘-click or ⌘⏎
Control how wikilinks, hashtags, and autolinks are exported in Markdown settings
Content Block Improvements
To add a content block, type / at the beginning of a line and the name of the file you would like to include
Autocomplete suggests files from your Library
A path to a file is no longer required. Filename-only content blocks automatically find the nearest matching file
Open a text content block using the button in the keyboard bar, ⌘-click or ⌘⏎
If the content block file doesn't exist, it'll be automatically created and ready to type
All-new metadata engine enables powerful new features
Provide variables to text content blocks, width and height attributes to image content blocks
Supports Markdown in metadata variables
Define global metadata in Markdown settings
Look and Feel
Completed tasks are faded and crossed-out
All-new highlight colors
Choose your favorite highlight color and configure completed task appearance in Editor settings
Editor Improvements
Other Improvements
Changed Library shortcut to ⌃⌘S
Task list items are searchable with Smart Folders and Quick Search using

[ ]

and

[x]

Text stats include content blocks and take metadata variables into account
Added ability to show and sort by date created in Library
Added fuzzy Library Path matching to Quick Search
Integrated system menus on i

Pad

OS 15
Added an option to always show Editor and Preview toolbars, configurable in Interface settings
Deleted folders and files are moved to Recently Deleted in Files app on i

Pad

OS 14 and later
5.6
Style Check
Improve your writing by getting rid of fillers, clichés, and redundancies
They're automatically dimmed and crossed-out as you type
Easy to delete: double-tap to select the whole phrase
Private: all processing is done on your device
Fast: optimized to work in real-time
Enable in aA menu or with ⌥ option⇧ shift⌘ commandD
Built-in support for English, French, German
Add your own patterns in Editor settings
Tap the ? button when editing custom patterns to learn how to make them better by providing context, exceptions, and using regular expressions
Other Improvements
Markdown files open up to 350 times faster
More responsive when editing large files
Editor correctly handles inline code that contains backticks
5.5
PDF Preview
PDF preview makes it easy to prepare files for printing and export
Automatically refreshes as you edit the text
Double tap to fit page or fit width
Publishing Improvements
Publish directly to self-hosted WordPress.org sites
WordPress accounts can be configured to upload Markdown
Micropub support for Micro.blog and other IndieWeb tools
Add multiple accounts from each service
Reorder and rename accounts
Other Improvements
Tap and hold back button to go to Library root
Tap title in Library to rename the current folder, Smart Folder, or Library Location
Added ⌘ command⏎ return to begin editing without touching the screen
Improved trackpad support
Preview keeps scroll position in sync with Editor
Added A3 and A5 paper sizes

\(\KaTeX\)

\gdef now works as expected
5.4
Export Improvements
Share, export, publish, print, and copy directly from context menu in Library
Added Copy Markdown action (includes Content Blocks)
Share any file to other apps
Word export keeps headings on the same page as the following paragraph
Quickly copy all text from action button in Editor and Preview
Backups For All Files
All files are backed up locally when edited to make sure your work is safe when cloud services fail
Access backups via context menus of text files and Library Locations, action button in Editor, and from Quick Search
Hashtag Suggestions in Custom Keyboard
When cursor is on a space, shows the last 3 accepted hashtags
When cursor is on a letter or a word, shows suggestions to convert it to an existing or a new hashtag
Other Improvements
Fixed an issue where Word documents imported via open-in-place were deleted
Fixed an issue where indentation settings could be ignored
Excluded node_modules from indexing
Fixed an issue where some Smart Folders with multiple search rules did not work
5.3
iA Writer 5.3 adds many great new features for iOS 13 and iPadOS 13.
Multiple Windows on iPad
Windows can be used in Split View with other apps, in Split View with two iA Writer windows, or as a pane in Slide Over
Tap and hold a file in Library, then select "Open in New Window"
Or drag the app icon from Dock to the edge of the screen
⇧⌘N opens a new window with a new file
⇧⏎ opens a Quick Search result in a new window
Dark Mode
System-wide Dark Mode state is matched by default
You can manually control app appearance in iA Writer's Settings
External Drives
Add Library Locations from external hard drives, SD cards, and USB drives
Useful for accesssing private notes on shared devices
Full Page Screenshots
Tap "Full Page" in system screenshot editor to quickly annotate and send a PDF
Editor screenshot produces a plain text PDF
Preview screenshot produces a formatted PDF
Library Selection Gestures
Quickly select multiple files in Library
Slide with two fingers at any time
Slide with one finger over checkboxes when in editing mode
Text Selection Gestures
New text selection gestures
Copy with a three-finger pinch
Paste by dropping the text down with three fingers
Undo with a three-finger swipe left
See Apple's documentation for more info
Content Blocks with Relative Paths
../Note.txt will include a file from the parent folder
Handoff Improvements
Handoff now works when both devices have a Library Location with the same name
Files are handed off using Library paths: /Locations/GitHub/Readme.md
Requires iA Writer 5.3 on both devices
Other Improvements
Links to local images are now converted as file URLs
Fixed link import from Word
Fixed gif export to Word
Changed write URL command with mode=append to create a file if it doesn't exist
Improved file modification tracking from some third-party apps
5.0.1
Removed keyboard bar in landscape on iPhone SE to better view the editor
Fixed a crash on iOS10
4.0.7
Improved support for future iOS versions
Fixed an issue where keyboard bar could not be hidden
4.0.6
Fix for keyboard bar layout on 10.5 inch iPad Pro
4.0.5
4.0.4
Fixed crash on iOS 10.3 beta
4.0.3
Improved performance and stability
4.0.2
Fixed an issue where scrolling in editor could periodically stop
Defined CSS files as to be processed as code
Fixed an issue where preview scroll bar could be invisible with some templates
Fixed an issue where Auto Markdown was disabled for files in Dropbox
Improved performance and stability
4.0.1
Added CSV delimiter detection
Added caption support for source code content blocks
Enabled SVG image content blocks
Set up Markdown export to use default extension
Switched to fixed width numbers in tables in standard templates
Improved performance and stability
4.0
Embed Local Images
Include images from iCloud Library in your documents (.png, .gif, .jpg)
Add images from the camera roll or take a photo directly
Images are uploaded to Medium and WordPress when sharing a draft
Embed Tables
Include comma separated value files as tables in your documents (.csv)
Create advanced tables using MultiMarkdown
Embed Text Files
Build a manuscript from several chapters in separate files
Embedded source code files are added as code blocks
Nest text files into each other
Note: Embedding only works for files in the same folder (or subfolders) as the master file. You can't embed files in a parallel or higher directory.
Other Improvements
New button in keyboard bar to quickly embed images, tables and text files
Added Project Archive export for sharing all embedded files together (.zip)
UI improvements to Library
Added file info popover in Library
Changed Chinese font in editor to Ping Fang
Performance optimizations and improvements
3.2
Custom Templates
Preview, create PDFs, and print documents in your own style
Templates are web pages. Use HTML, CSS, and JavaScript to lay out your documents
Add your own templates via AirDrop
Open templates and template archives in iA Writer from Mail or iCloud Drive
Download extra templates from iA Writer's Web Site
Learn more about templates in Help
Page Breaks
Add page breaks to printed documents and PDFs
Insert with +++ on an empty line
Title Pages
Print and export PDFs with a title page
Default templates show document name and author on the title page
Set the author in Preferences
Other Improvements
Added option to change default file extension in Settings
Updated to MultiMarkdown 5.3
Fixed buttons titles when resolving conflicts
Fixed an issue where preview scrolled to top top after changing a template
3.1.4
Share to WordPress
Add your account in Settings
Create drafts on your WordPress site with File > Share > New Draft on WordPress
Other Improvements
Excluded links from reading time and text statistics
Improved automatic name generation
Fixed Korean input issue
Fixed jumping text in Focus Mode
Updated to MultiMarkdown 5.2
3.1.3
iCloud Version Browser
Use this to roll back your document to an earlier version
Accessed via File > Revert To…
Choose an older version to revert document
Choose current in addition to older versions to create them as separate files
Focus Mode for Paragraphs
Focus Mode can be expanded to the bounds of full paragraphs
Accessed via Settings > Focus Mode
Your Table is Ready
Tap the Table key in the keyboard bar and set the desired number of rows and columns
The required Markdown for the table is created for you instantly
Select "New Draft on Medium" to publish a formatted draft on your Medium account
Send plain text straight to the body of an email, or other apps
Other Improvements and Fixes
Added recently opened documents to 3D Touch menu on Home screen
Improved typing responsiveness
Added an option to hide text excerpts in the Library
Improved H6 alignment at the beginning of a page
Improved File > Open and File > Import to present a list of available destinations first
3.1.2
Support for MultiMarkdown's Table of Contents
Add {{TOC}} to your documents to have a table of contents generated in Preview
TOC button available for the keyboard bar adds this for you
An entry is made for each heading in the document
Click a TOC entry to jump to that section of the document
Search supports advanced syntax
Search for specific terms by quoting "search query"
Match the first word of name or text using ^word
Use set operators AND, OR, and NOT
Search for names or texts that contain a specific word with name:notes or text:"book"
See the full description and examples in Help
Added new hardware keyboard shortcuts for structure actions
Shift Right tab Shift Left ⇧tab Move Line Up ⌘⌥↑ Move Line Down ⌘⌥↓
Other Improvements
Improved code block detection
Added commands to transform selected text into upper, lower, and title case
Added File → Rename
Fixes
Fixed an issue where keyboard was dismissed when toggling night mode from keyboard
Fixed issues which happened when typing punctuation from keyboard bar after accepting QuickType predictions
Search results are now sorted by relevancy
Fixed an issue where Library did not remember paths in Dropbox
Fixed an issue where text view could fail to edit
Fixed an issue where Preview could fail to sync with Editor
Fixed frequent errors when editing documents from File → Open
3.1.1
Improvements
[x] Tap tasks to mark as completed
Improved automatic name generation
Added new text structure action buttons and shortcuts

Shift Left ⌘[
Shift Right ⌘]
Move Line Up ⌥⌘[
Move Line Down ⌥⌘]

Return preserves the amount of leading whitespace
Fixes
Fixed an issue where search was not working for non-Latin scripts Improved performance and stability
3.1
Improvements
Export drafts to Medium.com
Localization for Japanese and German
Templates:

Choose indentation or vertical spacing for paragraphs
Choose centered or left-justified headings

Header and footer are optional on print/PDF export
Improved landscape margins for 6 and 6iPhones
Add/Remove Files to Local Storage via iTunes
Default extension uses last extension change
New keys in the keyboard bar config can trigger menu functions
Fixes
Sorting method for Dropbox files is now preserved across restarts
Text statistics now start tracking the current file immediately
Fixed crashes
3.0
The Library
Sort documents by A-Z, Date, or Extension
Show file extensions
Pin/unpin folders
Rename files/folders (swipe left)
The Editor
Text-based Menus
Configurable Keyboard Bar
View Word Statistics while typing
Import from MS Word (.docx)
The Preview
Choose from three typographically refined Templates
Export to PDF
Export to Microsoft Word (.docx)
Everywhere
Navigate views by swiping left and right
Day Mode and Night Mode affect entire app