Version History Mac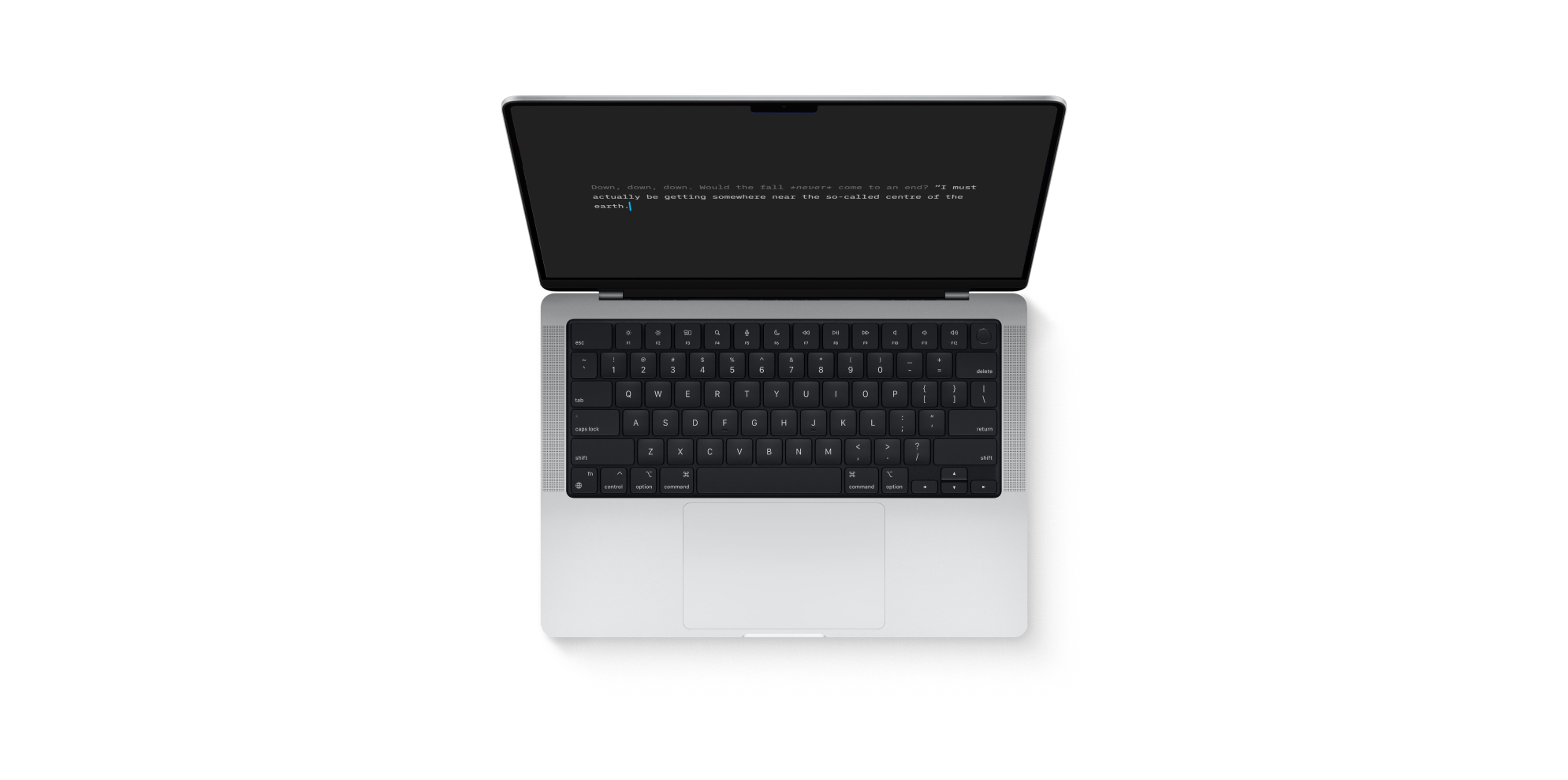 Find below the Version History of iA Writer for Mac.
6.0
Wikilinks
Wikilinks make it easy to connect, browse, and rediscover your writing
A

[[

wikilink

]]

is a link from one text file to another
To make a wikilink, just type

[[

and the name of the file you would like to link
Autocomplete suggests files from your Library
Open the linked file with ⌘-click or ⌘⏎
If the file doesn't exist, it'll be automatically created and ready to type
Navigation History
Navigation history keeps track of the files you recently opened using wikilinks, Library, or Quick Search
To go back and forward, hold ⌘ and swipe right or left anywhere in the document
Click the history buttons in the title bar
Or use ⌃⌘← and ⌃⌘→
Hashtag Improvements
Hashtags can be now added anywhere in text
Autocomplete suggests hashtags as you type
Consistent styling for hashtags and other links
Show a hashtag in Quick Search with ⌘-click or ⌘⏎
Autolinks
All web links and email addresses are automatically detected
Open a link in browser or compose a new email with ⌘-click or ⌘⏎
Control how autolinks, hashtags, and wikilinks are exported in Markdown preferences
Content Block Improvements
To add a content block, type / at the beginning of a line and the name of the file you would like to include
Autocomplete suggests files from your Library
A path to a file is no longer required. Filename-only content blocks automatically find the nearest matching file
Open a text content block with ⌘-click or ⌘⏎
If the content block file doesn't exist, it'll be automatically created and ready to type
All-new metadata engine enables powerful new features
Provide variables to text content blocks, width and height attributes to image content blocks
Supports Markdown in metadata variables
Define global metadata in Markdown preferences
Look and Feel
Completed tasks are faded and crossed-out
All-new highlight colors
Choose your favorite highlight color and configure completed task appearance in Editor preferences
Editor Improvements
Editor automatically inserts closing brackets
Select text and type an opening bracket to wrap selection in matching brackets
Added indent width preference
Changed strikethrough shortcut to ⌥⌘U
Changed highlight shortcut to ⇧⌘U
Changed code shortcut to ⌘J
Added code block command with shortcut ⇧⌘J
Disabled spell checking, autocorrection, autocapitalization, and smart punctuation in code
Set up ⌘E shortcut to use selection for find
Changed shortcut to mark task as completed to ⌥⌘X
Other Improvements
Changed Library shortcut to ⌃⌘S
Task list items are searchable with Smart Folders and Quick Search using

[ ]

and

[x]

Text stats include content blocks and take metadata variables into account
Added ability to show and sort by date created in Library
Added fuzzy Library Path matching to Quick Search
Added an option to always show the title bar
Replaced Delete in Library with Move to Trash, hold ⌥ to delete immediately
Stopped asking to keep document changes by default, configurable in Files preferences
5.6
Style Check
Improve your writing by getting rid of fillers, clichés, and redundancies
They're automatically dimmed and crossed-out as you type
Easy to delete: double-tap to select the whole phrase
Private: all processing is done on your device
Fast: optimized to work in real-time
Enable in aA menu or with option+shift+command+D (⌥⇧⌘D)
Built-in support for English, French, German
Add your own patterns in Editor settings
Tap the ? button when editing custom patterns to learn how to make them better by providing context, exceptions, and using regular expressions
Other Improvements
Markdown files open up to 350 times faster
More responsive when editing large files
Editor correctly handles inline code that contains backticks
5.5
PDF Preview
PDF preview makes it easy to prepare files for printing and export
Automatically refreshes as you edit the text
Choose to fit page or fit width from contextual menu
Publishing Improvements
Publish directly to self-hosted WordPress.org sites
WordPress accounts can be configured to upload Markdown
Micropub support for Micro.blog and other IndieWeb tools
Add multiple accounts from each service
Reorder and rename accounts
Other Improvements
Hold Option when in Library contextual menu to delete folders and files without a confirmation
Improved support for increase contrast accessibility option
KaTeX \gdef now works as expected
5.4
Export Improvements
Share, export, publish, print, and copy directly from context menu in Library
Added Copy Markdown action (includes Content Blocks)
Share any file to other apps
Word export keeps headings on the same page as the following paragraph
Other Improvements
Added icons for preferences panes
Fixed an issue where key commands for window switching were not working with some keyboard layouts
Fixed an issue where new windows caused existing partially offscreen windows to move
Excluded node_modules from indexing
Fixed an issue where some Smart Folders with multiple search rules did not work
5.3
iA Writer 5.3 for Mac is a companion release to our big update for iOS 13 and iPadOS 13.
Updated File Keyboard Shortcuts
Simpler and consistent with iOS and iPadOS
⌘N creates a new file in current window
⇧⌘N creates a new file in a new window
⏎ opens a Quick Search result in current window
⇧⏎ opens a Quick Search result in a new window
Content Blocks with Relative Paths
../Note.txt will include a file from the parent folder
Handoff Improvements
Handoff now works when both devices have a Library Location with the same name
Files are handed off using Library paths: /Locations/GitHub/Readme.md
Requires iA Writer 5.3 on both devices
Other Improvements
Links to local images are now converted as file URLs
Fixed link import from Word
Fixed gif export to Word
Changed write URL command with mode=append to create a file if it doesn't exist
App activates for new documents created using Dock menu
Double-click Smart Folders in Organizer to edit rules (as in Mail)
5.2
Deep Typography Refresh
New typeface in three flavors
Mono: Single character width, the classic
Duo: Two widths, freeing M and W
Quattro: Four widths, for a cleaner text image
Over 1,000 optical variations seamlessly adapt to provide the best writing experience in any environment
12 text sizes in Editor and Preview
Many Chinese, Japanese, and Korean typography improvements, including emphasis dots
Bold, italic, and strikethrough commands are much more reliable and work inside words
High quality math equation typesetting in Preview using KaTeX
Library Locations
Now support Desktop & Documents in iCloud
Can be added from anywhere in iCloud Drive
Fully-Featured Export to Microsoft Word
Rebuilt from the ground up
Compatible with Microsoft Word 2007 or newer, Apple Pages, and Google Docs
Supports local images, footnotes, citations, page breaks, tables, math, headings, unordered lists, ordered lists, task lists, definition lists, block quotes, bold, italic, CJK emphasis, strikethrough, superscript, subscript, links, horizontal rules, code
Other Improvements
Added visible filename when switching between tabs with hidden title bar
Copy URL command to open files from menu in Library
Command-Click links in Editor
Use to exclude words from searches: -microsoft word
Inline code command
Typing suggestions can be enabled in Touch Bar
Korean and Russian localizations
Added help articles
Better hashtag detection
5.1
Write

#tags

to group documents
Use in Quick Search and Smart Folders rules
Hashtags are shown in Organizer and Go menu
Hide hashtags from Preview and formatted exports in Templates preferences
Smart Folders
Filter your documents using a variety of rules including text searches, file extensions, hashtags, parent and ancestor paths, absolute and relative dates
Use a custom sort order
Automatically sync across your devices
Get automatic keyboard shortcuts in Go menu
URL Commands
Updated commands to create and open documents
Added authenticated x-callback-url commands to read and write files
Manage URL commands in General preferences
Dark Appearance
Renamed night mode to dark appearance to conform with a future update of macOS
System light and dark appearance state is matched by default with a future update of macOS
Free Candy
Added navigation controls to Library in full screen windows
Assign custom display names to Library Locations in Organizer
Rename Favorites in Organizer
Duplicate items in Library
Go → Enclosing Folder menu
Fixed an issue where images couldn't be dragged to Editor from Safari, Photos, and other apps
Added STIX 2.0 fonts for math expressions in Preview
HTML tags are dimmed in Editor
Hide Favorites, Smart Folders, or Hashtags sections from Organizer and Go menu in Library preferences
Fixes
Improved library performance and reduced memory usage
SVG images are always displayed as pictures when used as Content Blocks
Code blocks are excluded from text stats
5.0.2
Fixed an issue with autosaves failing in some contexts
Fixed crashes
4.0.3
Defined CSS files as to be processed as code
Fixed an issue where preview scroll bar could be invisible with some templates
Fixed Strikethough menu item functionality
Switched to system popup menu indicators
Improved performance and stability
4.0.1
Added Touch Bar support in Editor
Added CSV delimiter detection
Added caption support for source code Content Blocks
Enabled SVG image Content Blocks
Set up Markdown export to use default extension
Switched to fixed width numbers in tables in standard templates
4.0
Embed Local Images
Include images from Library in your documents (.png, .gif, .jpg)
Images are uploaded to Medium and WordPress when sharing a draft
Embed Tables
Include comma separated value files as tables in your documents (.csv)
Create advanced tables using MultiMarkdown
Embed other text files
Build a manuscript from several chapters
Embedded source code files are added as code blocks
Nest text files into each other
Note: Embedding only works for files in the same folder (or subfolders) as the master file. You can't embed files in a parallel or higher directory.
Other Improvements
Modified Preview and Library pane behavior so both can be shown
Swipes on the left toggle Library
Swipes on the right toggle Preview
Added toggle button for Focus Mode in title bar
Focus Mode now dismisses Preview and Library panes
UI improvements to Library
Added file info popover in Library
Switched right-click in Library menu item from "New Folder with Selection" to "New Folder" (hold option for "New Folder with Selection")
Added Project Archive export for sharing all embedded files together (.zip)
Changed Chinese font in editor to Ping Fang
Improved external file change handling
Caret position is now restored when returning from full-width Preview
Performance optimizations and improvements
3.2.2
Added WordPress Site Picker
WordPress users with more than one site can now choose where to share.
Choose Sort Order in Library
Newest or Oldest on Top for Date Modified
A–Z or Z-A for file Name and Kind
Access in View > Sort Files By, Right Click in Library > Sort By
3.2
Custom Templates
Preview, create PDFs, and print documents in your own style
Templates are web pages. Use HTML, CSS, and JavaScript to lay out your documents
Add templates in Preferences
Download more templates from iA Writer's Web Site Learn more about templates in Help
Page Breaks
Add page breaks to printed documents and PDFs
Insert with ++on an empty line
Format > Add Page Break
Title Pages
Print and export PDFs with a title page
Default templates show document name and author on the title page
Set the author in Preferences
Other Improvements
Added option to change default file extension in Preferences
Fixed an issue where attempts to change file file extension via title bar popover could fail
Fixed an issue where tables were not inserted in new documents
Updated to MultiMarkdown 5.3
Adjusted drag and drop in Library to follow system conventions

Drag to move
Drag while holding Option to copy
3.1.4
Share to WordPress
Add your account in Preferences
Create drafts on your WordPress site with File > Share > New Draft on WordPress
Other Improvements
Added a preference for default document action: New or New in Library
Added a toggle for last used Syntax Control
Excluded links from reading time and text statistics
Improved automatic name generation
Updated to MultiMarkdown 5.2
3.1.3
Focus Mode for Paragraphs
Focus Mode can be expanded to the bounds of full paragraphs
Accessed via Preferences > Editor > Focus Mode
Your Table is Ready
Click the Table button in the toolbar and set the desired number of rows and columns
The required Markdown for the table is created for you instantly
Other Improvements and Fixes
Fixed an issue where documents did not refresh when changed by some text editors and third-party sync services
Added an option to hide text snippets in Library
Stopped showing non-text files in iCloud Library
Improved H6 alignment at the beginning of a page
Fixed an issue which prevented Smart Delete from working
Fixed an issue where toolbar could remain visible when typing
Smart Quotes no longer convert primes to curly quotes in code blocks
3.1.2
Support for MultiMarkdown's Table of Contents
Add {{TОC}} to your documents to have a table of contents generated in Preview
TOC button in the Format Toolbar adds this for you
An entry is made for each heading in the document
Click a TOC entry to jump to that section of the document
Added File → Open Quickly ⇧⌘O
Blazing-fast, it searches through your Library
Use arrow keys to navigate results
return to open document in a new window
⇧return to open document in the current window
⌘return to show in Finder
Search supports advanced syntax
Search for specific terms by quoting "search query"
Match the first word of name or text using ^word
Use set operators AND, OR, and NOT
Search for names or texts that contain a specific word with name:notes or text:"book"
See the full description and examples in Help
Changed default shortcuts for structure actions
Old shortcuts are still available for compatibility with other text editors
Shift Right tab
Shift Left ⇧tab
Move Line Down ⌘⌥↓
Move Line Up ⌘⌥↑
Improved URL scheme support
Other Improvements
Search results are now sorted by relevancy
Added commands to insert a table of contents tag into the document
Improved code block detection
Added "Replace All" to Find bar
Added "New" action to Dock
Improved heading appearance in Japanese
Fixes
Set up new windows to use last visible state of library and preview
Fixed a delay when opening a new window
Improved text editing performance
Improved stability
3.1.1
Improvements
[x] Click tasks to mark as completed
Improved search in Japanese
Added text actions in "Format" → "Structure"

Shift Left ⌘[
Shift Right ⌘]
Move Line Up ⌥⌘[
Move Line Down ⌥⌘]

Improved transition to full size preview
Improved automatic name generation
Added text size to Editor preferences.
Preview toolbar uses matching colors
Added Show in Library action in Search
Added options to print header and footer separately
Added proper title capitalization in Edit > Transformations
Added progress indicator for background export and sharing operations
Upgraded to MultiMarkdown 5.0.1
Prevented spell checking in code
Return preserves the amount of leading whitespace
Fixes
Fixed an issue where search was not working for non-Latin scripts
Improved performance and stability
Various smaller bug fixes
3.1
Improvements
Any folder can be added as a location in the Library
Export drafts to Medium.com
Localization for Japanese and German
Templates:

Choose indentation or vertical spacing for paragraphs
Choose centered or left-justified headings

Header and footer are optional on print/PDF export
Preferences dialog (⌘,)
New windows use last size
Preview uses last width
Default extension uses last extension change
Fixes
3.0
Document Library
Swipe left or Command+E to show/hide
View → Sort by to arrange documents in browser
Dropbox Sync (link through storage button at bottom-left)
Click file/folder names to rename
Swipe left to go back a folder level (or use title menu)
Move documents with click and drag
Show/Hide file extensions
The Editor
Typewriter Mode (⌘T)
Toolbar can switch between Format, Syntax, and Stats
Smart Paste eliminates doubled list markers when pasting
Integrated Preview
Swipe right or Command+R to show/hide
Multiple typographical options for preview, PDF export, and print
Synchronous Preview scrolling