Presenter is composed of two main interfaces: the Editor, where you can create and edit your presentation, and the Presentation mode to display your work to your audience.
When the presentation is over, you can share your slides and Speaker Notes with your audience in various formats such as PDF, HTML, or PowerPoint.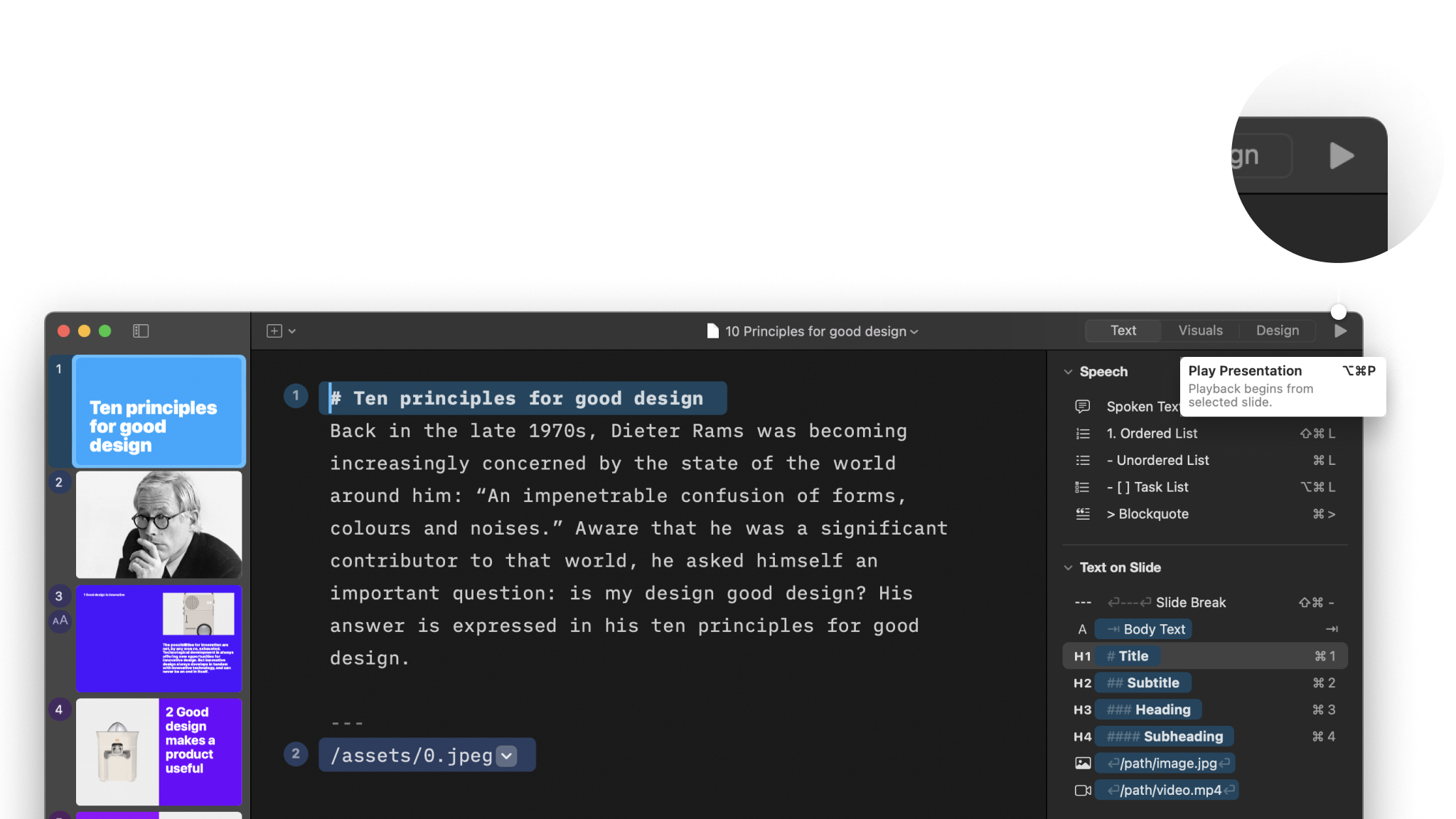 The Editor Where you create your presentation. An interface with 3 panels (Thumbnails/Editor/Inspector) to help you create your story quickly. Press play to switch to the Presentation Mode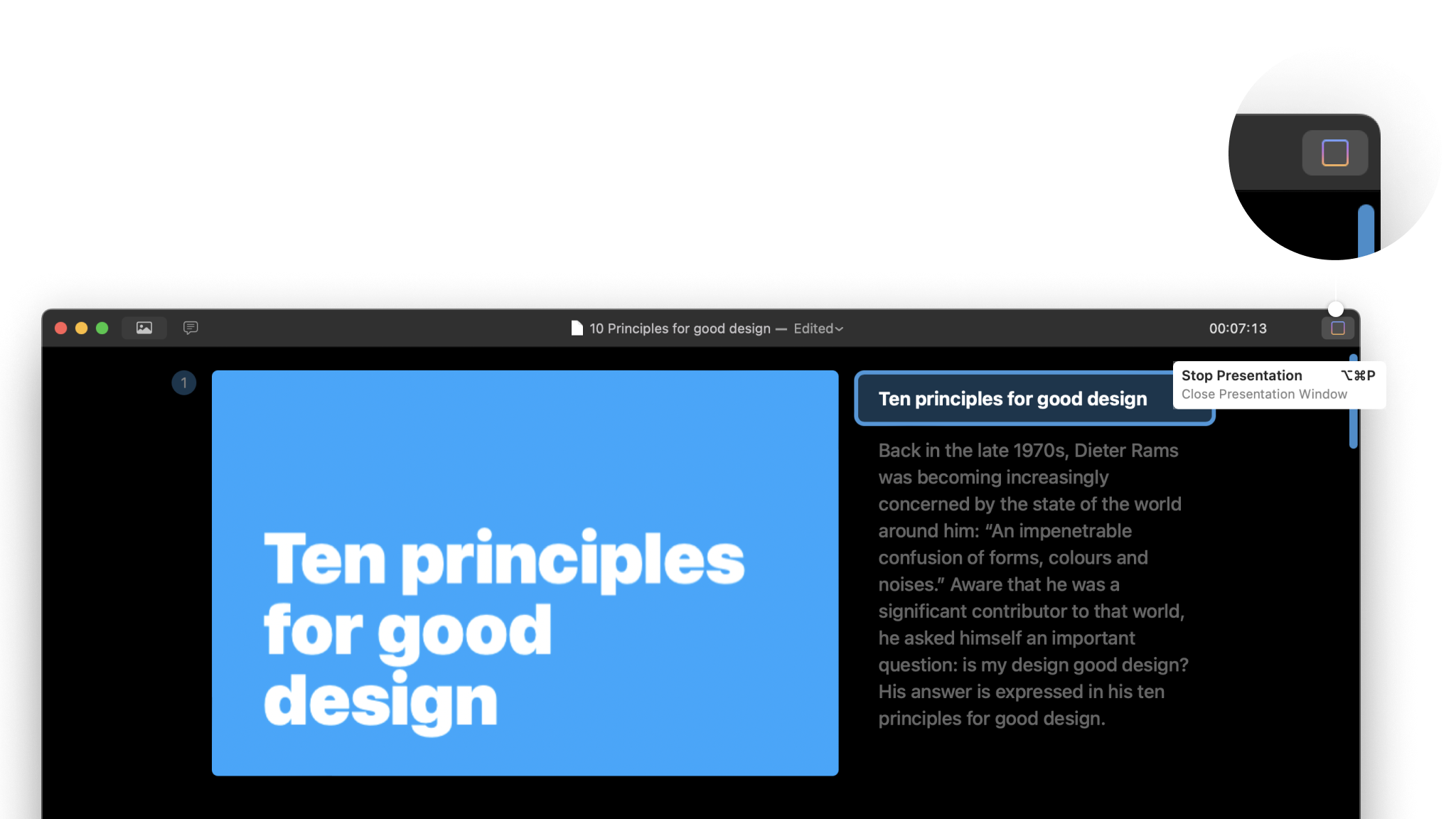 Presentation Mode A separate window displays your slides to the audience while you read the teleprompter with big or small thumbnails. Press stop to go back to the Editor
The Editor
The Editor in iA Presenter is the first interface you will see when opening the app. There, you will write, format, and organize your presentation. The Editor is comprised of 3 panels:
the Thumbnails
the Editor
the Inspector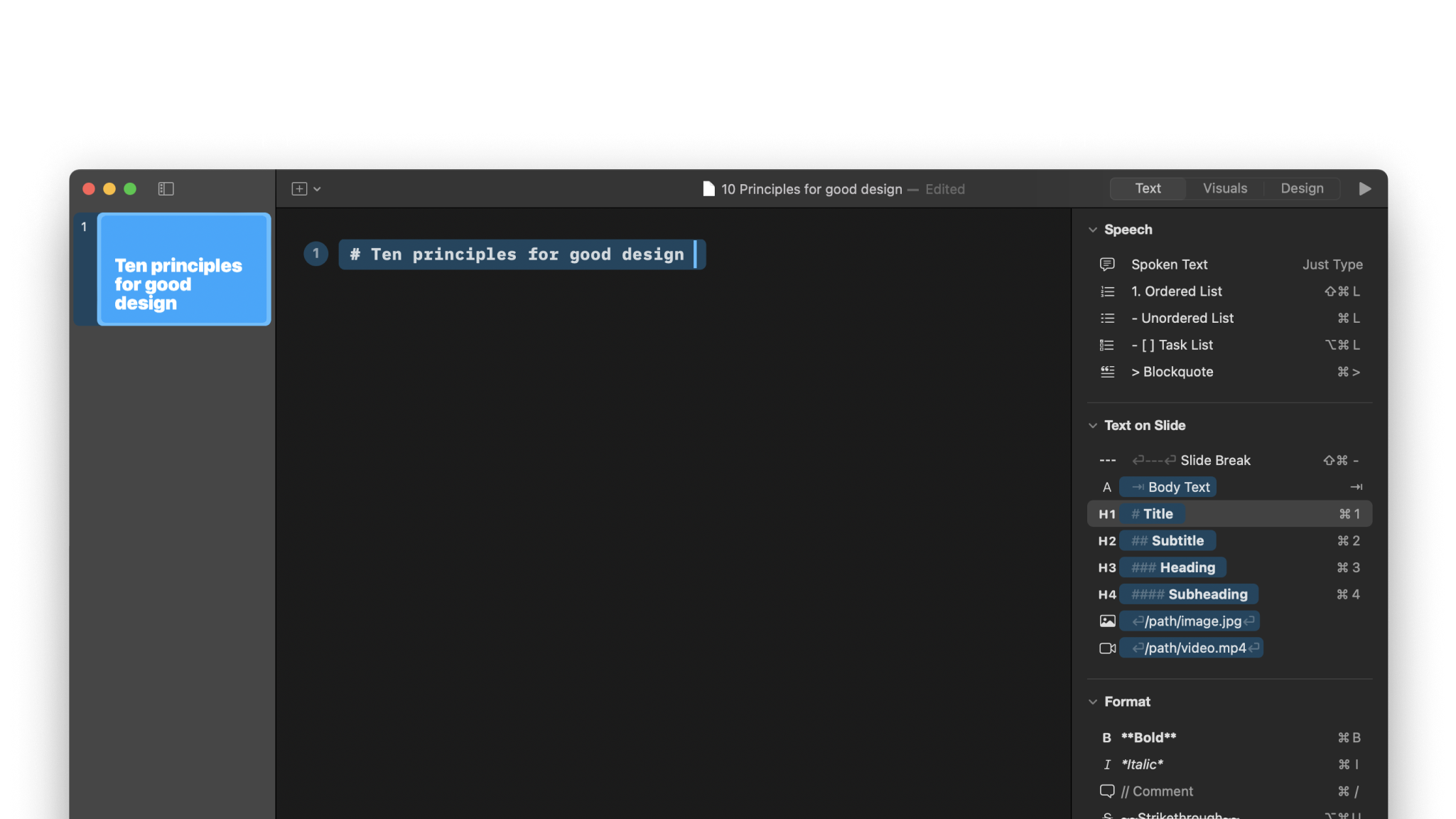 Start writing on the Editor, the central panel. Structure your speech in different slides, and add Images or Videos.
When opening Presenter for the first time, a default text will appear in the Editor. We called it Fast Love, an in-app tutorial that you can delete at any time to write your speech.
Remember that regular text paragraphs are not visible to your audience. This is by design. Body text is your script. Only you can see it, in the teleprompter when you present.
Format on the go with Markdown or with the Text Tab of the Inspector. The Inspector will help you design your slides as well by choosing a theme for this presentation. Finally, check the preview of your slides, in the Thumbnails panel on the left.
You can learn more about the Editor's components in the following articles: Editor, The Inspector, The Thumbnails.
The Presentation Mode
The main feature of the Presentation Mode is the teleprompter for you to check your notes with a preview of the slide your audience is looking at. Your audience can only see your slides, on a separate window.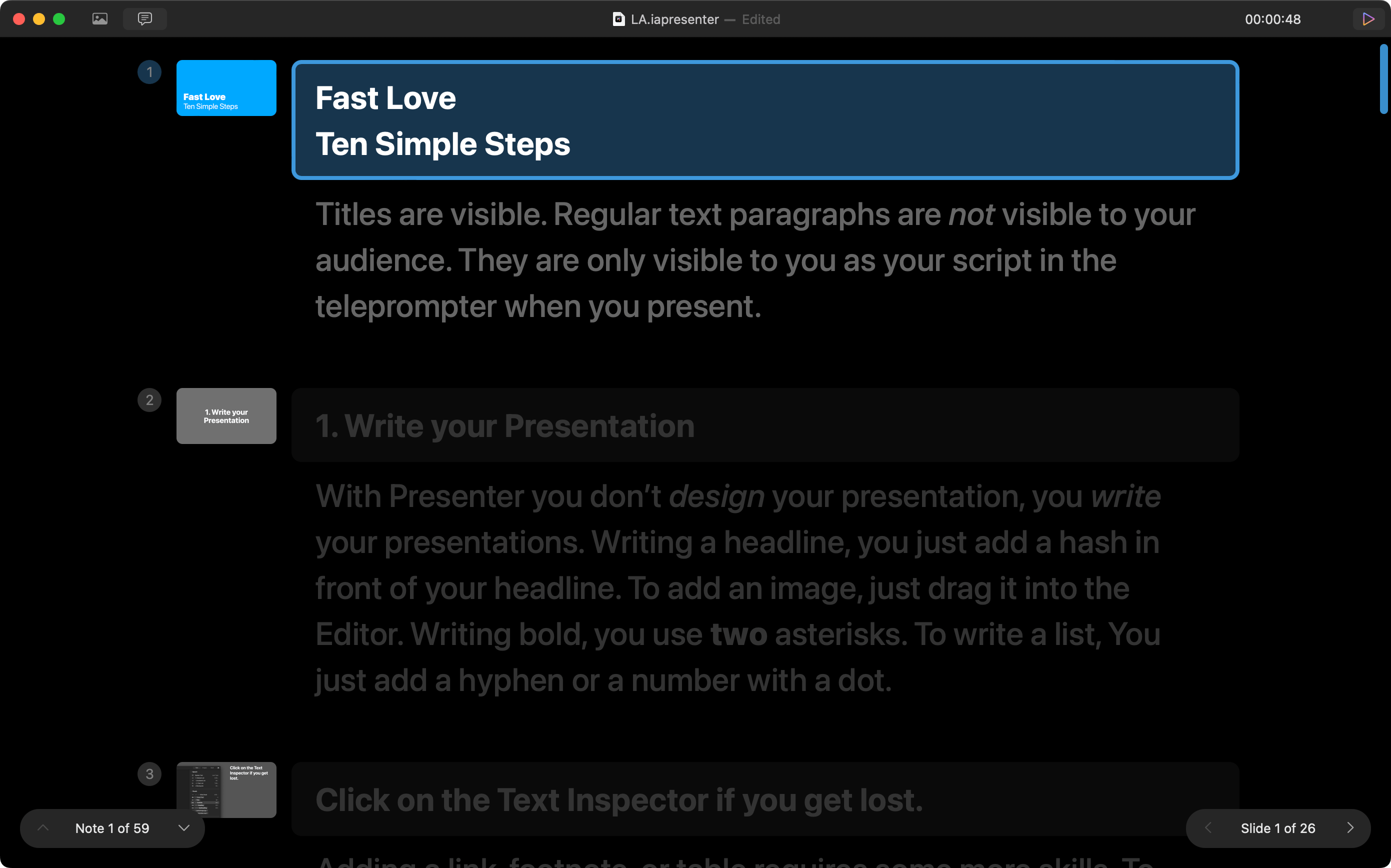 Teleprompter: What you see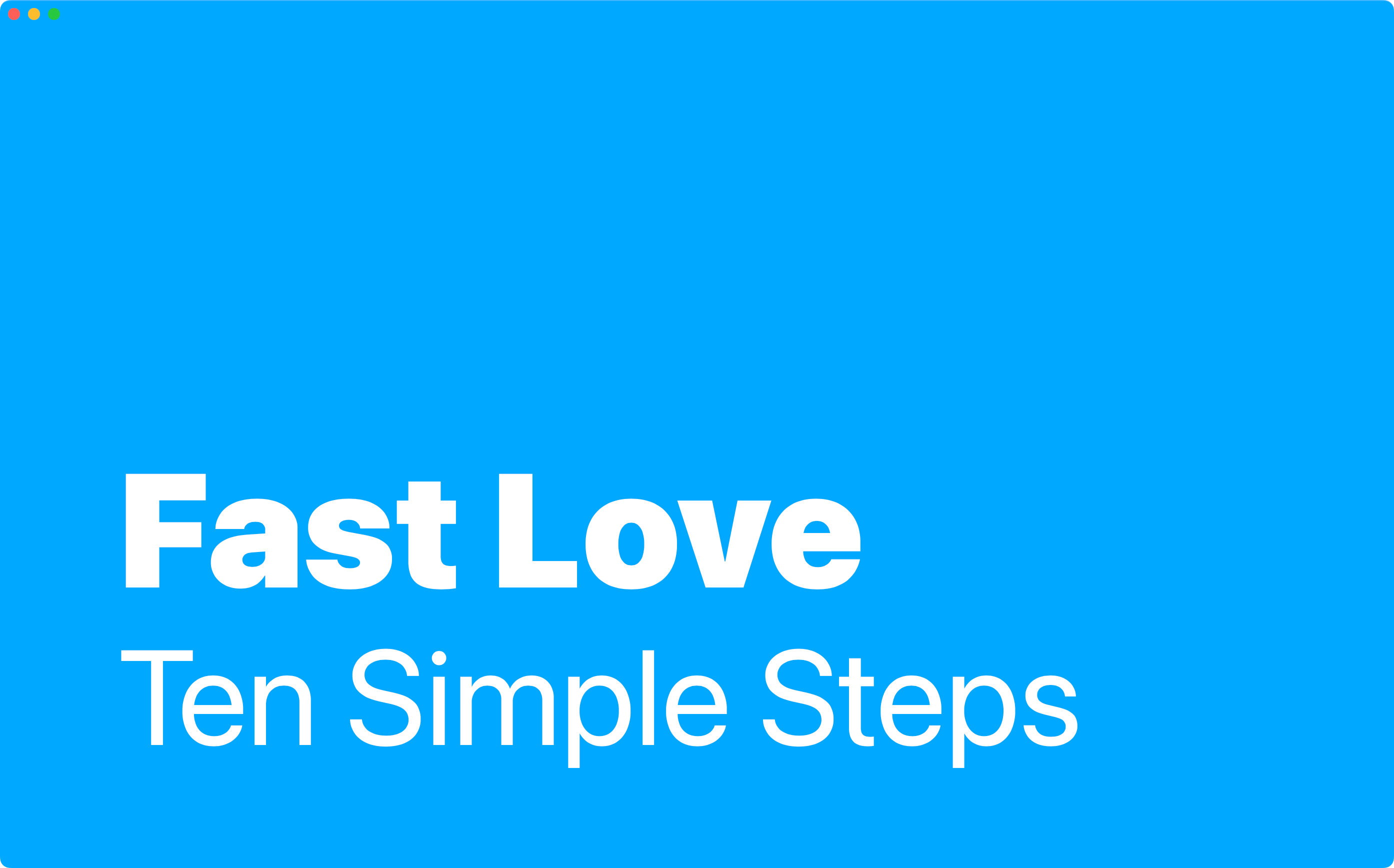 Visualizer: What they see
You have three ways to enter Presentation Mode:
press the top-right "play" ▶️ button
the shortcut ⌥⌘P
from the menu View → Play Presentation
The Presentation Mode functionalities are minimalists, to not distract you from your speech. You can make the thumbnails big or small, and see a timer to know how long you have been talking for.
More about those functionalities here: Presentation Mode.
Export
After the presentation, you can share the slides (and the notes) with your audience.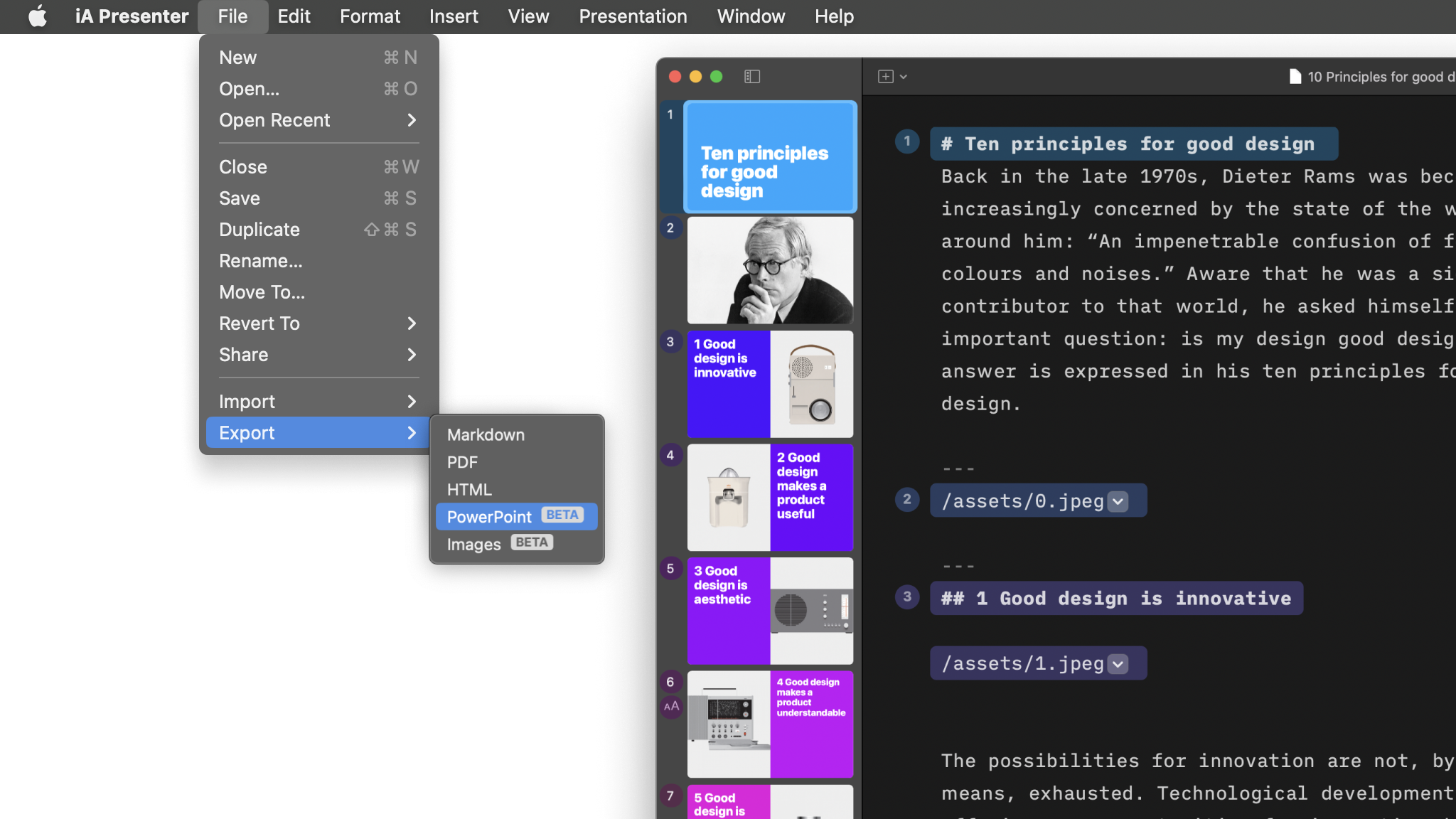 You have the choice between paper-first format such as PDF with various layouts (with notes, without, one or multiple slides per page…), or digital-first such as HTML and PowerPoint.
Discover all the sharing options in our Export section.