The Editor is the central panel, where you type your presentation, drag and drop visuals and separate your content into slides.
As the main part of the Editor's interface, this is the largest panel and unlike the 2 others (Thumbnails and Inspector) you cannot close it.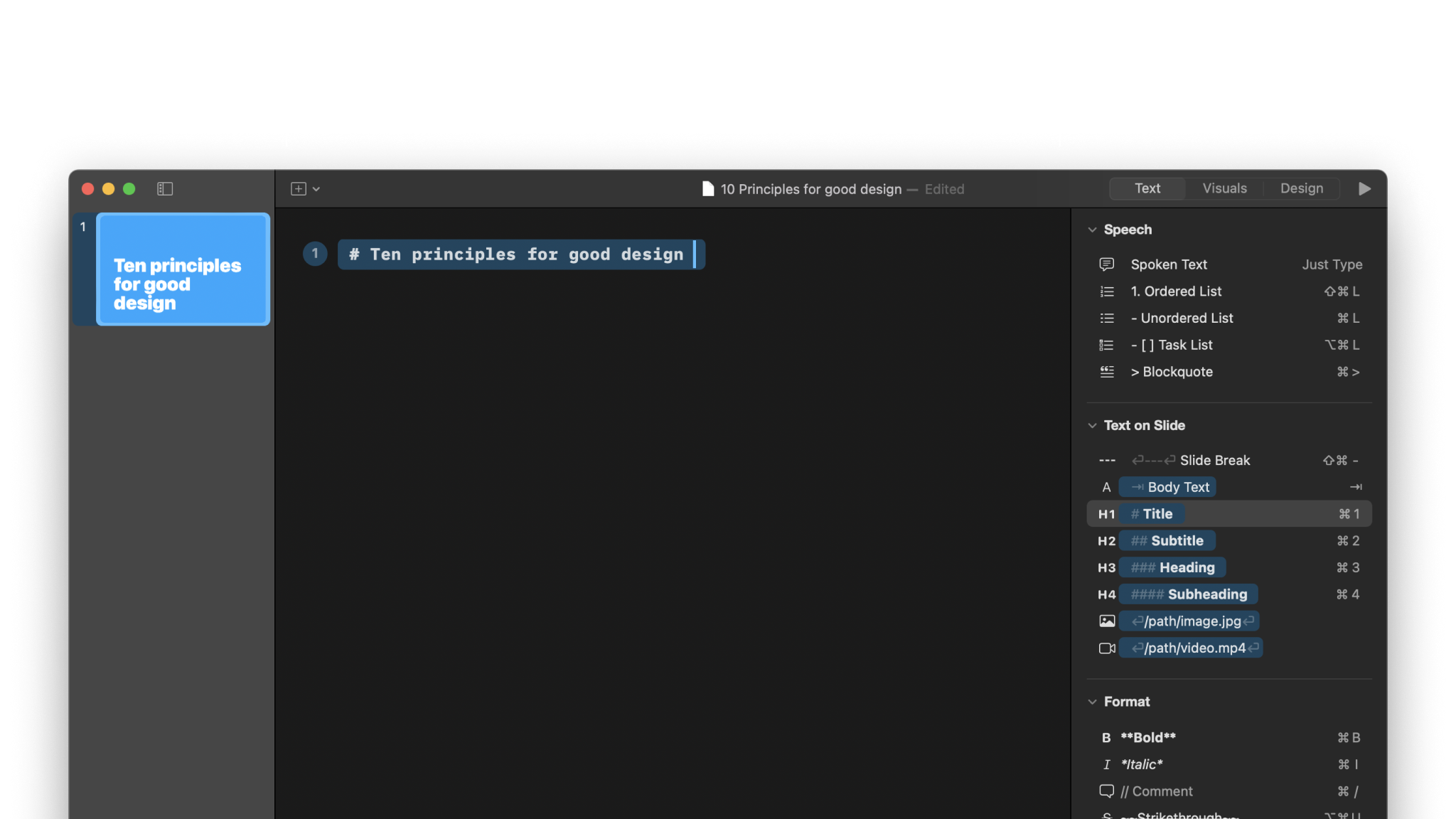 You can modify some of the settings of the Editor from: Settings → Editor.
You can change the font between iA's Mono, Duo and Quattro, set up the spelling and grammar (System-based) or smart substitutions.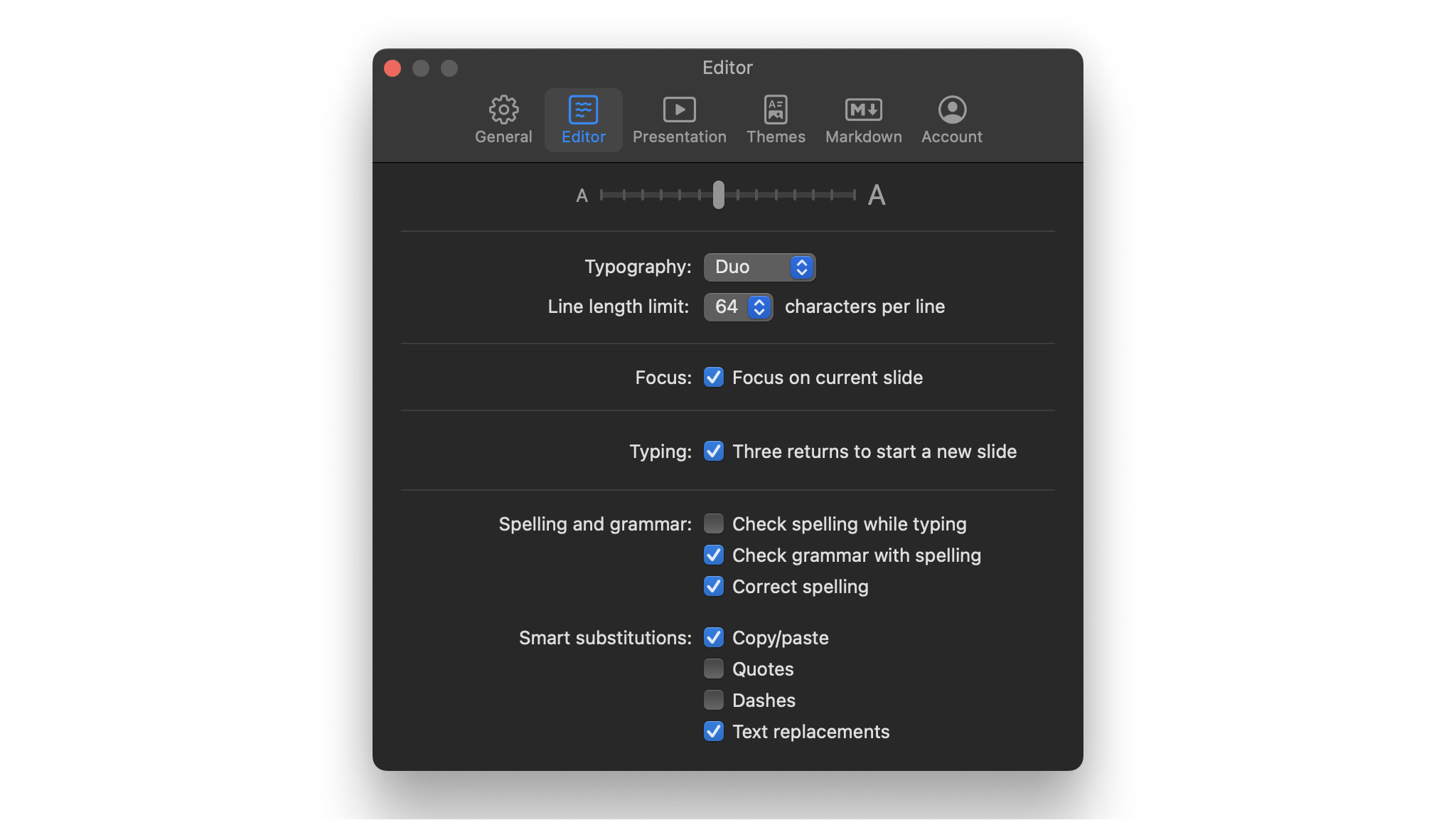 Default text
When opening Presenter, you will get a tutorial showing up in the Editor by default, called Fast Love.
To remove it and start writing your own speech, select the whole text (⌘A) and press delete.
If you want to remove it permanently, or replace it, go to Settings → General and delete/ replace the text in front of "New Presentation".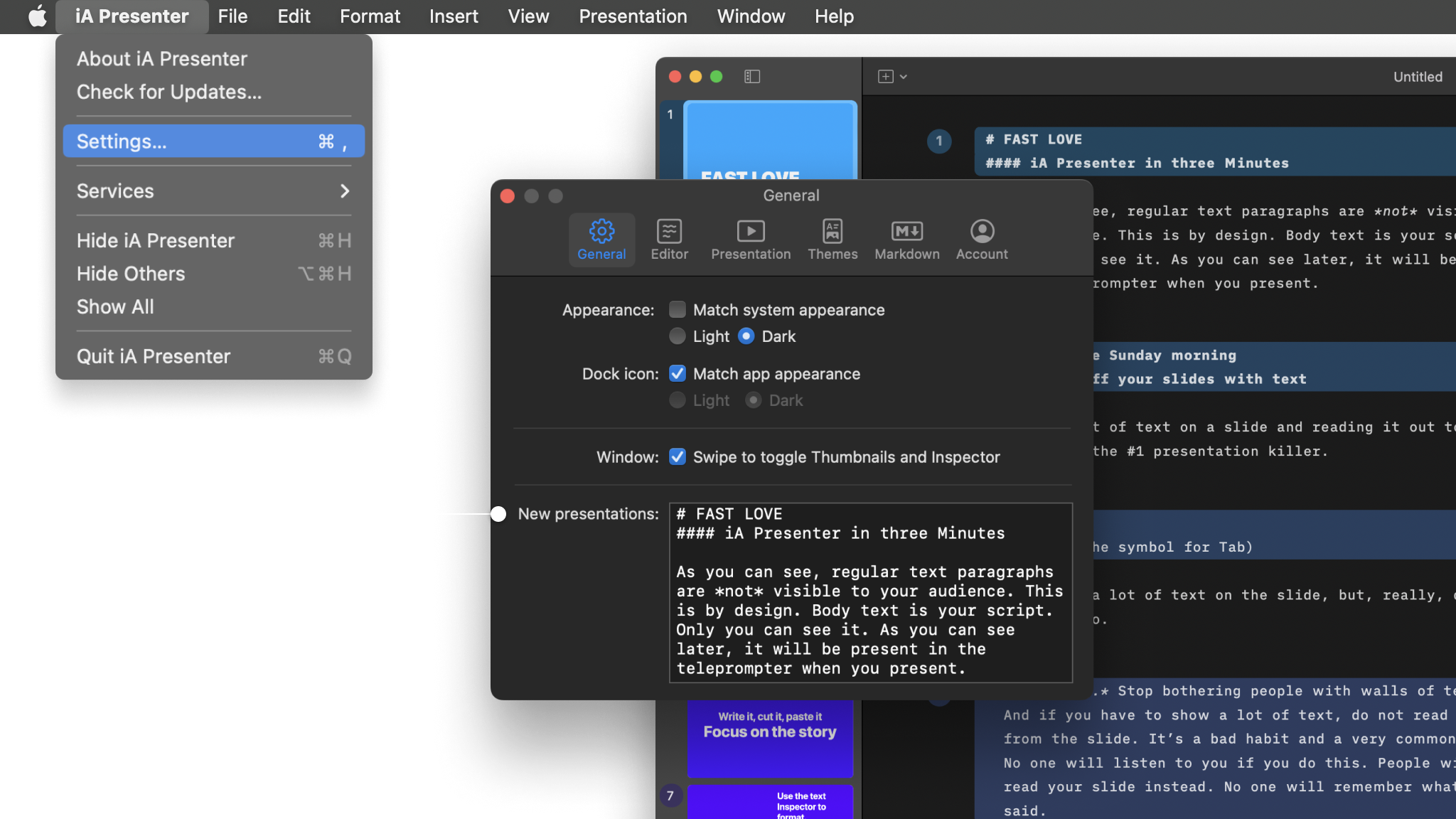 Start writing
The Editor is a blank canvas where you can type and format your text at the same time, thanks to markdown. You can as well directly Import a text, to turn it into a presentation.
To create a slide, type three dashes ---, make two line breaks or use the Text Tab of The Inspector.
If you need to select a specific layout for your slide, click the + icon on the top left of the Title Bar.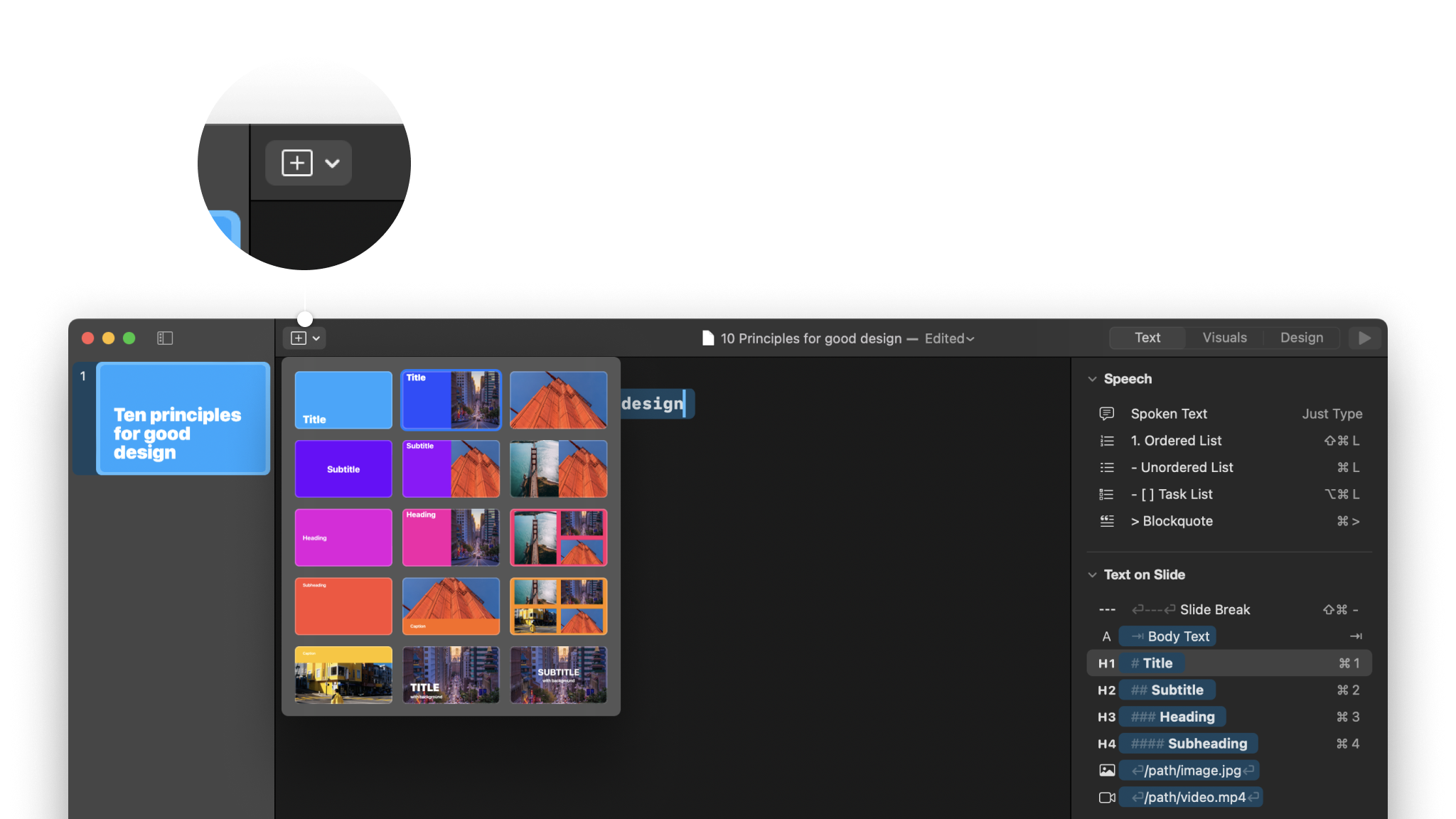 At the center of the Title Bar, you can rename your presentation, add tags, save the presentation somewhere else or lock it to avoid further edits. Just click on the title directly, to open a pop up windows.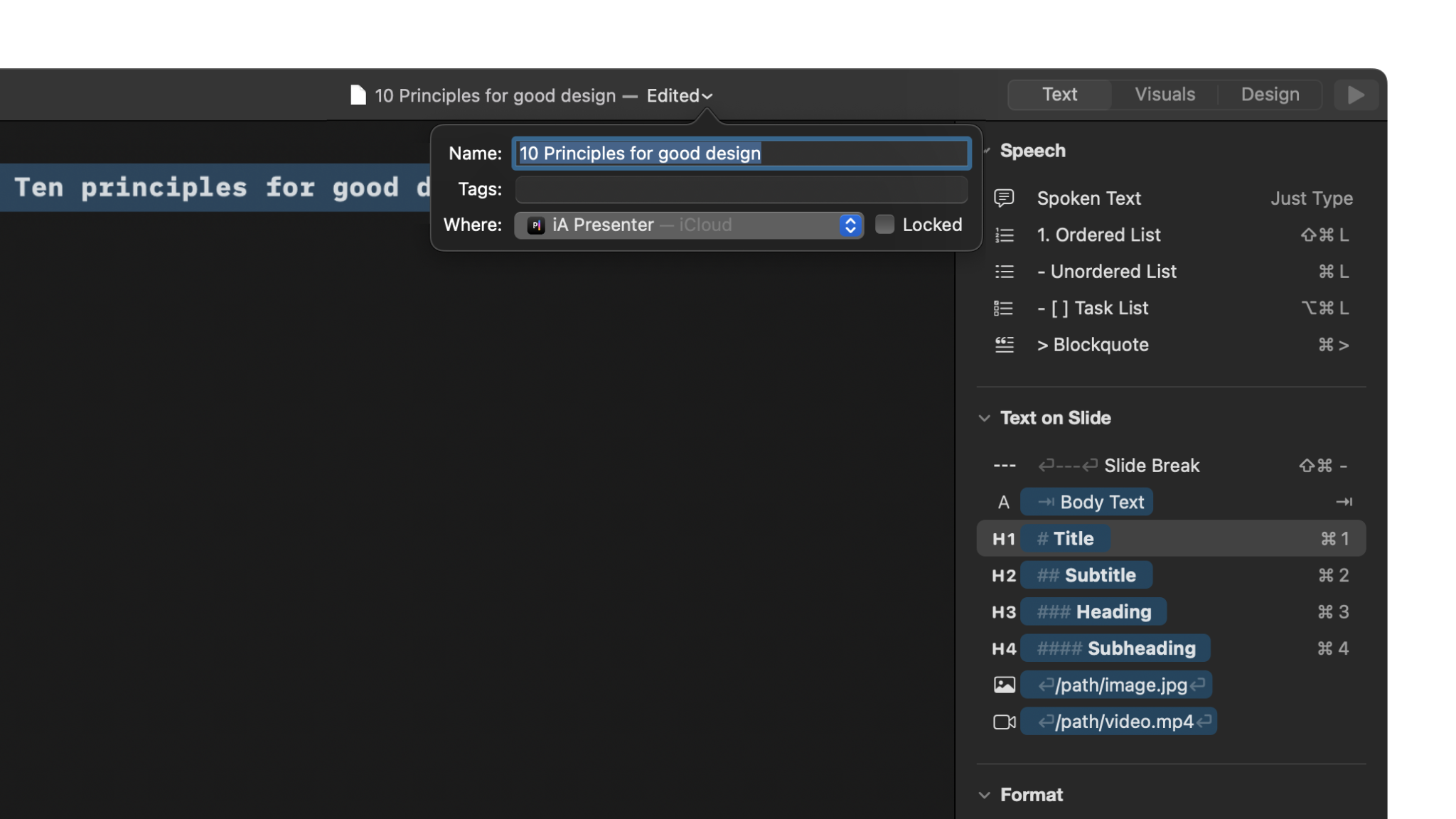 The highlight of the titles and the cursor change color. This is to give you a hint on where you are inside a presentation.
Blue
is a cold start
Purple
is to warm up
Red
is when things get heated
Orange
prepares you for a sweet end
Gold
is the afterglow
The colors in the Editor are independant of the theme selected for your slides, they won't change even with a monochrome theme.
Focus Mode
To cut all distractions when writing your speech, you can hide both The Thumbnails and The Inspector panels to have the Editor in full-screen.
On top of that, iA Writer's famous Focus Mode has been integrated into iA Presenter! If you are a Writer aficionado, you will feel at home.
The Focus Mode can be enabled from:
Menu → View → Focus Mode
the shortcut ⌘D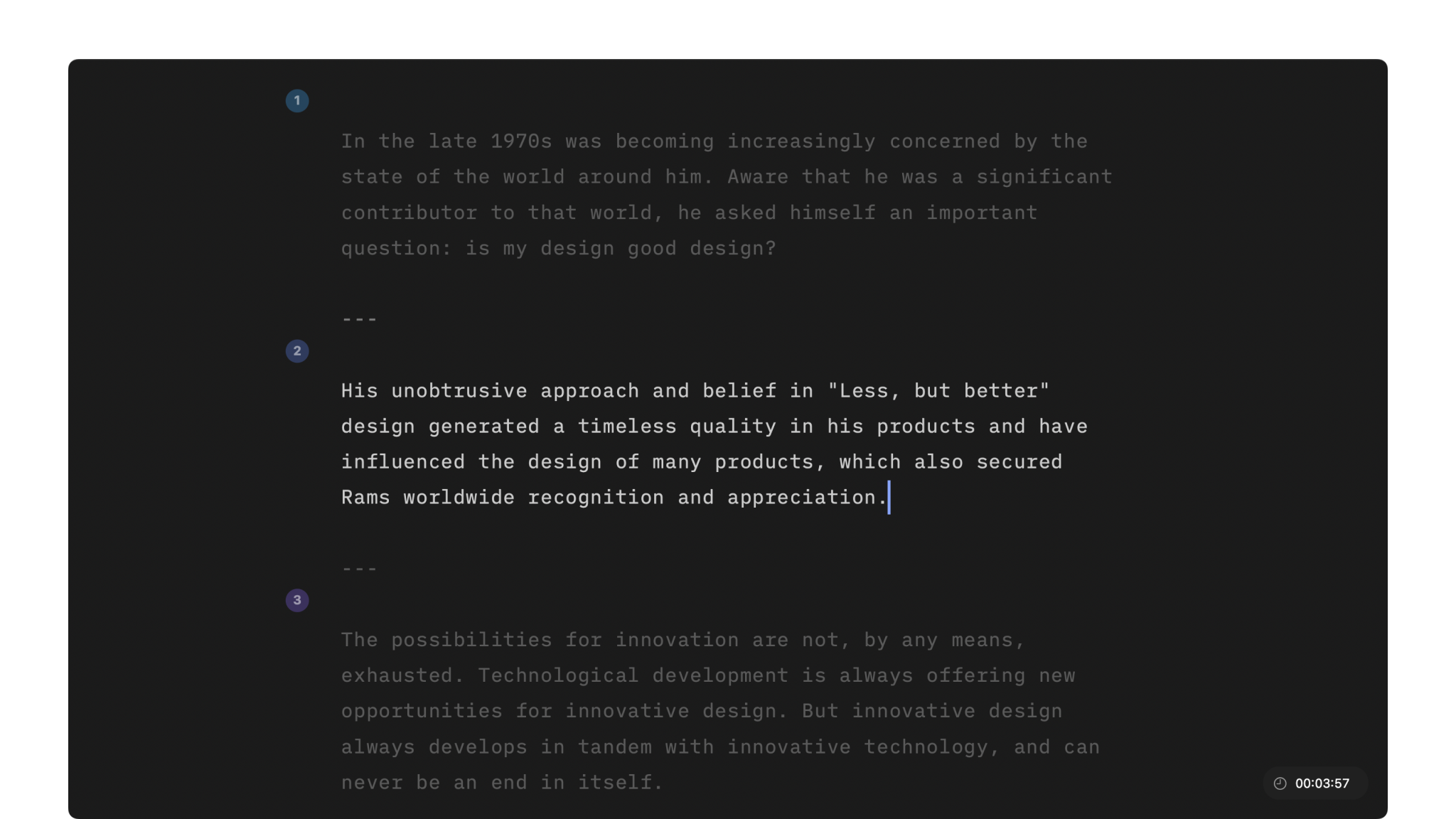 Slightly different from the features of iA Writer, Presenter's Focus Mode is by slide: the slide where your cursor is will appear as regular text, while the slides before and after will fade.