Editor
The Editor is where you will spend most of your time with iA Writer. This is your blank canvas.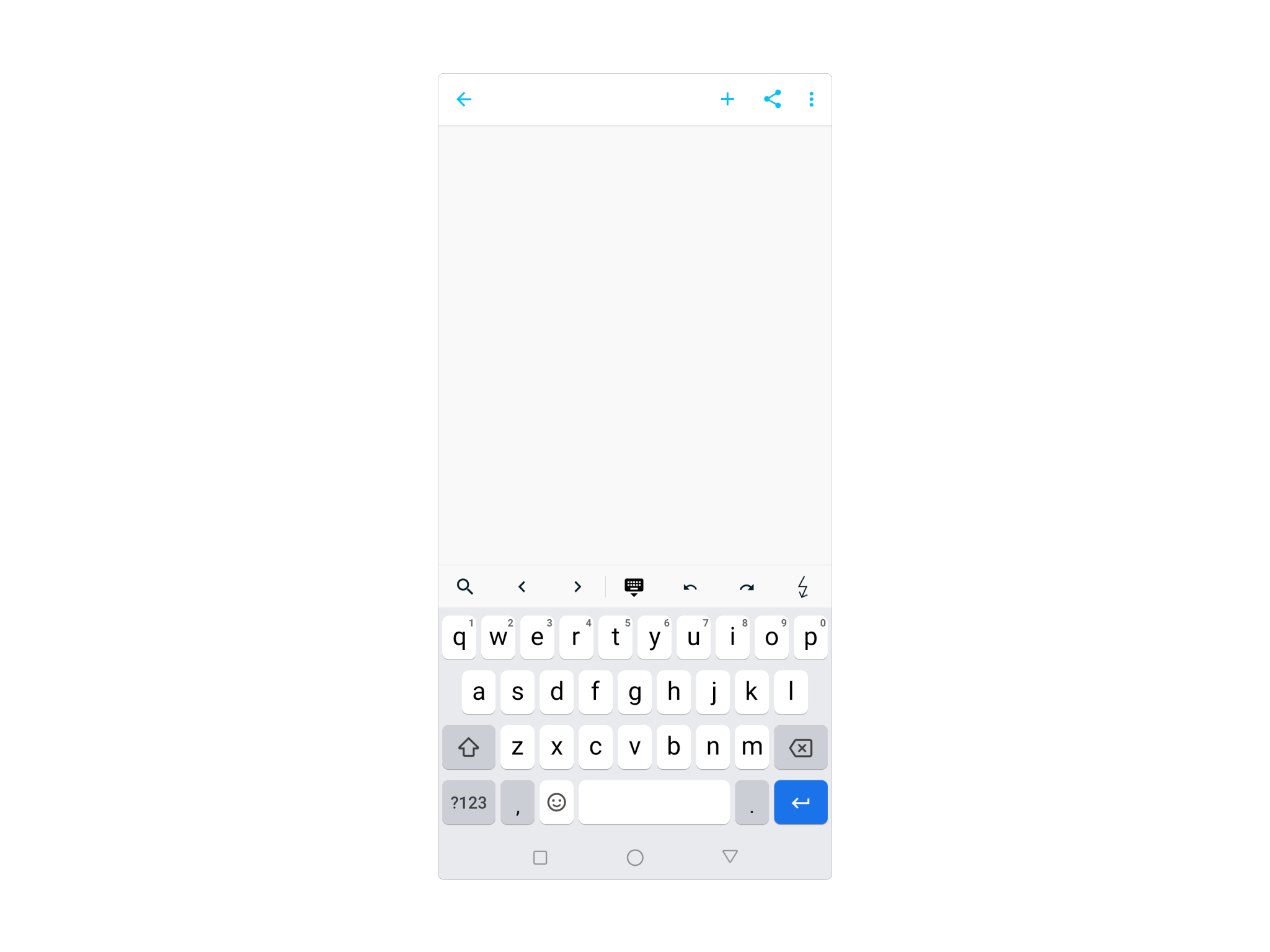 Using the Editor
To begin writing, tap the document body and start typing. It's that easy! The menu at the top of the screen will be hidden, allowing you to focus on your text.
If you use Markdown to format your document, iA Writer's Auto Markdown will give you instant feedback.
To reveal the menu, dismiss the keyboard. This can be done using Android's hide keyboard button or by swiping down on the text area
The Menu Bar
The menu bar at the top of the Editor allows you to navigate back to the Library, access sharing and export options as well as configure app settings. Here's a look at the buttons: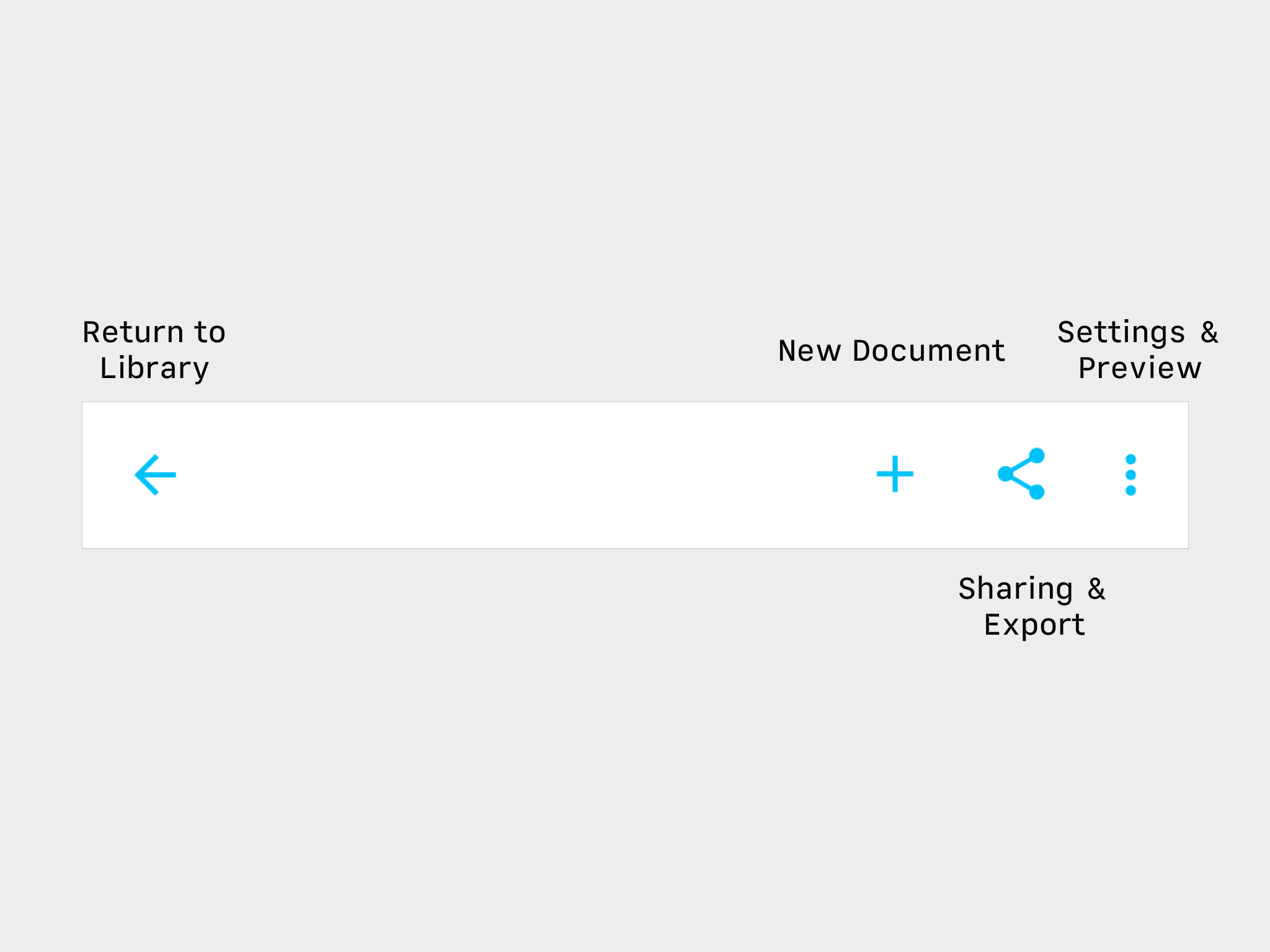 | Key | Function |
| --- | --- |
| Return to Library | Returns to the Library pane. |
| New Document | Saves current file and gives you a new blank canvas |
| Sharing & Export | Share, export or print the current document |
| Settings & Preview | Access a Preview of your document. Toggle Dark Mode or Word Count. General Settings. |
Settings
Fiddling with settings hampers productivity. Fortunately there's not much to get tied up with in Writer's settings:
Users can find Editor settings by: Clicking on the ⋮ → Settings.
Line Height*: Allows you to set line height displayed in the Editor.
Font Size: Allows user to select desired font size displayed in the Editor.
Note Line Height and Font Size settings do not affect output for Preview, export or Printed documents.
Keyboard Extension: Enable/Disable the row of search and formatting options at the top of your on-screen keyboard.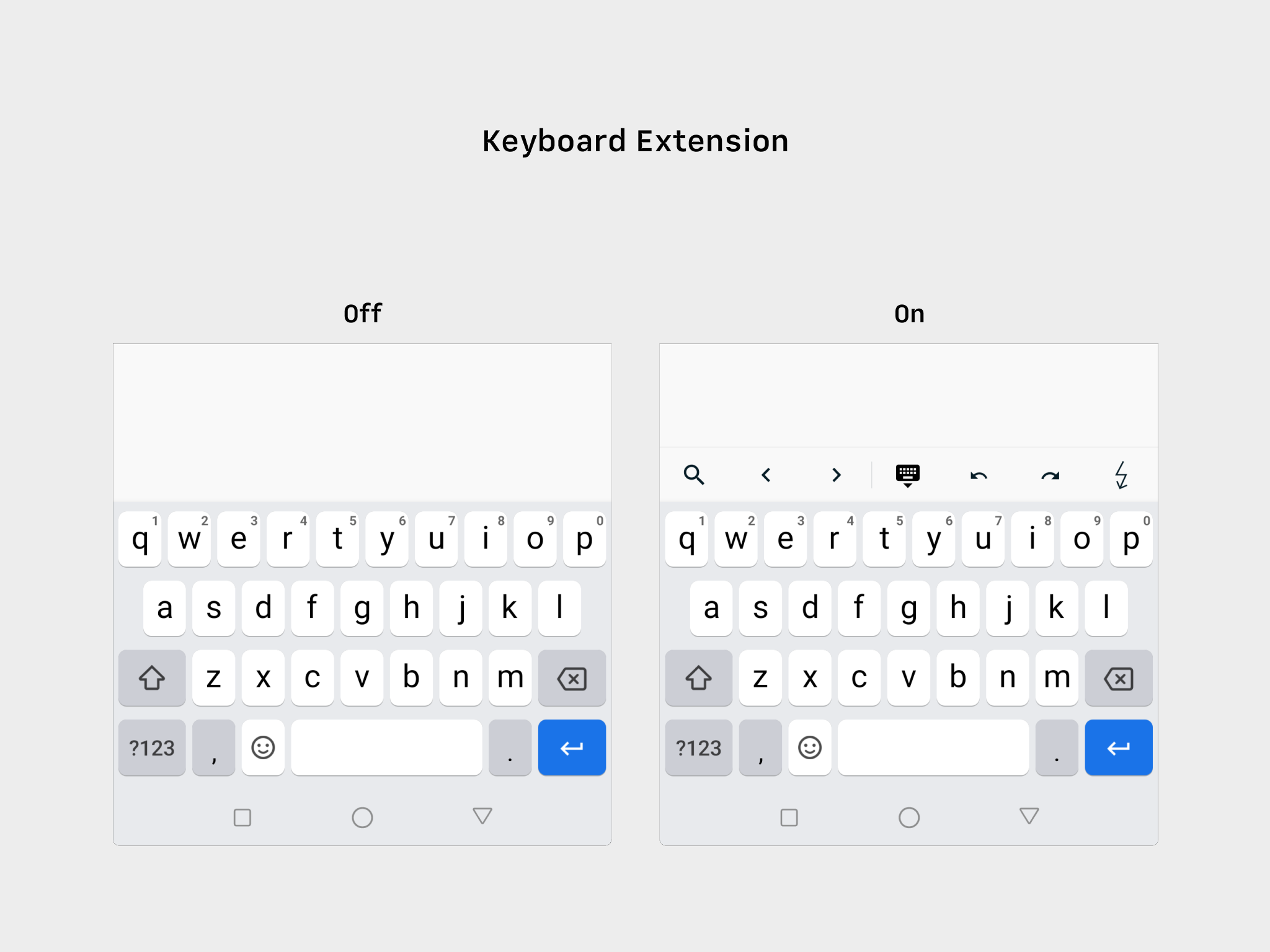 * Not available on all devices.
The Keyboard Bar
The additional row of keys in iA Writer's keyboard bar allows you to search for other documents, navigate and quickly add Markdown formatting.
Here's a look at what some of the keys do: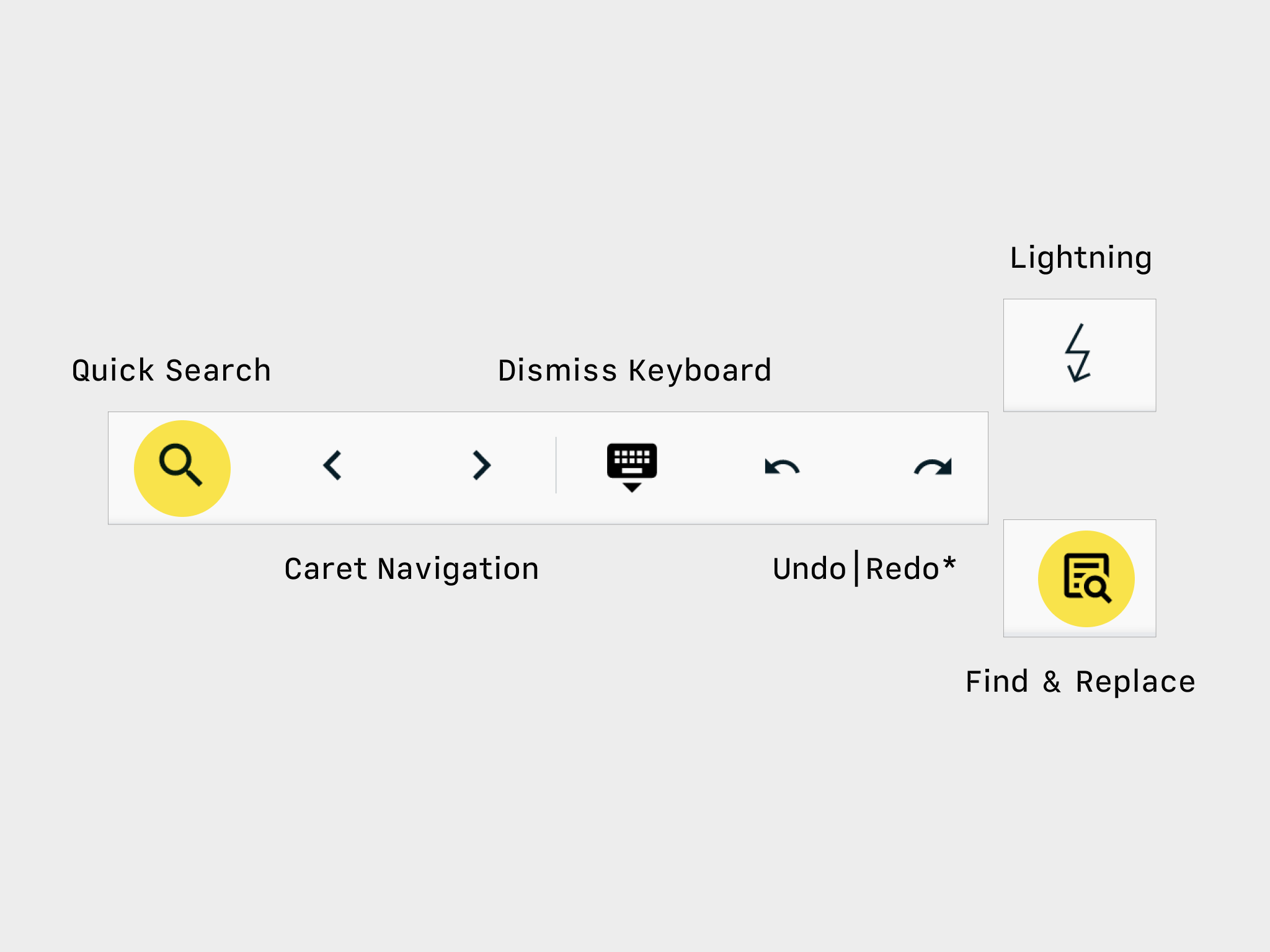 | Key | Function |
| --- | --- |
| Quick Search | Search for other documents and Markdown formatting options |
| Caret Navigation | Use < and > to move the caret in your document |
| Dismiss Keyboard | Hides on-screen keyboard |
| Undo & Redo | Undo or Redo recent input* |
| Lightning | *NEW* Quickly access Markdown formatting (Headers, Lists, etc.) or enable features like Style Check and Focus Mode |
* Changing to a different app or quitting Writer will reset your Undo/Redo history.
Editor Modes
Writer for Android allows you to work in Light or Dark modes. The feature can be toggled from the Settings menu, ⋮ → Dark Mode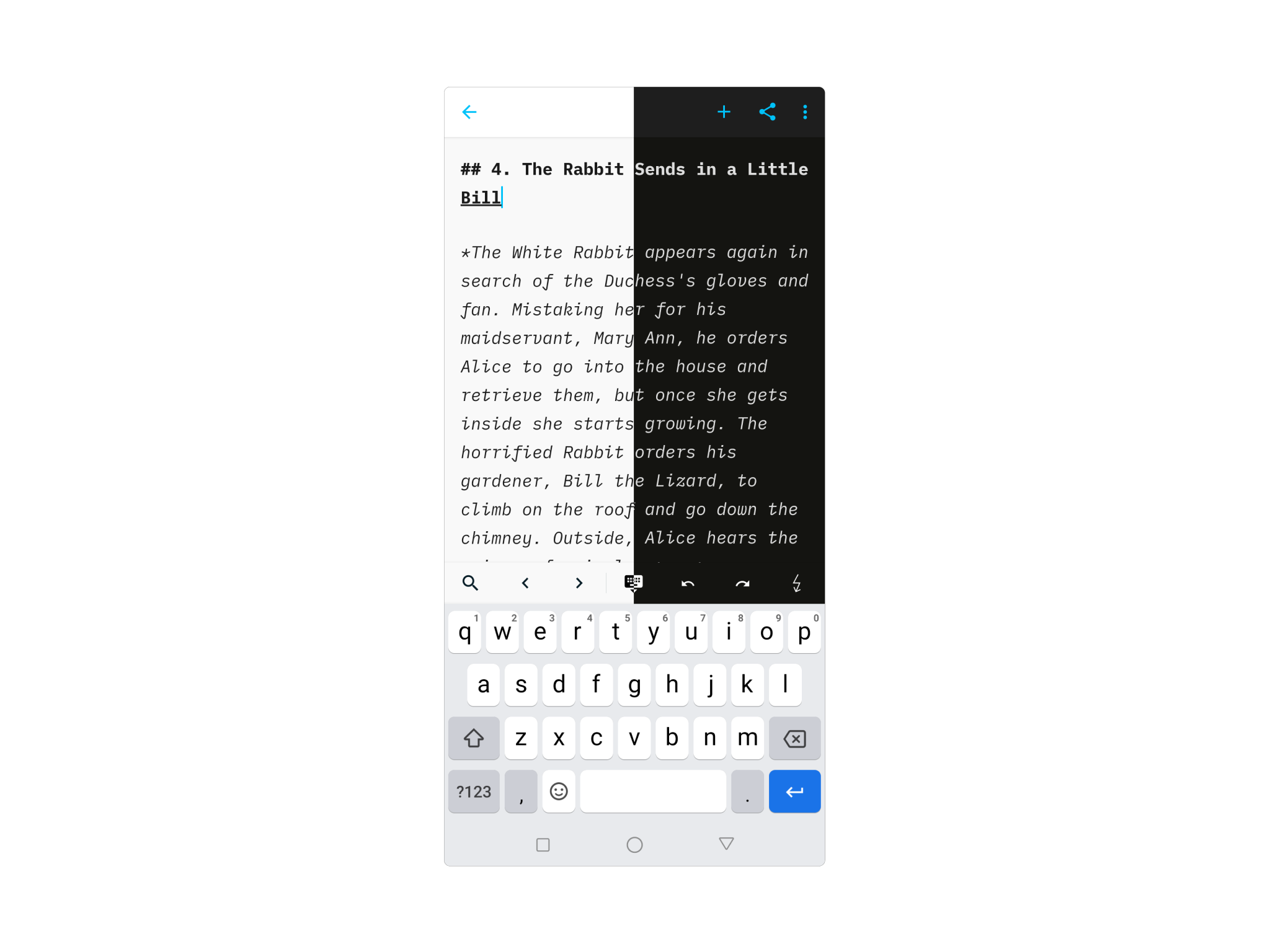 Writer is 'The Original Focused Writing App'. Users can enable Focus Mode (Lightning menu on Writer for Android 3.0+) to focus on the current sentence while dimming the surrounding text.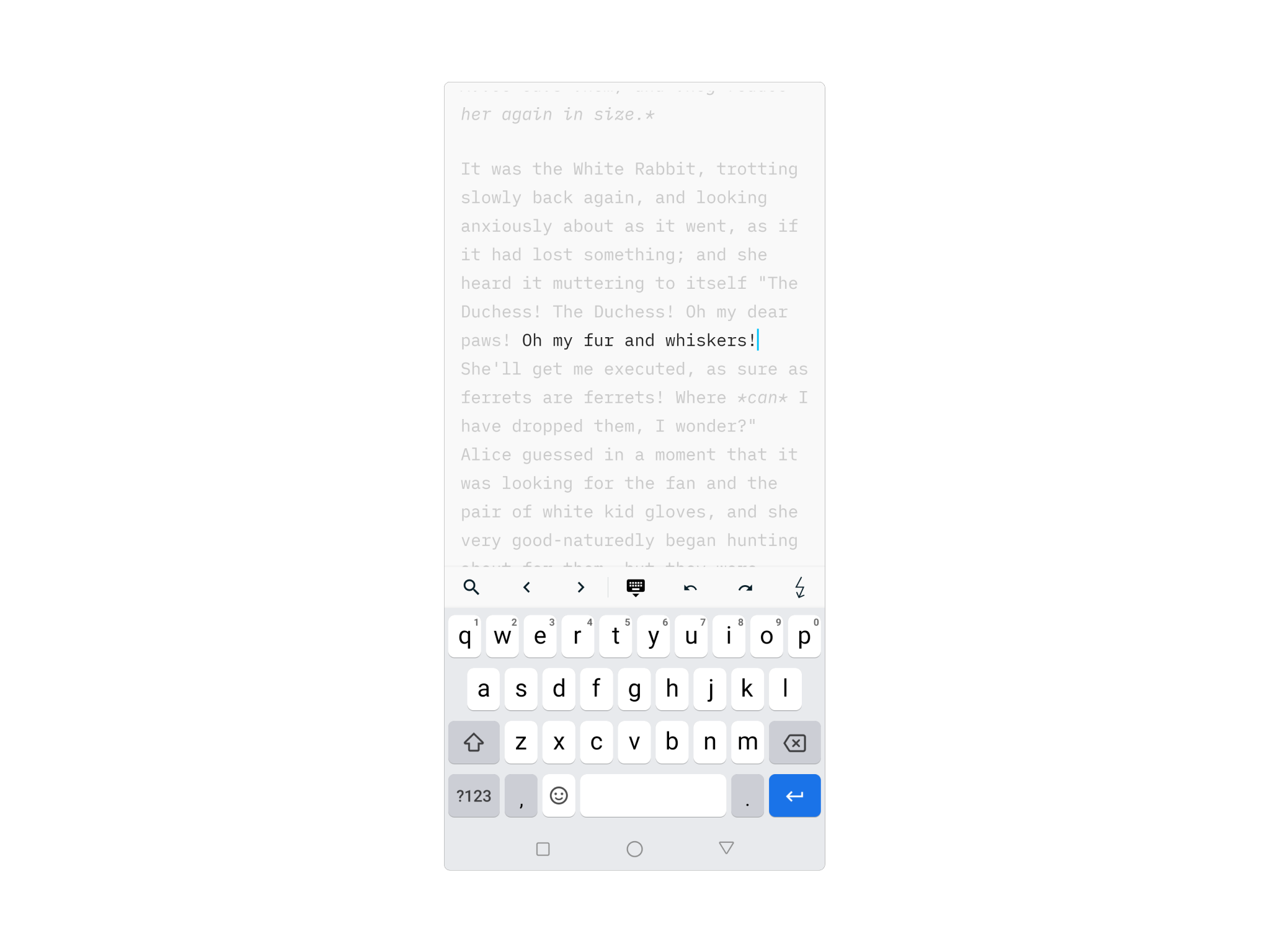 Style Check, your personal editor-in-chief. Carefully review your text for redundancies, clichés, and filler words as you type. For more on this signature feature be sure to check out this article: Style Check
Keyboard Shortcuts
For devices with connected keyboards, shortcuts make formatting even easier. For more on dedicated shortcuts in Writer please see our this article: Keyboard Shortcuts
Now that you're familiar with the Editor, please be sure to check out our other articles for Android.