Skip to content
Release Notes
01. Version 1.3.9
Added library access to public device storage
Added a setting to disable horizontal swipes between activities
Added the "Iconic" template
Updated Dropbox integration
Added a Russian interface translation
02. Version 1.3.8
Added a word counter, activate it in the "View" menu of the editor.
Improved styling and size of the keyboard extension.
Publish on WordPress.com or on any JetPack enabled WordPress blog.
03. Version 1.3.7
Full access to Google Drive, with offline functionality.
04. Version 1.3.6
List Autocomplete
Task Lists
Dropbox V2 API Integration
05. Version 1.3.5
List Autocomplete
Task Lists
Dropbox V2 API Integration
06. Version 1.3.4
Settings, including a possibility to set the font size
Publish to Medium.com
Various bug fixes and UI improvements
07. Version 1.3.3
Preview with full MultiMarkdown support
Export as HTML/PDF/MS Word
Writer can now handle substantially larger documents
fixed 3 edge case crashes in Preview
Hardware keyboard navigation support
08. Version 1.3
09. Version 1.2
Night mode
Storage access: open any text file on your device or on compatible external storage services
File sorting: by name, last modification date or size
New menu styling: increased focus on the editor and more efficient switching between file systems
010. Version 1.1
Google Drive integration
File and folder management for all three file systems
Improved hardware keyboard support, keyboard shortcuts
Touch animations
iA Writer Support
Get iA Writer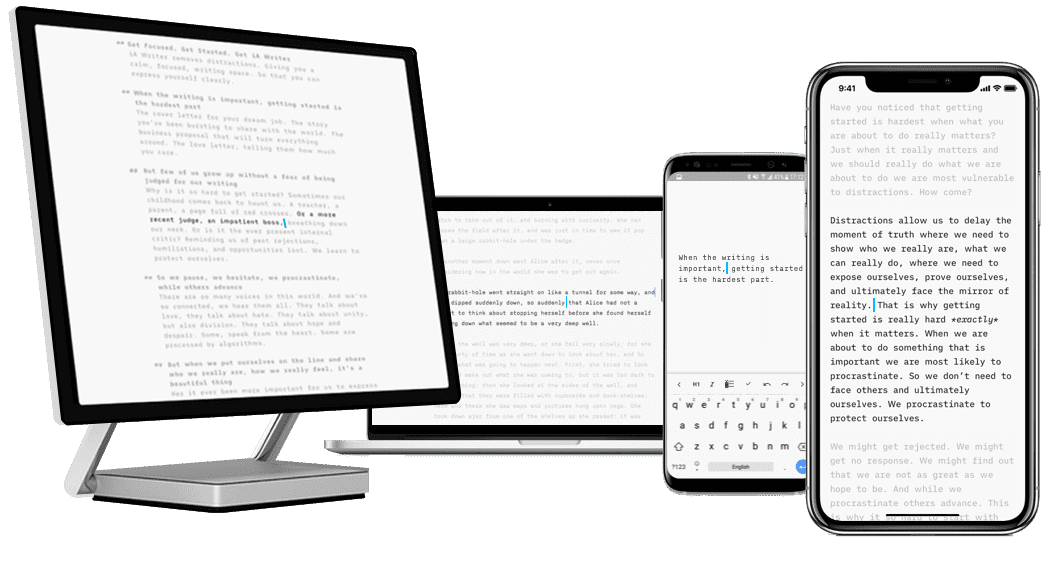 iA Writer Newsletter
Subscribe to get updates, outlooks and tips on upcoming iA Writer releases. Expect no more than one mail per month.